Property Brothers Sibling J.D. Scott Is Planning A Halloween Wedding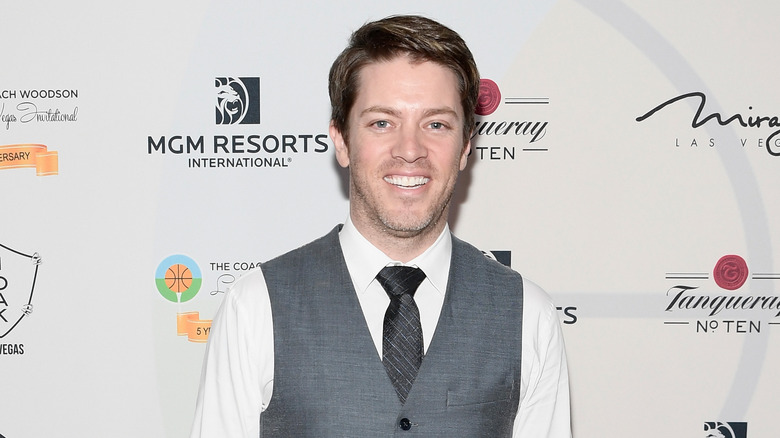 Bryan Steffy/Getty Images
J.D. Scott might not be as well known as his younger brothers, Property Brothers hosts Jonathan Scott and Drew Scott, but the HGTV star is still a fan favorite — so his upcoming spooky wedding plans might be of interest to all the Scott-heads out there. 
J.D. Scott is well known to Property Brothers fans after appearing alongside Jonathan and Drew on shows like Brother vs. Brother and Brothers Take on New Orleans. But fans were dismayed to learn in July 2019 that J.D. Scott, the host of Property Brothers at Home, had been battling a mystery illness for the last year. His symptoms, which included being bedridden for days at a time and being extremely sensitive to temperatures over 70 degrees, were so severe that he thought he might die soon.
While Scott is still battling the illness, which, after months of doctors' appointments, he now thinks is an infection in his gut, he's also moving forward with plans to get married. In July 2019, just a couple of weeks after he announced his illness on Instagram, the Property Brothers sibling told Us Weekly that he's planning a Halloween 2019 wedding. The wedding is set for exactly one year after he became engaged to his fiancée, Annalee Belle.
"I personally didn't want to have a really long engagement because when [I first became sick] I didn't know if I was going to make it too long," said Scott, who credits Belle with helping him through the past year.
Scott said that he's no longer worried he's going to die soon, but he's thrilled that he'll be marrying the love of his life. Why Halloween? The Property Brothers sibling simply loves the holiday and wants to incorporate its spooky traditions on his big day. "Halloween's more of my thing," said Scott. "It's always been my favorite time of year. I like getting dressed up. I love the whole feel of Halloween. It's going to be a very themed wedding."
Scott added that he hopes his marriage will resemble the relationship his brother and Property Brothers host Drew has with his wife, Linda Phan. Scott said that the couple are an inspiration to him. "Drew and Linda have been the perfect couple when it comes to synergizing work life and personal life," he said. "They've worked together for years and years and years, are so immersed in each other's business, and I know that a lot of couples can't do that."