What College Is Sasha Obama Going To?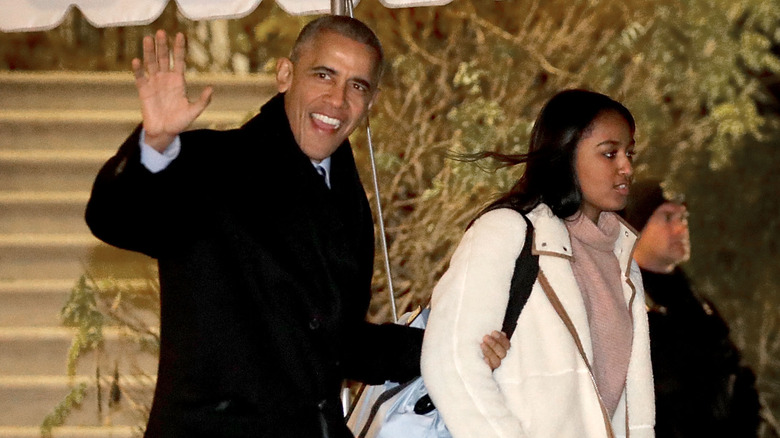 Chip Somodevilla/Getty Images
Most kids find it difficult to follow in their older siblings' footsteps, but considering she's an Obama and her sister, Malia, is attending Harvard, all eyes have been on Sasha Obama to see what her next steps will be. The youngest Obama kid graduated from the exclusive Sidwell Friends School in June 2019, and per Elite Daily, rumors have been circulating since December 2018 that she's headed for some hallowed halls for her college education. 
Page Six first suggested, in December 2018, that Sasha Obama might be headed for the University of Michigan based on a post allegedly taken from her private Instagram account. "So proud to say I'm going to college with my sisters!!" she captioned a pic of her alongside two friends, which included the college's famous football stadium nicknamed "The Big House," along with a telltale tag for the University of Michigan.
It turns out the rumors were true. The Detroit News reported in August 2019 that Sasha had been spotted on the University of Michigan campus attending freshman orientation, along with Secret Service agents. The school is an impressive choice. Sure, her sister's Harvard ranks in the number two spot for national universities, but the University of Michigan is ranked 27th overall, tied with Tufts University (via U.S. News). It's also in fourth place for top public schools across North America, and ranked fourth nationwide for their Business programs.
When oldest daughter Malia left home, USA Today noted that former president Obama described the feeling as, "A little bit like open-heart surgery." No doubt he'll have an even harder time packing his youngest off, particularly as Sasha is moving much further away from the family home in Washington, D.C. The Obamas had previously considered moving back to Chicago, where they're originally from, but as People reported, they postponed the move due to wanting to keep a home base for their college-bound youngest daughter.