How Much Are The Property Brothers Worth Now?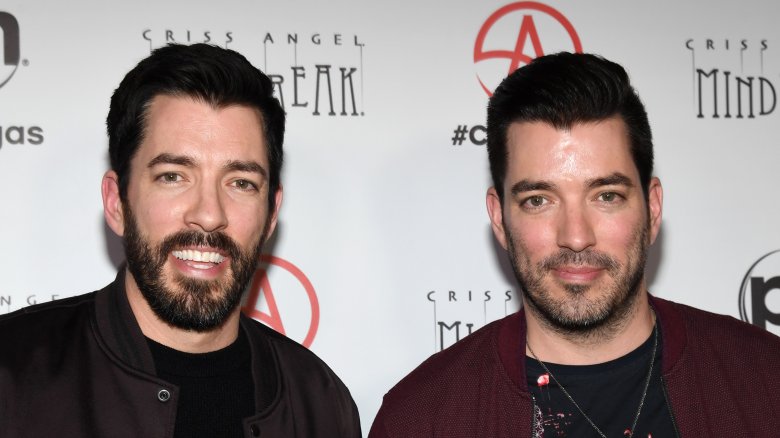 Ethan Miller/Getty Images
Canadian twin brothers Jonathan and Drew Scott are the jewel of the HGTV crown, thanks to their all-conquering reality show, Property Brothers. Starting in 2011, it's mutated to include six spin-offs, the most recent of which, Forever Home, launched in May to considerable buzz. With a combined net worth of around $20 million, according to Celebrity Net Worth, these bros have plenty to smile about.
The so-called Property Brothers aren't shy about it either, with Jonathan proudly telling Entrepreneur magazine in a recent cover story, "There are probably less than 100 actors who make more than we do across our empire." The duo originally pursued acting themselves, with both landing small roles on Canadian show Breaker High, while Drew Scott featured in an episode of the Superman prequel series Smallville and Jonathan appeared on one episode of the sci-fi hit The X-Files. 
Nowadays, their empire comprises; Scott Real Estate, launched in 2004, which has offices in Vancouver, Calgary, and Las Vegas, their production company, Scott Brothers Entertainment, the four books they've written to date (Dream Home: The Property Brothers' Ultimate Guide to Finding & Fixing Your Perfect House, published in 2016, and It Takes Two: Our Story, in 2017, along with two kids' books starring the lovable duo as the so-called "Builder Brothers"), design platform, Casaza, a lifestyle brand, Scott Living (which includes a furniture line at Lowe's) and an upcoming collection at Kohl's comprising furniture, bedding and bath, kitchen items, and home decor.
They may be making more than most actors, but the Property Brothers are taking on Hollywood shortly again, too, as a sitcom entitled It Takes Two, based on their memoir, is currently in development at Fox. As detailed by Entrepreneur, the Scotts have parlayed Property Brothers into a brand that generated a whopping half billion dollars in sales in 2018 alone. Whatever they do next, it's sure to be a massive money-maker.