Where Do The Property Brothers Live Now?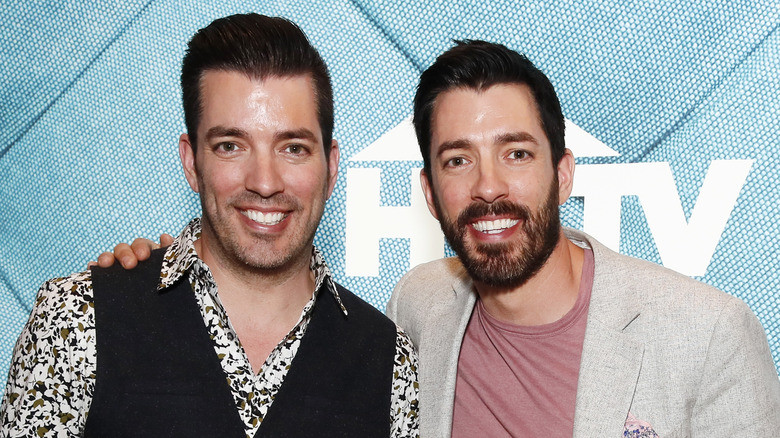 Astrid Stawiarz/Getty Images
They may be twin brothers who work together, but Jonathan and Drew Scott aren't sick of each other's company yet. The HGTV stars just nabbed another property to add to their burgeoning portfolio, and it's a fixer upper for sure.
Variety reports that the Property Brothers stars just shelled out a whopping $2.4 million for a "diamond in the rough" house in the exclusive Windsor Square neighborhood, which is nestled just a few miles west of downtown Los Angeles. The Scotts actually paid $200,000 over the asking price for the property, which was built in the early 1920s. The just over 3,300 square foot Mediterranean-style home boasts four bedrooms and three bathrooms. It retains the original floor plan with a center-hall foyer surrounded by living and dining rooms, but the kitchen is in need of a total redo while the backyard has also been neglected. 
Jonathan and Drew Scott already own the English Tudor-style cottage next door, which they bought in 2017 for $2.3 million. After a stunning restoration, Drew and wife Linda Phan moved in. It's reasonable to assume the Property Brothers stars will give this latest acquisition a similarly impressive refresh.
The HGTV stalwarts previously shared a 5,000 square foot Mediterranean-style home in Las Vegas for the few years prior to Drew getting married, which they purchased in 2011 for $400,000. That property, naturally, was also redone as a personal fixer upper project. The overhaul included the installation of an outdoor movie screen and was even featured on their show, Property Brothers at Home, back in 2015.
According to Realtor.com, the brothers will have to contend with building restrictions on the new place, but it'll be well worth it, as residents of the neighborhood attest. Windsor Square isn't a place loaded with McMansions or avant-garde new modern designs, and likewise the house prices aren't inflated either.
If nothing else, the new acquisition will give Jonathan Scott a place to stay besides the guest room designed especially for him in his brother's stunning, so-called "Honeymoon Home." Still, at least he'll only be next door.