Bretman Rock's Beauty Inspiration Came From An Unlikely Place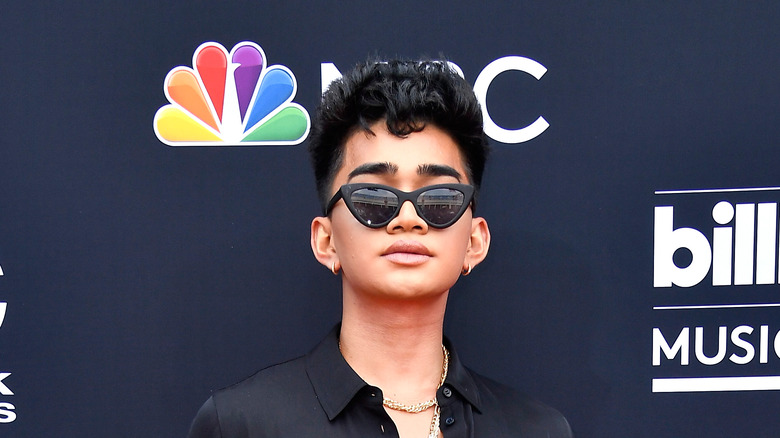 Frazer Harrison/Getty Images
Readers of a certain age will be intimately familiar with Bretman Rock, the beauty YouTuber who burst onto the scene in a flash of glitter and unapologetic confidence. The Philippines-born, Hawaii-based makeup artist definitely has a flair for the dramatic, but his authentic persona has won him a whopping 6.4 million subscribers (as of August 2019). A lot of YouTuber stars do makeup, but none do it quite like Rock.
In keeping with his oversize personality, back in 2017, Allure hilariously pointed out that a viral photo of Rock's over-highlighted DMV photo had inspired a line of highlighters (with Morphe, which launched the following year). The beauty vlogger's inspiration clearly comes from places as random as him.
Speaking to Women's Wear Daily in January 2019 of his collaboration with Colourpop, Rock revealed his beauty inspiration originates close to home. "I wanted to pay homage to my Filipino culture. It was inspired by the Filipino flag, the red and the blue. I fell in love with pageantry and watching my grandma get ready. I wanted to pay homage to [that]," explained the YouTube star.
When questioned by Hello Giggles in 2018 about who his ultimate beauty idols is, Rock pointed to legendary makeup artist Pat McGrath. "I remember watching old Hollywood films when living with my dad. Since we didn't have TV, we would always play old movies on VHS and wait for the credits to see who did everyone's makeup. Pat McGrath was doing a lot of people's makeup," he said.
A few short years later, McGrath popped up on TV again, this time in an infomercial, and Rock was instantly hooked. "I loved how she carried herself and spoke about the products. She made me feel like she was putting the lipstick on me, and I said to myself, 'Damn, I'm going to do makeup... this is my calling,'" the YouTube star recalled. The rest is perfectly-contoured history.