Bachelor In Paradise's Kevin Wendt And Astrid Loch Are Tying The Knot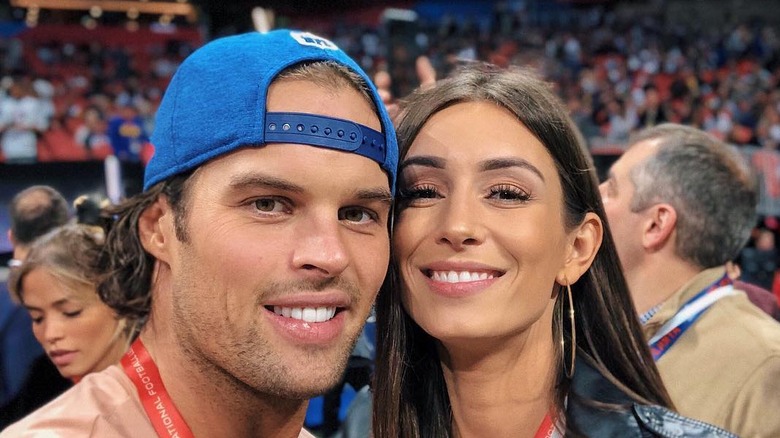 Bachelor Nation finally has something to celebrate. It's been a rough few months, what with all the drama surrounding Hannah Brown's Bachelorette season and an actual fist fight on the current season of Bachelor in Paradise. We've been starting to wonder if it's even possible for a single guy or gal to find love on a Bachelor spin-off these days. 
Thank goodness for Kevin Wendt and Astrid Loch, who are proving that Bachelor style love does still exist. The couple announced their engagement to People on September 3, after Wendt proposed to Loch on August 28. "I actually forgot what I said," Wendt said of the proposal. "I just remember, it was a no-brainer to marry her. I see her more as my family than any kind of girlfriend, and I just knew I couldn't ever let her go."
Loch said that she was definitely taken by surprise, something that is out of character for her. "I was so clueless," she said.  "And you never get a surprise really by me, ever. I feel like I pay attention to everything, and I had absolutely no clue."
Wendt proposed with a custom diamond ring from his family's jewelry store, Wendt's Jewellery. Members of his family have been proposing with rings from the shop for 135 years, attaching even more significance to the cushion-cut diamond that now graces Loch's finger.
The couple has been together for a year after meeting last summer on Bachelor in Paradise, and have already ruled out filming their ceremony for the show. They just want to celebrate their love without the whole world watching. The Bachelor in Paradise stars have yet to set a date, but say it will be at least a year away. For now, they just want to bask in their happiness. 
"I don't even think it's fully hit me yet that it's actually happened," said Loch. "I woke up this morning... and just stared at the ring and him just to make sure that it was real."