Is Romance Brewing Between Demi Lovato And The Bachelorette's Mike Johnson?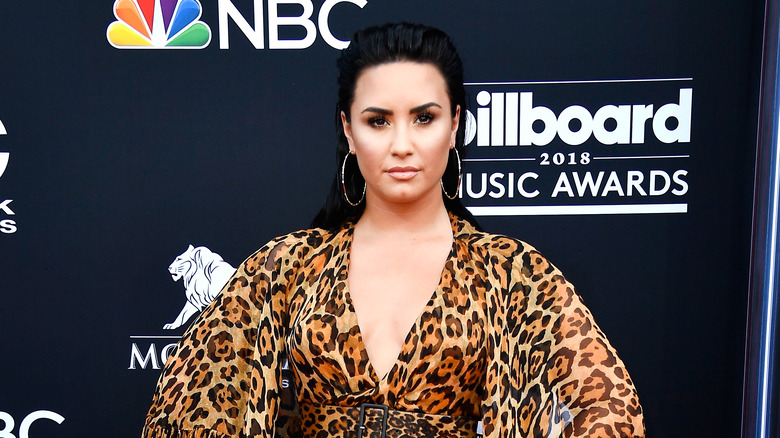 Frazer Harrison/Getty Images
Could The Bachelorette's Mike Johnson finally be finding love? He may not have come out as the winner of the last season of The Bachelorette, and he was sent home from Bachelor in Paradise on the September 3 episode, but his love life may have taken a positive turn. 
On September 5, pop star and actress Demi Lovato posted a bikini pic on Instagram leading to a flirty exchange with Johnson. "This is my biggest fear," wrote Lovato in the caption. "A photo of me in a bikini unedited."
Lovato pointed out that she has cellulite, saying, "I'm just literally sooooo tired of being ashamed of my body, editing it... so that others think I'm THEIR idea of what beautiful is, but it's just not me. This is what I got. I want this new chapter in my life to be about being authentic to who I am rather than trying to meet someone else's standards."
Many people, including Mike Johnson, applauded the body positive pic. "Look at me like that again," he wrote in the comments (via Cosmopolitan), adding a wink emoji. "Love yaself." Lovato responded with a kissing face emoji.
The Bachelorette star could just be showing some support, but it turns out there's some history between the two celebs. Lovato was a huge fan of Mike when he was on The Bachelorette, writing about her infatuation with the reality star on her Instagram story. After he was eliminated from the show, Johnson told Us Weekly, "I'm flirting with her too. Tell her, 'What's up, baby? I would definitely take her out for an initial date, yeah. 100 percent not scared about it at all. I would be like, 'Oh my God! Girl, come here.'"
It definitely sounds like there are some serious sparks flying. While Johnson is one of the men favored to become the next Bachelor, multiple sources claim that Peter Weber is going to be named as the next star of The Bachelor soon. While fans will no doubt be disappointed if Johnson isn't the next star of the reality show, not appearing on the next season of The Bachelor would leave him free to slide into Lovato's DMs.