What Tarek El Moussa Thinks About Christina Anstead's New Baby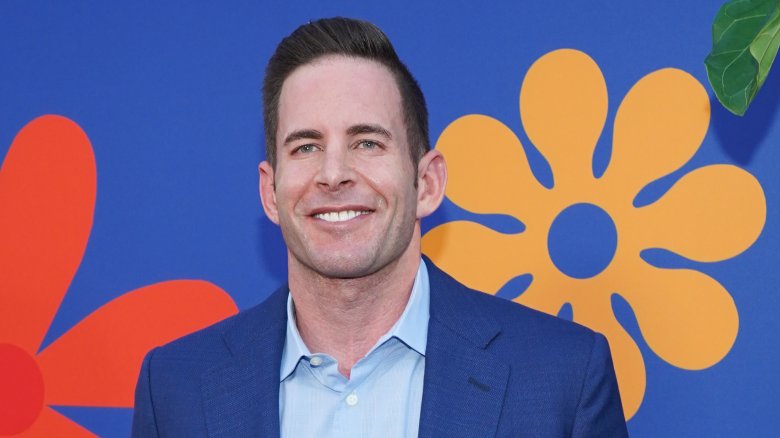 Rachel Luna/Getty Images
If we have learned one thing from Flip or Flop co-hosts Christina Anstead and Tarek El Moussa, it's that it is possible to remain friendly with your ex. The couple split in 2016 and have both moved on to new relationships, but their breakup has remained quite amicable and the two are still supportive of each other. The former Mr. and Mrs. El Moussa are on good terms and are still starring on Flip or Flop together. El Moussa is even happy for his ex-wife and her new husband, Ant Anstead, after they recently welcomed a new baby into the family. 
Anstead announced the birth of her newest little one in an Instagram post on September 6. "Ant and I are so excited to welcome Hudson London Anstead into the world," she wrote. "Our hearts are SO full of love and joy! Our healthy baby boy was born this morning- 9/6/19 – 7 lbs 7 oz 19.5 inches long."
Baby Hudson joins the blended El Moussa/Anstead family with four older half siblings. Anstead has two children with El Moussa, and her husband also has two children with his ex-wife. 
While El Moussa didn't make an Instagram post of his own congratulating his ex-wife on the birth of her son, he did post a video of himself with his daughter, Taylor, at her soccer game that weekend. "She got to meet her new brother Hudson yesterday and she was thrilled!!!" wrote El Moussa in the caption. "I can't wait to meet the little guy."
He even said that he would be willing to spend some one-on-one time with the new baby — if the price is right. "If Christina and Ant pay well I may baby sit," he joked.
This isn't the first time that El Moussa has publicly expressed his support for his ex's new family. Back in April, El Moussa talked to TMZ Live about Anstead remarrying and having a baby with her new husband. "My kids are super excited," he said. "I'm excited for her new chapter in life. They're a great couple and I really do hope the best for them."
It might be hard to believe that two exes can get along so well, but Anstead and El Moussa do have a lot of practice at it from filming Flip or Flop. After their 2016 split, they made an effort to keep their partnership strong because they knew they had a good thing going. "[Flip or Flop is] part of who we are and what we do, and for us to just throw everything away, it just wasn't worth it," El Moussa told Today in 2018. 
Anstead added, "Most importantly, we have two amazing kids together. So it's just easier to work together and get along."
Unlike Anstead, El Moussa hasn't remarried, but he does have a steady girlfriend. El Moussa is currently dating Selling Sunset star Heather Rae Young, who is supportive of El Moussa's continued friendship and working relationship with his ex-wife. It's clear that she understands their dedication to the career they worked so hard to build. "I'm a really confident person and I'm confident in our relationship, and I think what he does and everything he has going on is so amazing," Young told Radar Online in August. "I'm fully supportive of everything."
At the end of the day, though, the real secret to the friendly dynamic between El Moussa and Anstead isn't Flip or Flop, it's their kids. "[Parenting] the kids is the most important job in the entire world for us so no personal drama can get in the way of that," El Moussa recently told Us Weekly.  
El Moussa might be happy for Anstead and her new baby, but that doesn't mean he's ready for more kids of his own. On September 5, Life & Style asked if he and Young are planning on having any kids of their own soon. "You know, I'm at a different point in my life," he said. "So, I don't know, no, not really. I have an amazing 4-year-old and an amazing 8-year-old. I'm trying to wrangle those two, right. It's good enough for me right now."
For now, it looks like El Moussa will be focusing on his kids, his growing relationship with Young, and perhaps babysitting Anstead's new baby.