Are Jill Duggar And Derick Dillard Expanding Their Family?
Jill Duggar Dillard and Derick Dillard may no longer be appearing on Counting On after Derick was booted off the show for making transphobic comments, but fans are still heavily invested in the couple and their daily lives. One of the things that fans often wonder is if Jill and Derick will be adding to their family. Having a large family is something that people have come to expect of the Duggar clan, after all, and so far, Jill and Derick only have two kids.
Jill is clearly aware that fans are waiting for an announcement that she will be adding to their family, and it looks like she's having a little fun teasing those hopefuls in her recent social media post. On September 27, she took to Instagram to share some exciting news... but don't get too excited about another Duggar-Dillard baby just yet.
Jill Duggar reveals she and Derick Dillard are expanding their family... kind of
While Jill confirmed that she and Derick have plans to add to their family soon, the news wasn't quite what fans had been hoping for. "So... my hubby and I have been talking about possibly... maybe... someday... maybe... getting the boys a dog," she captioned a picture of her two sons. "Okay, so maybe for Christmas, but idk. Anyways, we wanted to get y'all's thoughts & tips on best kid friendly medium/big sized dogs and why... and any other tips for adopting a rescue dog and/or anything else helpful to think about! And shhh, don't tell the boys. Lol."
It might not have been baby news, but Jill's sons will still have plenty of cousins to play with as many members of the Duggar clan are currently pregnant.
Jill Duggar and Derick Dillard may adopt in the future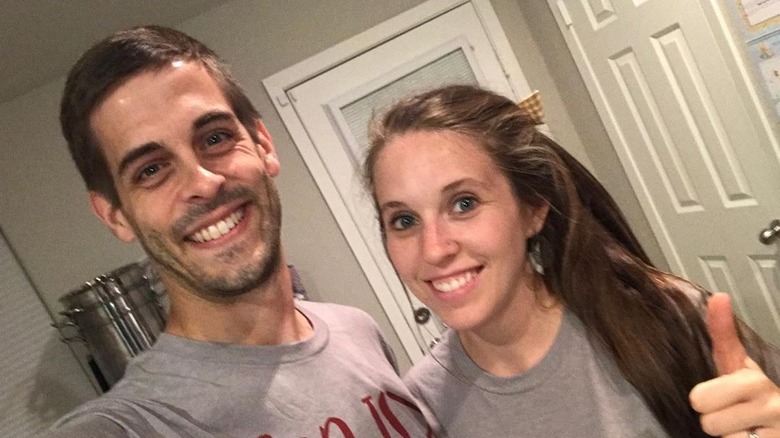 Even though Jill Duggar and Derick Dillard aren't adding another baby to the family just yet, Jill has hinted in the past that they might one day choose to grow their family through adoption. Last spring, Jill expressed her stance against abortion on Instagram. When one commenter (via Ok!) asked, "Will you be there to adopt and help care for the pregnant mom who you forced into not making her own decision? Didn't think so," Jill responded with a simple, "Yes."