Here's How Meghan Markle Inspired Bindi Irwin's Wedding Dress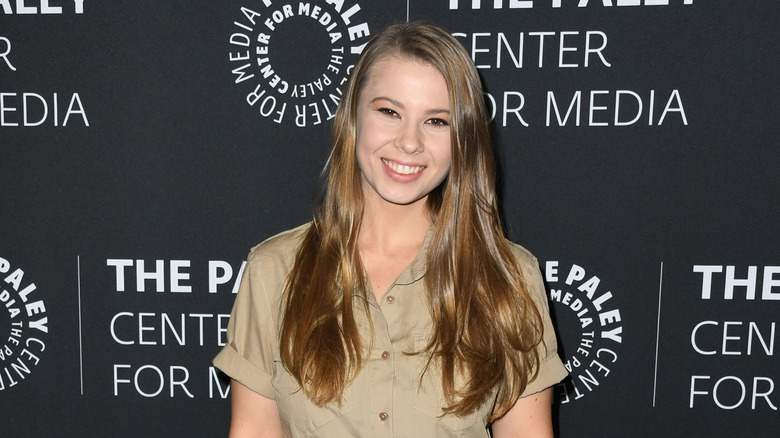 Jon Kopaloff/Getty Images
It turns out that Bindi Irwin's wedding dress is more than just pretty. It also has a special significance and was inspired by Meghan Markle, the Duchess of Sussex. Irwin revealed that she had found her perfect wedding dress on September 29, and showed off a part of the beautiful lace sleeve that came down to her wrist. 
"I said yes to the dress," the 21-year-old wrote on an Instagram post. While Irwin didn't divulge too many details about her dress then, she recently opened up about the people who inspired her wedding style.
Meghan Markle was a huge inspiration for Bindi Irwin
Irwin is an admirer of Meghan Markle, and said that the style of the actress-turned-duchess inspired her. "I mean everyone loves a beautiful love story but theirs is so extraordinary," the young conservationist told Hello! "When you look at Meghan, just look at that beauty and the royals are always so graceful and I think that grace is so fantastic."
But it wasn't just Markle who inspired the elegant gown Irwin chose for her wedding. She says she was also inspired by someone a little closer to home: her mother. "My mum's wedding dress was so beautiful — all graceful and long sleeves — similar to the royal dresses," she said. "And since I was a little tiny girl, I would look at it and think that's what I want one day." 
While she would have loved to get married in her mother's dress, she wanted her mom to have been the last to wear it for her wedding with the late Steve "Crocodile Hunter" Irwin. "I want to leave it how it is because that's the dress she married dad in," said the bride-to-be.
Instead, she will marry her fiancé, Chandler Powell, in a gown that is similar to her mother's. "I really wanted my dress to mimic hers and have that royal feel where it's just graceful," said Irwin.  "So it's got beautiful long sleeves and I'm really excited,"
Bindi Irwin definitely won't be wearing khaki at her wedding
Hopefully, Irwin's excitement over her traditional, white wedding dress will put an end to questions about whether she'll show up to her wedding in her usual khaki. 
"Everyone was asking if I was going to wear a khaki wedding dress and I'm like no, this is the one day in my life where I'm not going to be wearing khaki," she said. "So yeah it's definitely a white a dress and I'm definitely going to embrace that feeling of being feminine."