Prince Harry Overheard Giving Meghan Markle The Sweetest Compliment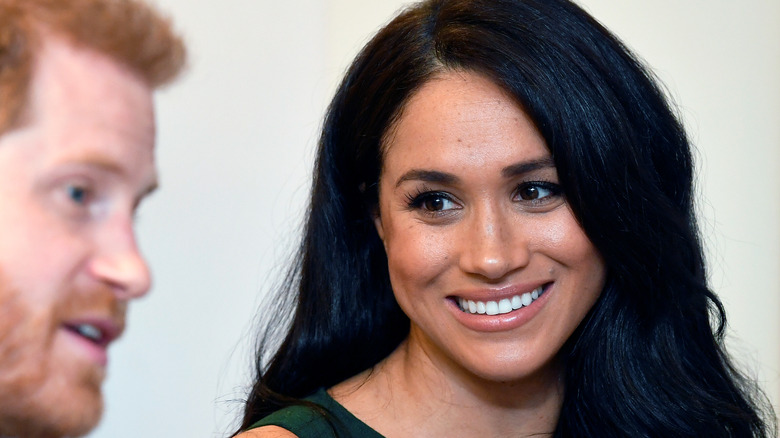 Wpa Pool/Getty Images
On Tuesday night, Prince Harry was overheard reassuring his wife, Meghan Markle, that she looked amazing while they were at the WellChild Awards. The Duke and Duchess of Sussex were glowing as they arrived at the charity event in London, with Meghan wearing her stunning green engagement dress by Italian brand P.A.R.O.S.H.
According to HELLO! Magazine, the couple was speaking to 10-year-old Emmie Narayn-Nicholas (who had won an award) and her mother Eve during the reception, when Prince Harry gave Meghan the sweetest compliment. Eve told HELLO! Magazine, "They were very lovely. When she sat down I said 'Oh you look amazing and you've just had a baby.' He looked at her and went, 'See I told you!' in a way that we would... It did feel like they were very down to earth." 
The gesture is important not only because it shows how seriously Prince Harry takes his role as a husband in supporting Markle, but because it shines a light on how public criticism can and has affected the royals. Since the pair got together, Meghan has been repeatedly criticized by tabloids around the world for the way she looks (among other things), significantly increasing after she gave birth to their son Archie Harrison Mountbatten Windsor.
Prince Harry may be more supportive due to recent events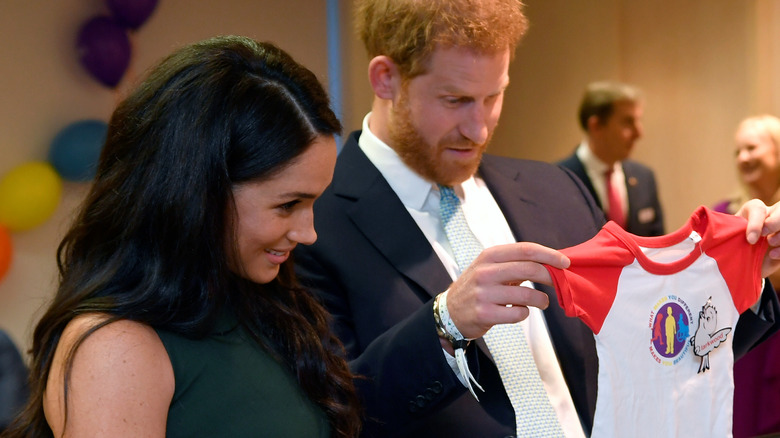 Wpa Pool/Getty Images
Earlier this month, Prince Harry issued a public statement defending his wife, calling out the media for being "malicious and false." "As a couple, we believe in media freedom and objective, truthful reporting," said Prince Harry (via The Guardian). "We regard it as a cornerstone of democracy and in the current state of the world — on every level — we have never needed responsible media more. Unfortunately, my wife has become one of the latest victims of a British tabloid press that wages campaigns against individuals with no thought to the consequences — a ruthless campaign that has escalated over the past year, throughout her pregnancy and while raising our newborn son."
In the same statement, Prince Harry announced the couple is suing the Mail on Sunday for publishing a handwritten letter that Markle sent to her estranged father.