Christina Anstead Gives A Refreshingly Honest Update On Life With A Newborn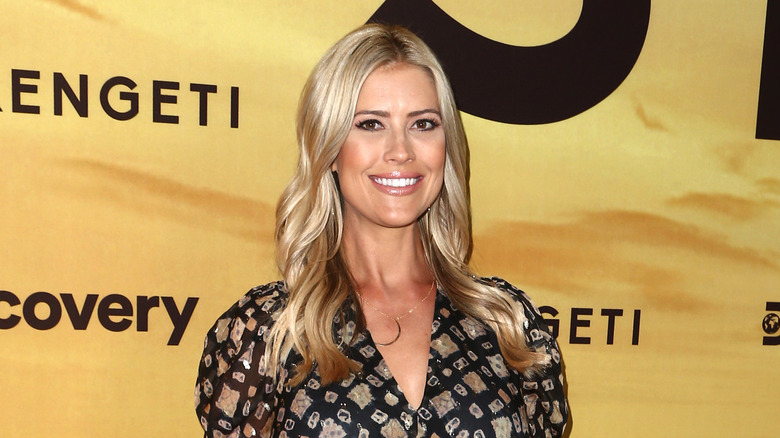 Tommaso Boddi/Getty Images
Earlier today, Flip or Flop's Christina Anstead got real with her Instagram followers after dropping her daughter, who she affectionately refers to as "Tay," at school this morning. 
Anstead's newborn son, Hudson, was screaming in the backseat — understandable for a 6-week-old baby — when Taylor asked her mom if the paparazzi still followed her around. When Anstead said, "No, not lately. Why?" her daughter replied, "Well what if they got a photo of you looking like THAT." 
The exchange, packed with the brutal honesty one typically only sees in elementary-aged kids, prompted Anstead to reflect on the matter a bit more. Alongside a selfie with her sleeping son, Anstead shared that newborn Hudson "will sometimes cry for hours straight" and is "definitely a tough baby." She admits that it's been a challenge balancing the care he needs with two other young children in the house. "Newborn life is hard. It's not all instagram filters of perfection that people put out there. F that. That's so misleading for new moms," she writes.
Anstead ends her mini-vent by shouting out all the other moms with more than two kids in the home and thanking her friend, Shannon, for not only helping her look her best on TV but also letting their glam sessions turn into therapy ones.
This isn't the first time Christina Anstead has been open about motherhood
Anstead is used to sharing her life with a large audience, what with millions regularly tuning in to a reality TV series she hosts with her now ex-husband, Tarek El Moussa. However, she's also no stranger to getting personal with her Instagram followers, going so far as to share the news of her son's birth the day it happened.
On September 24, just over two weeks after giving birth, Anstead took to Instagram again to let her followers know that she experienced pain and fatigue following her daughter's birthday party and was going "back to bed rest and baby cuddles." She cautioned moms of newborns not to push it for the sake of others.
In a world where people do their best to present the best version of themselves on social media, Anstead's openness is refreshing for fans who may be experiencing the same hardships.
Yes, newborns are hard, but in Anstead's (and so many others) words, "it takes a village." Judging by the sweet comment her husband Ant Anstead posted, calling her a "super human super star," her village is with her every step of the way.