Why Christina Anstead Came Out Of Maternity Leave For Christina On The Coast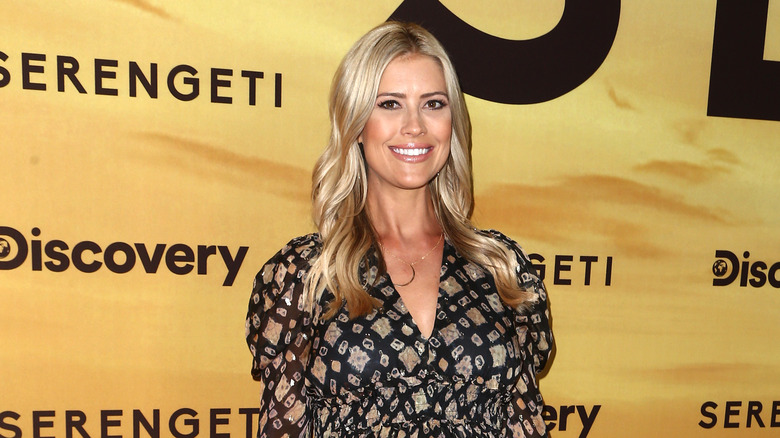 Tommaso Boddi/Getty Images
Most people who are expecting a baby look at maternity leave as a time to rest as much as possible before the baby comes. If you're Christina Anstead, however, it's the perfect time to start filming the next season of your HGTV show, Christina on the Coast.
The Christina on the Coast star is just weeks away from giving birth to her first child with husband Ant Anstead, but she couldn't resist getting started on filming season 2. The renewal of Christina on the Coast was announced on August 14, with Anstead saying on Instagram that the second season will consist of 13 episodes. Just over a week later, Anstead revealed that she was coming out of maternity leave to begin filming the new season. 
"I came out of maternity leave (currently 37 weeks pregnant) because I can't resist a good challenge," Anstead wrote on Instagram on August 22. "Fun day back on set with these guys starting a new episode of #ChristinaOnTheCoast Season 2!! It's a BIG project in Laguna Niguel — gonna make for an amazing transformation..."
Anstead has proven time and time again that she's willing to do whatever it takes to make her shows successful. After all, she's still working with her ex husband, Tarek El Moussa, on the HGTV show that made them both famous. The eighth season of Flip or Flop premiered on August 1. 
Flip or Flop is so beloved that it not only led to Anstead's spin-off, Christina on the Coast, but also a spin-off for El Moussa. Anstead's ex is getting his own solo show, Flipping 101 w/ Tarek El Moussa. El Moussa also has a digital series, Tarek's Flip Side, which debuted on August 1.
Both Flipping 101 w/ Tarek El Moussa and season 2 of Christina on the Coast are set to air in 2020.