The Real Reason Jennifer Aniston Joined Instagram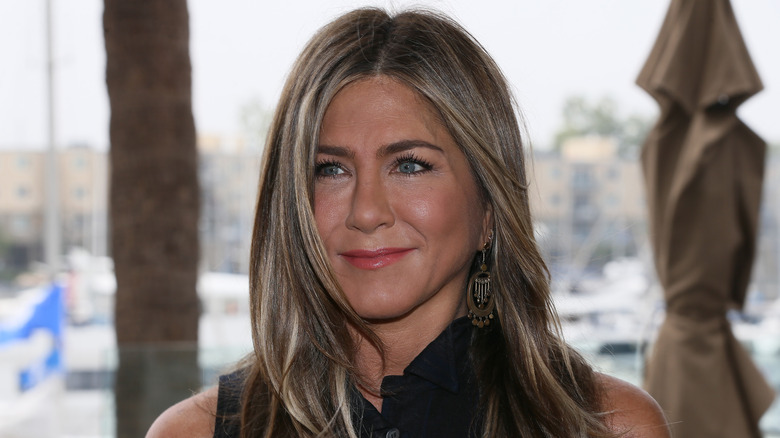 David Livingston/Getty Images
Jennifer Aniston has never been shy about her aversion to social media, telling Vogue it was "such a drag" in 2017, and telling InStyle in September 2019 that she was concerned with how social media made young people focus on whether or not they were getting likes, saying "there's all this comparing and despairing." 
Just a few short weeks after that interview, however, it seemed Aniston changed her tune. The star joined Instagram, breaking not only a record held by Meghan Markle and Prince Harry, but the app, too, with a selfie featuring her Friends co-stars that made us feel better about not getting a reboot. But what made the famously anti-social media Aniston change her mind? 
In an interview with Jimmy Kimmel, Aniston put it quite simply: "What you resist, persists." Fans with their nose to the ground might remember this sentiment from just a few days prior to Aniston's Instagram debut, as she said the same thing to Entertainment Tonight, hinting at what was to come.
Aniston believes social media is 'not going away'
In that same interview with ET, Aniston pointed out that social media "is a part of our world now and it's not going away." She's not wrong, either. Over 100 million new photos and videos are uploaded to Instagram every single day, and that's nothing to speak of other platforms that have daily active users in the hundreds of millions, and in Facebook's case, billions.
Aniston, the self-proclaimed "most reluctant person to ever join Instagram," might have given Jimmy Kimmel a light-hearted and blasé response, but the real reason the star decided it was time to have an online presence is much deeper than the "just do it" mentality she showcased on Kimmel. 
When ET asked Aniston what, if anything, would make her join Instagram, the star explained, "you can actually have a little bit more control over the narrative that's out there."
And that's certainly true. Social media, with all of its hotly-debated faults, offers celebrities like Aniston the unique opportunity to speak directly to their fans and provide a sneak-peek into their worlds. In the days following the selfie-heard-round-the-world, Aniston has shared a handful of other posts, including an adorable throwback, and we can't wait for more.