Everything Harry & Meghan: An African Journey Revealed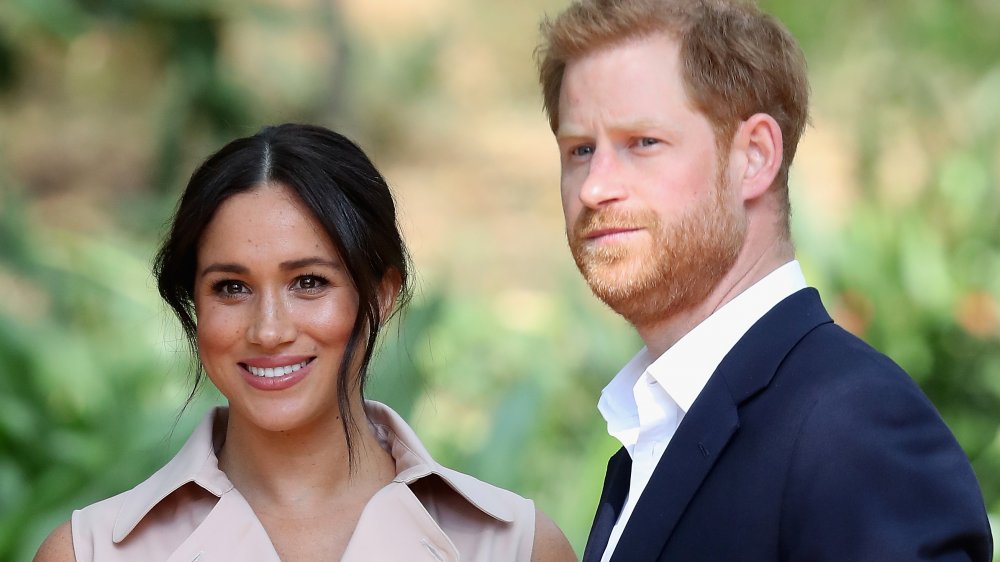 Chris Jackson/Getty Images
Harry & Meghan: An African Journey follows Prince Harry and Duchess Meghan Markle as they embarked on their first royal tour in late September 2019, with baby Prince Archie in tow. Throughout the tour, the couple spent ten jam-packed days working with numerous charities in Africa.
Unbeknownst to all of us at the time, the royal couple was also taking part in a mostly informal documentary about their adventure, fittingly titled Harry & Meghan: An African Journey. Just a few weeks after the tour wrapped up, the ITV documentary aired in the United Kingdom before making it to the United States via ABC on Wednesday, Oct. 23, 2019.
While the film focused on much of the work the couple was getting done in Africa, Harry and Meghan also opened up in a way they'd never done previously. In just an hour-long documentary, we learned just how the couple is fairing in the spotlight and the truth behind some of the biggest rumors surrounding this branch of the royal family. This is everything that was revealed in Harry & Meghan: An African Journey.
In Harry & Meghan: An African Journey, Meghan revealed she was cautioned against marrying Harry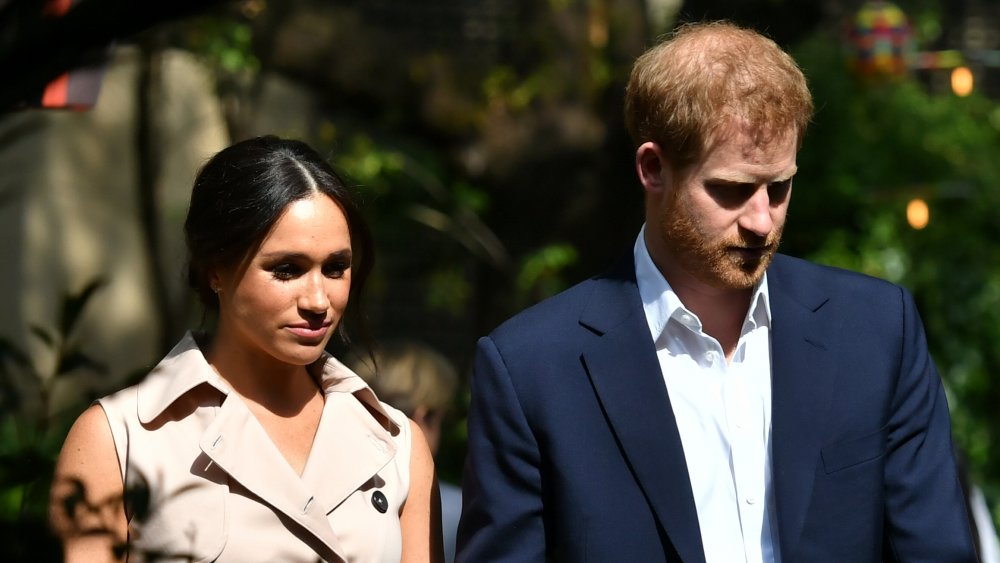 Pool/Getty Images
In a brief and candid interview with ITV journalist Tom Bradby during Prince Harry and Meghan Markle's final night on their African royal tour, Meghan recalled her friends' reactions about her dating the prince. "When I first met my now-husband," the duchess explained in Harry & Meghan: An African Journey, "my friends were really happy because I was so happy, but my British friends said to me, 'I'm sure he's great, but you shouldn't do it because the British tabloids will destroy your life.'" Meghan continued, saying, "And I, very naively — I'm American; we don't have that there — [said], 'What are you talking about? That doesn't make any sense. I'm not in tabloids.' I didn't get it."
Unfortunately, the duchess would later learn firsthand what it was like to deal with that kind of public attention upon her marriage to Harry. Meghan noted that coming to terms with it all over the past year had been "complicated."
There is some truth to William and Harry's rift, according to Harry & Meghan: An African Journey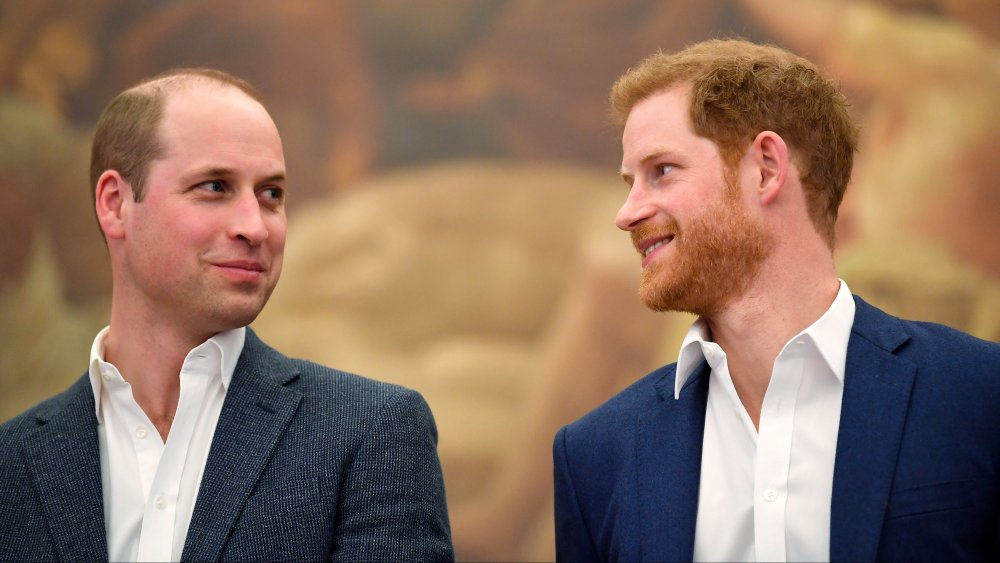 Wpa Pool/Getty Images
Rumors about Prince William and Prince Harry's relationship are nothing new. "For months there have been rumors about difficulties in their relationship," royal commentator Richard Fitzwilliams explained to Insider in 2019. "When Harry said at the only meeting of the Royal Foundation Forum held last February [2018] 'Working as a family does have its challenges,' few interpreted this as referring to any rivalry. Subsequently things have radically changed."
By March 2019, Harry and Meghan Markle had split their household apart from William and Kate Middleton's. BBC royal commentator Kristen Meinzer told Insider that the division was "perfectly natural" and that a rift was likely fabricated by the media. But was it?
During the documentary Harry & Meghan: An African Journey, Harry was asked if there were any truth to the rumors. He acknowledged that "stuff happens," adding, "But, look, we're brothers. We'll always be brothers. We're certainly on different paths at the moment, but I will always be there for him and as I know he will always be there for me." According to Harry, the "majority" of the rumors were "created out of nothing."
Meghan is not exactly doing okay, as shown in Harry & Meghan: An African Journey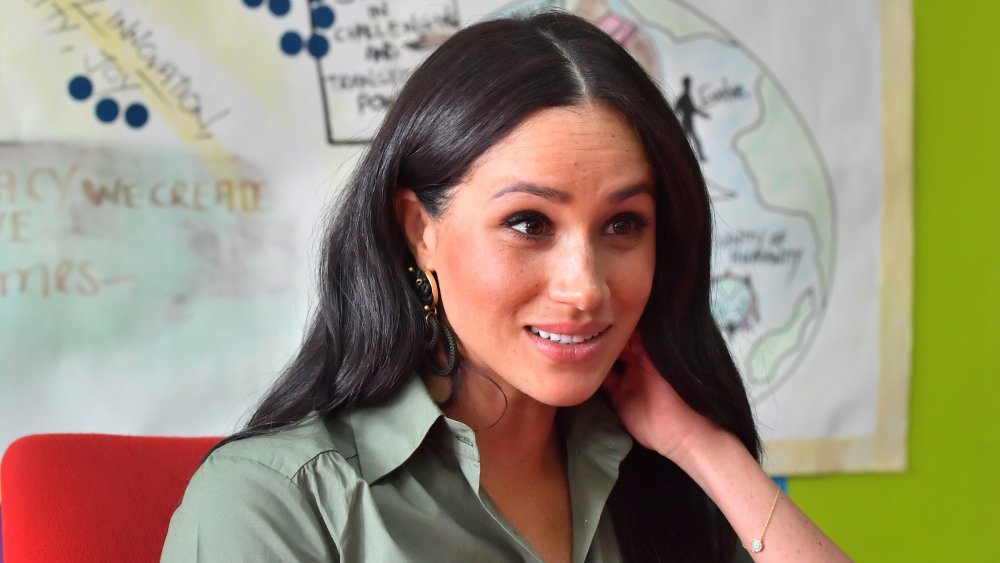 Pool/Getty Images
When asked how the last year has been for her, Meghan Markle paused for a moment before admitting to interviewer Tom Bradby in Harry & Meghan: An African Journey that "it's hard." When asked about her mental health, she took another moment and appeared to blink back tears. "I would say, look, any woman — especially when they're pregnant — you're really vulnerable, and so that was made really challenging," she explained. "And then when you have a newborn, you know. And especially as a woman, it's a lot. So, you add this on top of just trying to be a new mom or trying to be a newlywed..." Meghan then interjected her thought to thank Bradby for asking how she's doing because "not many people have asked if [she's] okay." 
Meghan later went on to tell Bradby that "it's a very real thing to be going through behind the scenes" and confessed that she's not really doing all that well.
In Harry & Meghan: An African Journey, Harry said "everything" he does reminds him of his mother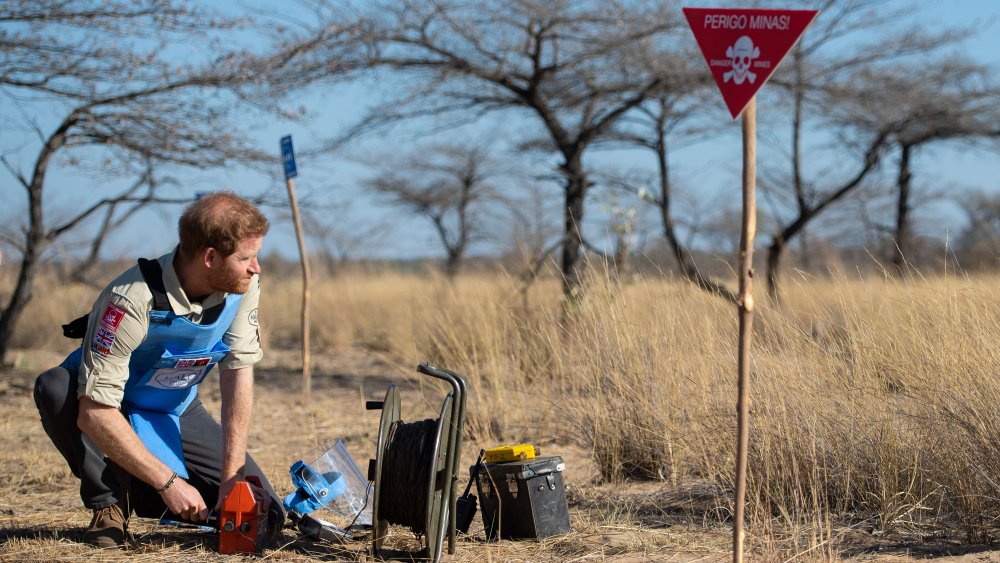 Pool/Getty Images
Prince Harry lost his mother, Princess Diana, in a car accident back in 1997, but he said in Harry & Meghan: An African Journey that the loss of his mom is "a wound that festers." He continued, "I think being part of this family, in this role, in this job — every single time I see a camera, every single time I hear a click, every single time I see a flash — it takes me straight back." Unfortunately, those are not happy memories. Shortly before Diana's death, she was being pursued by the paparazzi. "So, in that respect," Harry explained, "it's the worst reminder of her life as opposed to the best."
As depicted in the documentary, Harry was also reminded of his mother when he volunteered with the mine-clearing charity The HALO Trust, an organization previously supported by Diana. "Being here now 22 years later, trying to finish what she started will be incredibly emotional," he told interviewer Tom Bradby, "but everything that I do reminds me of her." 
Prince Harry labeled the media as bullies in Harry & Meghan: An African Journey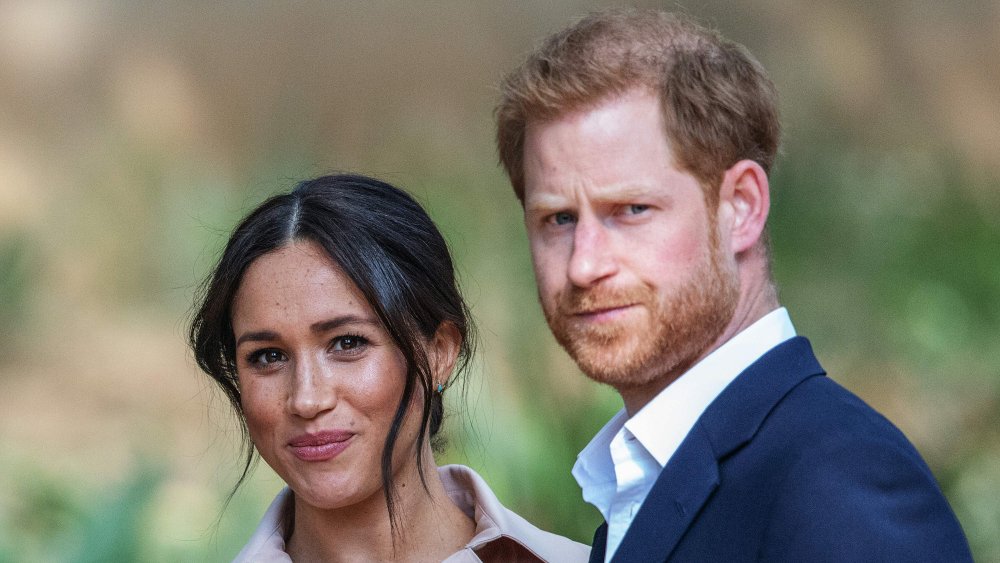 Michele Spatari/Getty Images
Although it had been said that Prince Harry blamed the media for his mother's car accident and subsequent death, Harry himself denounced the paparazzi in a 2017 documentary (via CBS This Morning),  and stated that the car crash not only led to his mother's death, but the photographers' lack of action in seeking help as his mother laid dying did too.
In Harry & Meghan: An African Journey, the prince talked about his family being relentlessly pursued by the media. He told ITV's Tom Bradby, "I will not be bullied into playing a game that killed my mum."
Toward the end of the royal tour and the documentary, Bradby revealed that Harry had released an official statement citing Meghan's lawsuit against a British newspaper for "breach of privacy." Bradby noted, "The media thought the couple had gone mad — after such a successful tour, why blow it up like this? But this is a couple that feel themselves on a moral mission to challenge what they believe is wrong, determined, as Harry said, not to 'be bullied.'" Harry later launched his own legal battle against the British press.
In Harry & Meghan: An African Journey, Harry worried about losing Meghan the same way he lost his mom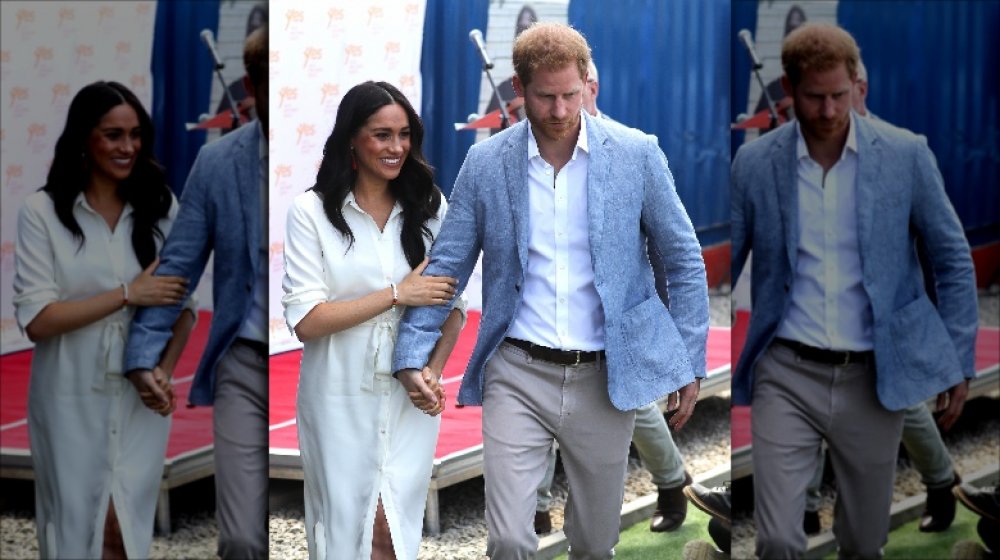 Chris Jackson/Getty Images
Prince Harry has been attempting to protect Meghan Markle from the British media since well before they were married. "Prince Harry is worried about Ms. Markle's safety and is deeply disappointed that he has not been able to protect her," a statement issued by the Communications Secretary to Prince Harry in November 2016 revealed.
The Duke of Sussex continues to worry about the duchess and now his little one too. When speaking with interviewer Tom Bradby in Harry & Meghan: An African Journey, Harry explained that his mother had instilled in him "a certain set of values." He added, "I think, I will always protect my family, and now I have a family to protect." Prince Harry continued, saying, "Everything that [Princess Diana] went through and what happened to her is incredibly raw every single day, and that's not me being paranoid. That's just me not wanting a repeat of the past."
Meghan called her husband this cutesy nickname in Harry & Meghan: An African Journey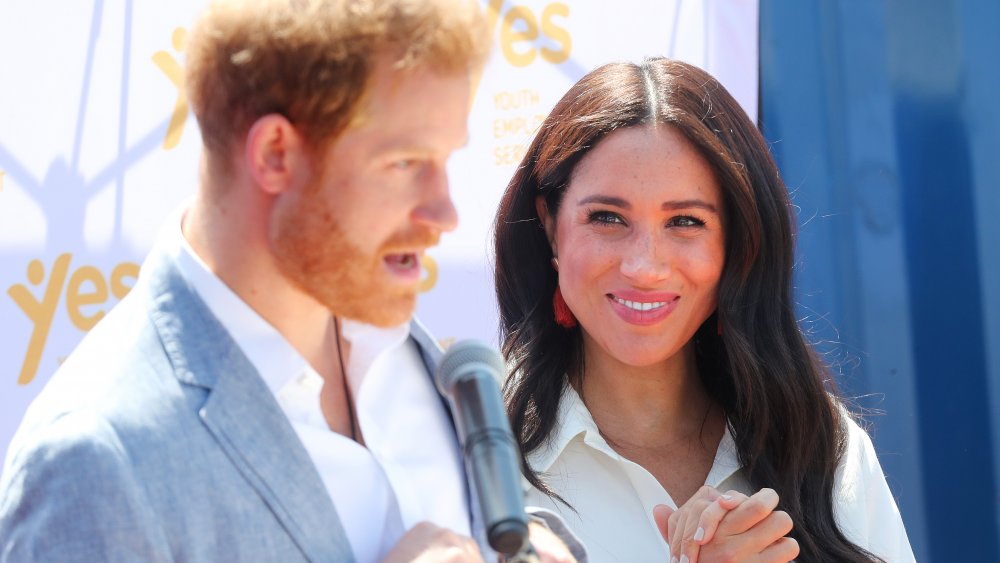 Chris Jackson/Getty Images
Harry & Meghan: An African Journey is an emotional documentary — there's no denying that — but, even during some heavy moments, there were a few lighthearted gems sprinkled throughout. 
When Meghan Markle was discussing the media pressure she and Prince Harry face daily, interviewer Tom Bradby asked if she would be able to continue in the way that things are going. Within her reply, we learned the sweet nickname Meghan had given her husband. "You know, I've said for a long time to H — that's what I call him — it's not enough to just survive something, right? That's not the point of life," she revealed. "You've got to thrive, you've got to feel happy."
Although we can't ignore the depth of what Meghan said in response to Bradby's question, Meghan revealing her pet name for Harry — and the little laugh that went along with it — provided a brief moment of reprieve during a tense conversation. 
Harry & Meghan: An African Journey showed that the duchess is a hugger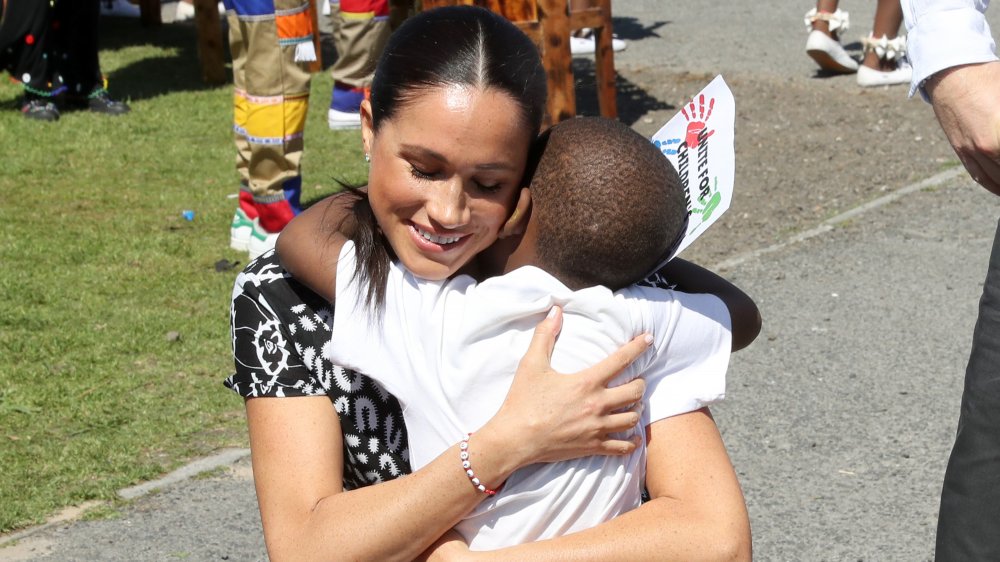 Chris Jackson/Getty Images
Throughout the documentary Harry & Meghan: An African Journey, Prince Harry and Meghan Markle are shown frequently interacting — be it through dancing or having conversations — with residents in South Africa. Theodora Luthuli, community leader of the human rights organization Justice Desk, revealed in the special, "For the people of Nyanga to really know that they are ordinary people, it was exciting." She further revealed, "Meghan — everybody knows by now — is a hugger." Luthuli told of a time on the tour that a little boy just got up from where he was sitting and hugged Meghan. "It was so beautiful," Luthuli recalled.
Meghan wasn't the first royal hugger, though. According to Princess Diana's aunt, Mary Roche, the late royal was very fond of hugs. "Diana was very affectionate and warm and a great hugger, which is very unlike our family tradition. Hugs were very important to her, and hugging her children," Roche explained to the Daily Mail. "She even gave me The Little Book of Hugs." How sweet it is that Meghan is carrying on this small, but important, part of the people's princess' legacy.
You may have missed this adorable moment in Harry & Meghan: An African Journey
Prince Harry and Meghan Markle weren't the only royals to share in the excitement in South Africa. Baby Archie got in on the fun as well. He even completed his first royal engagement: meeting Archbishop Desmond Tutu. In the documentary, Meghan spoke of what it was like having her son meet the archbishop.
"I mean, it's not lost on us what a huge and significant moment that is, and I think, you know, Archie will look back at that in so many years and understand that right at the beginning of his life he was fortunate enough to have this moment with one of the best and most impactful leaders of our time," Meghan revealed. "So, it's really special."
As Meghan was recalling that important moment with ITV's Tom Bradby, some eagle-eyed viewers spotted something adorable happening in the background. "My favourite part of Harry & Meghan: An African Journey [is the] reflection of Harry cuddling Archie," one person tweeted. Another remarked, "Meghan is saying something important but I can't keep my eyes off the duo in the left side corner." Too cute!
Harry finds climate change deniers "troubling" in Harry & Meghan: An African Journey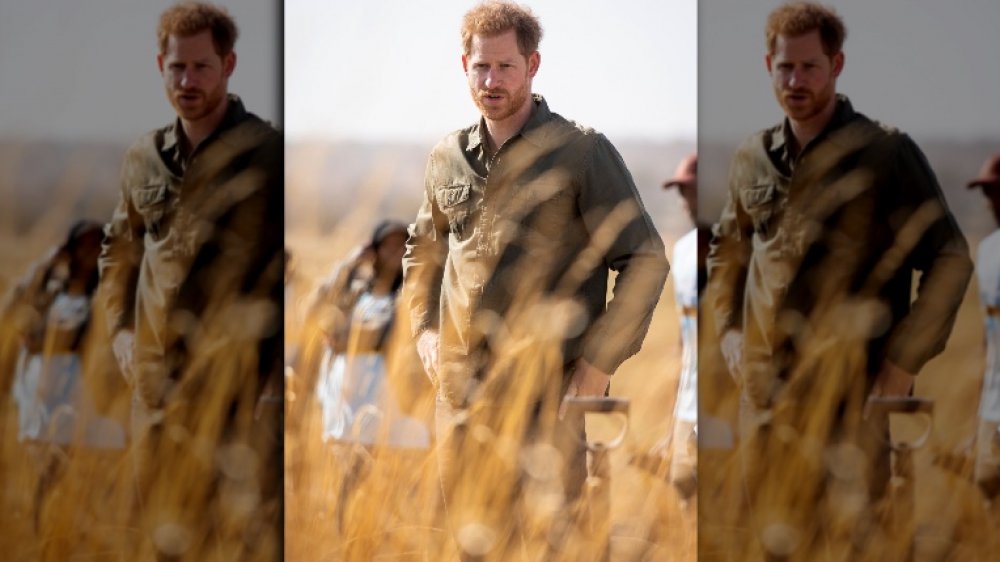 Pool/Getty Images
Prince Harry and Meghan Markle have long spoken out about environmental concerns. While speaking with renowned activist Jane Goodall for Vogue, Harry revealed that he and Meghan planned to have "two [children], maximum" because of the planet's dwindling resources. He explained, "What we need to remind everybody is: these are things that are happening now. We are already living in it. We are the frog in the water and it's already been brought to the boil."
In the 2019 documentary Harry & Meghan: An African Journey, interviewer Tom Bradby remarked that Harry is not afraid to speak out about causes that some would deem political. "It's a race against time and one in which we are losing," Harry said of the climate crisis. "Everyone knows it. There's no excuse for not knowing that, and I think the most troubling part of that is that I don't believe that there's anybody in this world that can deny science." Appearing frustrated, Harry added that he just "genuinely" doesn't understand how people can deny the facts about climate change.
It's clear that Archie loves Africa as much as his parents do in Harry & Meghan: An African Journey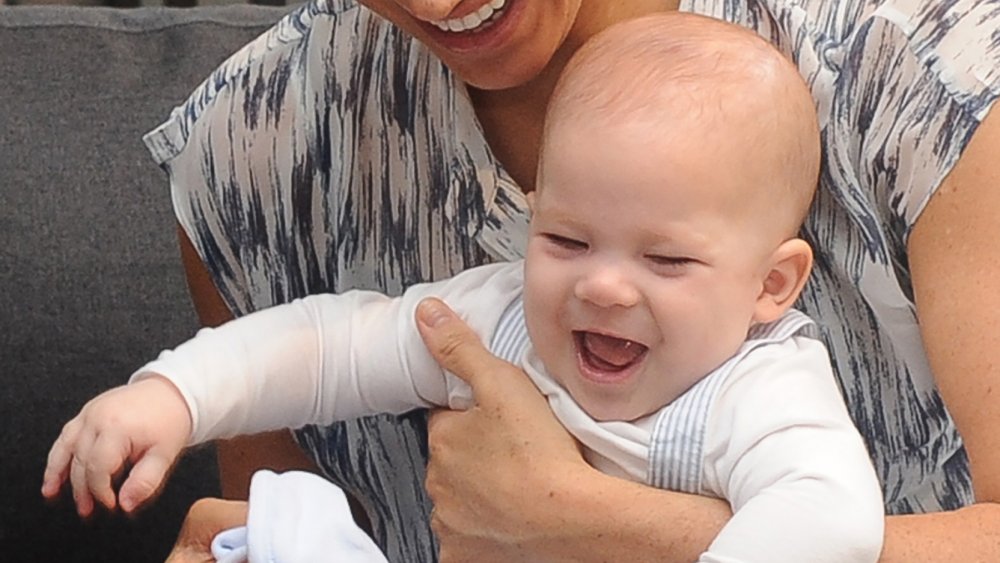 Henk Kruger/Getty Images
It's no secret that Prince Harry and Meghan Markle have a deep love for Africa, but, as it turns out, so does their young son Archie. During the royals' documentary Harry & Meghan: An African Journey, the couple dined with residents of Bo-Kaap, South Africa and chatted about their little one. Harry revealed, "I tell you what, he clearly loves Africa as well because he's been happily looking out the window." He continued, saying, "He found his voice now. He was bouncing up and down and making more noise than he's ever made before, and he's smiling the whole time."
Meghan noted a similar love of the continent in her then nearly five-month-old. "We thought he was happy before," she explained. "He's the happiest here. He's [been] so chatty the past two days." Archie's smiley disposition could also be seen earlier in the documentary as he interacted with Archbishop Desmond Tutu and his daughter, Thandeka Tutu-Gxashe.
Harry & Meghan: An African Journey suggests that the royals would consider moving to Africa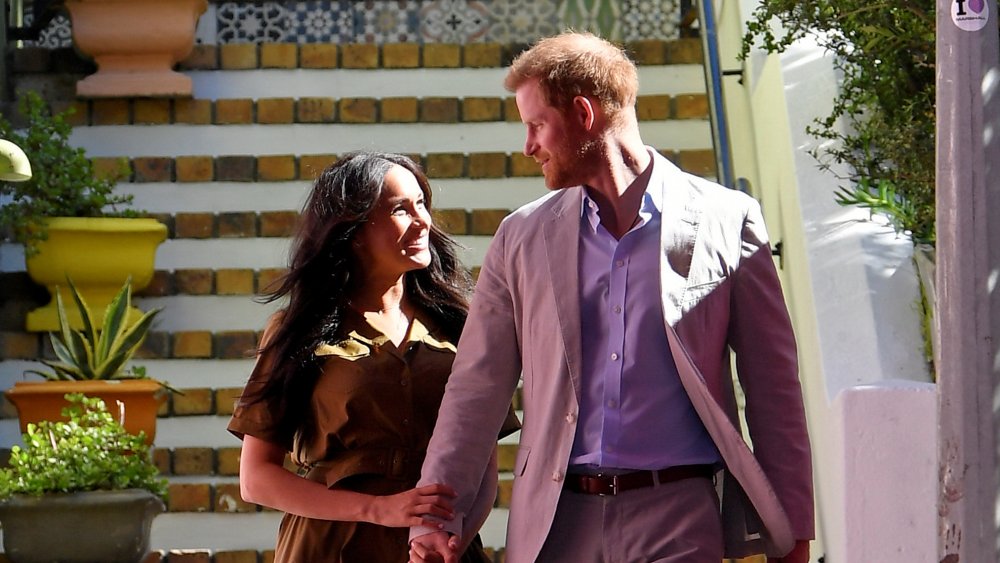 Pool/Getty Images
If Prince Harry loves Africa and Meghan Markle loves Africa and baby Archie loves Africa, can we expect the family of three to relocate any time soon? Harry admitted to ITV's Tom Bradby in the documentary Harry & Meghan: An African Journey, "I don't know where we could live in Africa at the moment." The prince explained that Cape Town would be "an amazing place" to base themselves, but the extreme class division that exists in South Africa would make a move there difficult.
"With all the problems that are going on there, I just don't see how we'd be able to really make as much difference as we'd want to without the issues and the judgement of how we would be with those surroundings," the prince explained. "It's a very hard place to live when you know whats going on, but then you're sort of, again, slightly disconnected from it." Nevertheless, Harry said he and Meghan will continue to focus on Africa for "the rest of [their] lives."