The Truth About Alexis Bledel's Husband, Vincent Kartheiser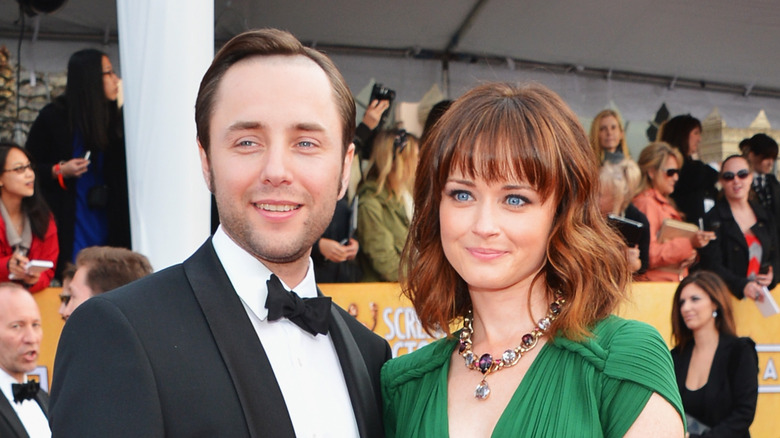 Alberto E. Rodriguez/Getty Images
She's most famous for playing the subdued Rory Gilmore on Gilmore Girls, so it's unsurprising to learn actress Alexis Bledel is similarly low-key in real life. Although casual fans are probably unaware, Bledel has been married to fellow actor Vincent Kartheiser since 2014. 
The pair keeps their relationship very firmly under wraps — as in, they're barely even photographed on red carpets together. Thankfully, since both are pretty famous people, there are certain things we can decipher about Bledel's husband simply because he's in the public eye and tasked with doing interviews every once in a while. As it turns out, Bledel wasn't the only one whose career kicked off on a massive TV show. 
Vincent Kartheiser is a famous TV star, too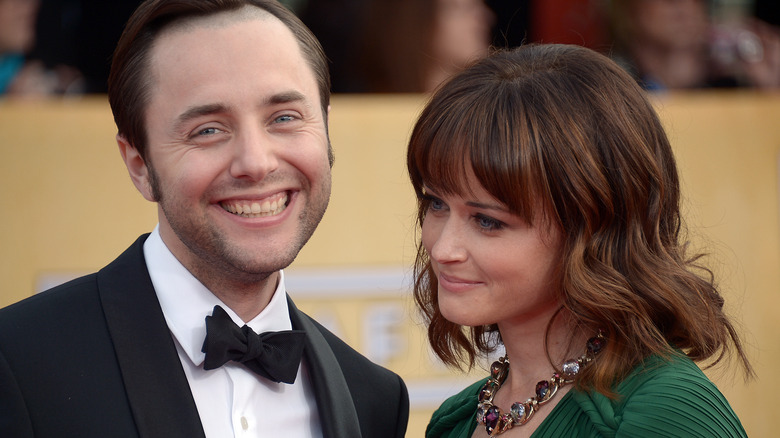 Joe Klamar/Getty Images
Though he's been starring in many minor roles since 1993, Bledel's hubby's first big break was playing Connor on the Buffy the Vampire Slayer spin-off Angel. However, he met Bledel on his biggest job to date, while starring as slimy Pete on Mad Men. Hardcore fans of the Gilmore Girls alum will know she featured on the show, too, as none other than Pete's love interest.
Nothing happened until Bledel's season had finished, though, as Kartheiser firmly told Vulture, "We were completely professional. We never saw each other out. We never — it was nothing, it was just work."
Their colleagues on Mad Men all saw it coming a mile off, however, with Jon Hamm telling Vulture, "I did know he liked her from a very early point. I was a supporter of that union." Likewise, series creator Matthew Weiner told Kartheiser that "they would be great together."  
Bledel and Kartheiser are both focused on keeping things private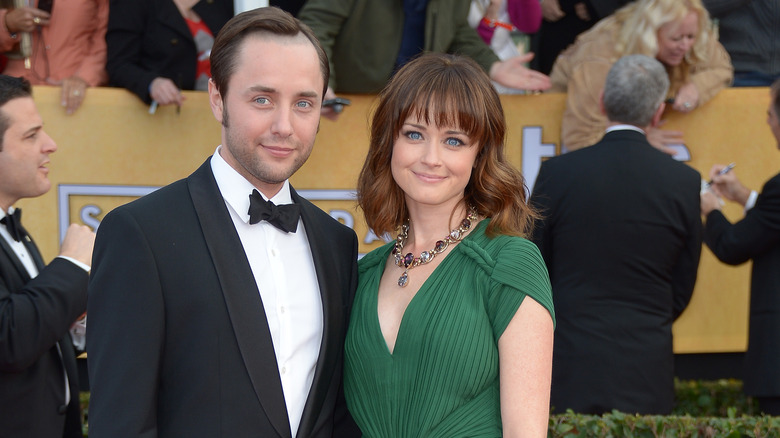 Joe Klamar/Getty Images
Later, Kartheiser practiced his proposal on the Mad Men cast, according to People. The couple got engaged in 2013 and wed in a top-secret ceremony in California the following year, as E! News confirmed at the time. 
In keeping with how incredibly private they are, it took a classic slip from Gilmore Girls' own Scott Patterson (aka Luke) for anybody to even find out Bledel had given birth to her first child. 
It was a year later, when Patterson told Glamour in an interview, of Bledel, "She's really blossomed as a woman and now she's a proud new mother and married and happy... We're comparing notes because my son is about a year-and-a-half older than her young son." 
Prior to meeting Bledel, Kartheiser dated another actress, She's All That star Rachael Leigh Cook, with whom he worked on All I Wanna Do, according to Today. Bledel, meanwhile, dated Gilmore Girls co-star Milo Ventimiglia for over three years. Kartheiser was so intent on not settling down, he used to wear a fake wedding ring, according to an interview with The Guardian.
Still, it seems he's met his match with Bledel. On what makes them such a good couple, Weiner told Vulture, "They're both very down to earth, with a sense of responsibility and strong family ties. And they've been acting since before they can remember, which makes for a very special personality."