The Most Expensive Ring In The World
There is bling, and then there is the CTF Pink Star — the heart of the world's most expensive diamond ring, which was purchased for an eye-watering $72.1 million at a Sotheby's auction held in Hong Kong in 2017. Sotheby's described the diamond as a "59.60 oval mixed-cut Fancy Vivid Pink Internally Flawless diamond... part of a rare subgroup comprising less than 2 percent of all gem diamonds." The Jewellery Editor reports that the gem was acquired by Hong Kong jeweler Chow Tai Fook after a three-way telephone bidding war. Originally known as the Pink Star, it was rechristened the CTF Pink Star after the company's initials were added to the gem's original name. After all, if you paid for it, you definitely have to find a way to remind folks that you own it.
The Pink Star came with a discount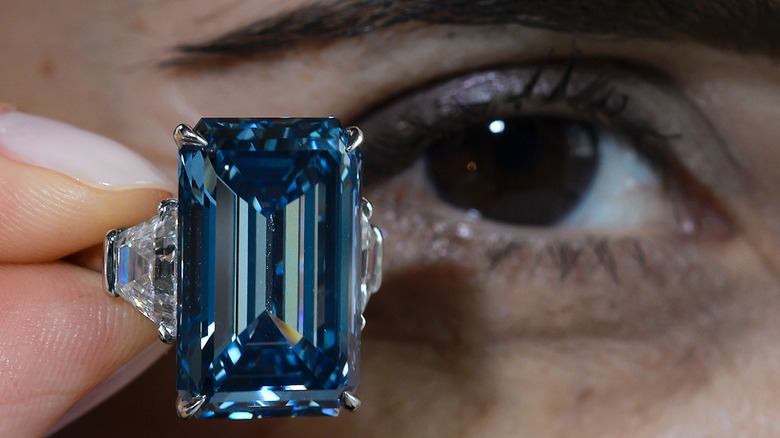 Fabrice Coffrini/Getty Images
Even if it broke records, the Pink Star was still a bargain. It attracted an $83 million bid when it first went up for auction by Sotheby's Geneva in 2013. That winning bid was made by New York diamond cutter Isaac Wolf on behalf of a group of investors. The consortium subsequently defaulted on the payment and as a result, the ring went back on the auction block (via The Jewellery Editor).
The CTF Pink Star is not the first piece of jewelry to come with a jaw-dropping price tag. The Jewellery Editor says that in 2016 the Oppenheimer Blue was sold for $57.7 million at Christie's Geneva in May 2016. The ring was named after Sir Philip Oppenheimer, who had given the ring to his wife Pamela. Before that, the title of "World's Most Expensive Ring" was bestowed on another pink diamond known as The Graff Pink, previously owned by jeweler Harry Winston, and which sold for a "measly" $46.2 million at Sotheby's Geneva.