The Real Meaning Behind Meghan Markle's New Rings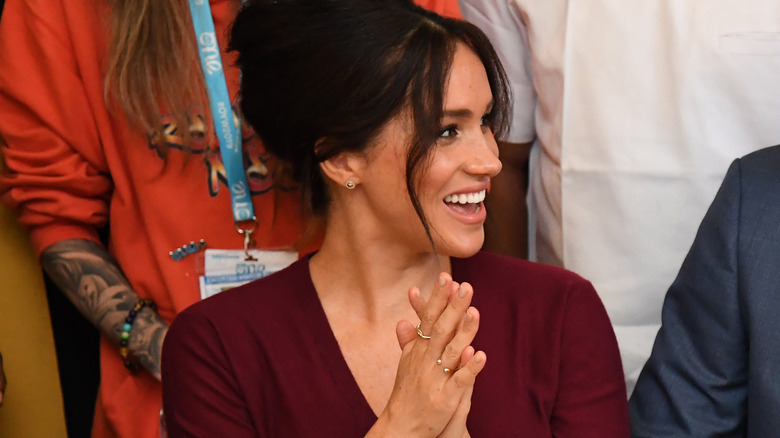 Wpa Pool/Getty Images
If you're a follower of royal fashion, you've probably noticed that Meghan Markle, the Duchess of Sussex, loves rings. There are some rings that she wears regularly, like her engagement ring. She's also been spotted sporting an eternity ring which, according to Harper's Bazaar was gifted to her by Prince Harry to celebrate their one year anniversary as well as the birth of their son, baby Archie. 
Another favorite ring of Markle's is her gold Hamsa ring which, according to People, is a symbol meant to bring good fortune to the wearer. The young royal recently added a couple more gold rings to her fingers, both of which have a special meaning.
Meghan Markle's new rings support this important cause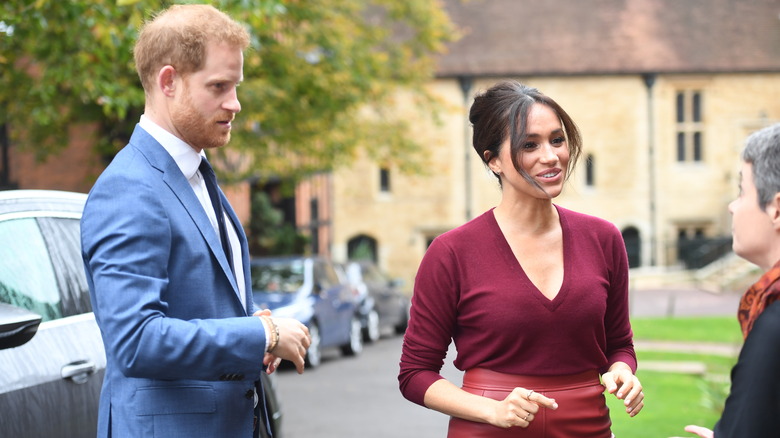 Jeremy Selwyn/Getty Images
Markle's two new gold rings support a cause near and dear to her heart. They are both from jewelry brand Vargas Goteo, which is dedicated to raising awareness of endangered animals. The Montreal-based brand was founded by Alex Prijic Smith in 2010. Its designs are inspired by endangered wildlife and a percentage of the line's proceeds are donated to animal conservation efforts. 
Prijic Smith was delighted to see her designs gracing Markle's hands. "To see my work out there and on such a remarkable woman really is a dream come true," she told People. "Meghan always exudes ease and elegance, refinement and a freshness in everything she steps out in."
People are rushing to copy Meghan Markle's new look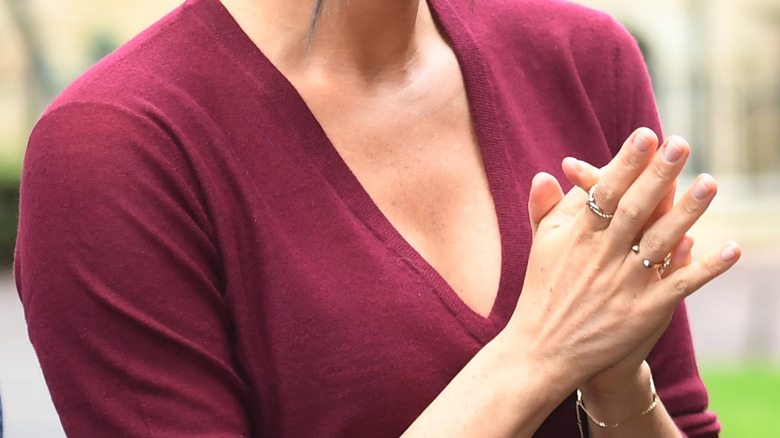 Wpa Pool/Getty Images
The first of Markle's new rings is the Manta Kiss Ring which, according to Prijic Smith, "supports the Manta Trust, a U.K based charity whose global work focuses on ray and marine habitat research and conservation."
Her other new ring is called the High Seas Bow Knot Ring. Since Meghan Markle was spotted wearing the rings, sales of the brand have increased.
"I think it's apparent when eco-socio awareness runs deep, and Meghan is a shining example of that," said Prijic Smith. "Whether in her actions, her words, or her choice of brands, she stays true to shining a light on the value of compassion and efforts made to create positive change."