Meghan Markle Ditched Her Huge Engagement Ring For An Important Reason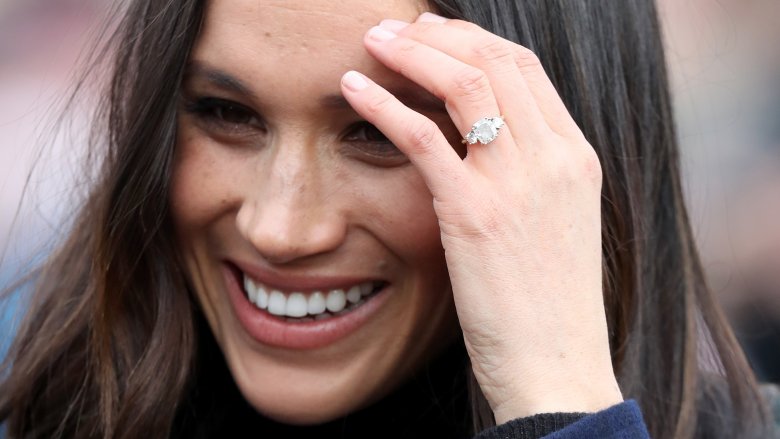 Chris Jackson/Getty Images
Meghan Markle has a pretty noticeable, blingy engagement ring — a whopper with a 3-carat diamond, in fact — but if you've looked at any of her recent pics, you might notice that it's notably absent and presumably hasn't come along with the Duchess of Sussex on her royal tour of Africa (via PureWow). The royal family, along with Prince Harry and 4-month-old Archie, recently arrived in Cape Town, South Africa, and began making the rounds on an official royal visit. 
As photos began to surface from their travels, though, it didn't take eagle-eyed fans long to notice that the duchess wasn't wearing her giant engagement ring. Instead, she's sporting a simpler, more modest ring, featuring a simple gold band with a small turquoise stone alongside her gold wedding band.
The simple turquoise ring is a Jennifer Meyer creation that is (unfortunately) currently sold out. It sells for $250, so nowhere near the cost of a hefty 3-carat diamond. It's classy and understated, while still being a gorgeous accessory for the Duchess of Sussex on her royal visit. And as it turns out, that is exactly the reason Markle left her engagement ring behind — a source confirmed to People that she wanted to be far more low-key during meet and greets while in South Africa.
Meghan Markle also left another ring behind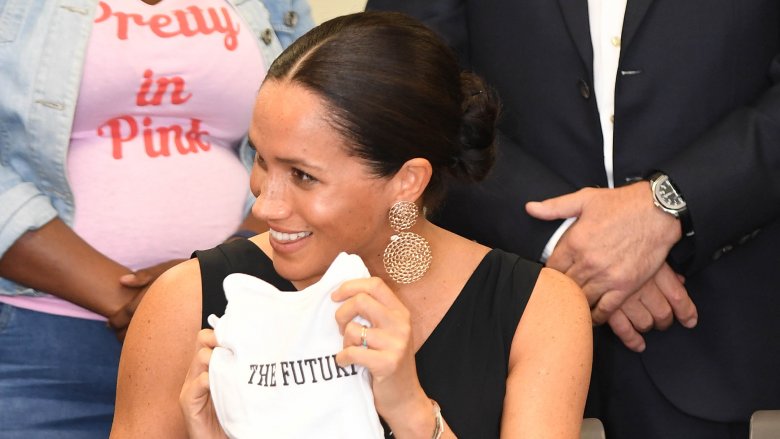 Pool/Getty Images
Her engagement ring isn't the only thing missing, though — Markle has also chosen to not wear her eternity ring on the African tour. Her eternity ring is a newer addition to her ring finger and was first noticed in June (via People). Eternity rings, often covered with diamonds in an infinite loop around the band, are a traditional gift, often bestowed after an important occasion, such as a wedding anniversary or the birth of a child. Archie made his appearance just a month before the new ring was spotted, but People confirmed the eternity ring was, in fact, an anniversary gift from Prince Harry. 
Markle's engagement ring naturally got a lot of interest when the future royal revealed it shortly after the couple announced their engagement in 2017 (via Reader's Digest). The three-stone ring is packed with meaning — the smaller diamonds on either side of the center stone are from Princess Diana's personal collection. 
The large diamond, though, is also meaningful even though it doesn't come from Prince Harry's mom. The diamond hails from Botswana, which Prince Harry calls his second home, as it's a place where the young prince visited frequently after the untimely death of his mother. "I first went to Botswana in 1997, straight after my mum died," he said. "My dad told my brother and me we were going to Africa to get away from it all. This is where I feel more like myself than anywhere else in the world. I have this intense sense of complete relaxation and normality here."
While everyone is very interested in royal engagements and the resulting rings, fans have noticed that wedding rings aren't a part of every prince's outfit. Prince William, for instance, simply doesn't care for jewelry (via Reader's Digest), and according to Hello Magazine, Prince Philip does not wear a ring either. Prince Charles, on the other hand, always dons a ring, as does Harry. 
The wedding band Markle wears was fashioned from Welsh gold and was gifted from the Queen, while Prince Harry's band is made from platinum. Prince Charles, of course, wears his wedding ring on his pinky finger, while Harry's resides on his ring finger.
Meghan Markle's ring isn't the only thing people are talking about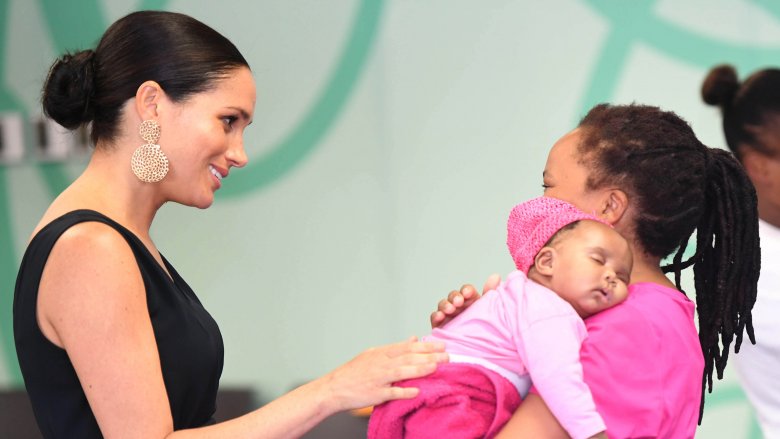 Pool/Getty Images
Markle's fashion choices are always the subject of scrutiny from the public, and while her rings are the big story here, people have also noticed that the duchess doesn't always wear a brand-new outfit on outings. For example, when the family arrived in South Africa a few days, it was noticed that she was wearing a dress previously worn last October. She also wore a striped maxi dress on this trip that was previously spotted during the couple's visit to Australia, also last October. 
The royal family, who memorably spent time with Archbishop Desmond Tutu already on this tour, continues on for several more days. This is the first visit to South Africa for Meghan, and it's baby Archie's very first official tour anywhere.