90 Day Fiance's Loren And Alexei Are Expecting Their First Child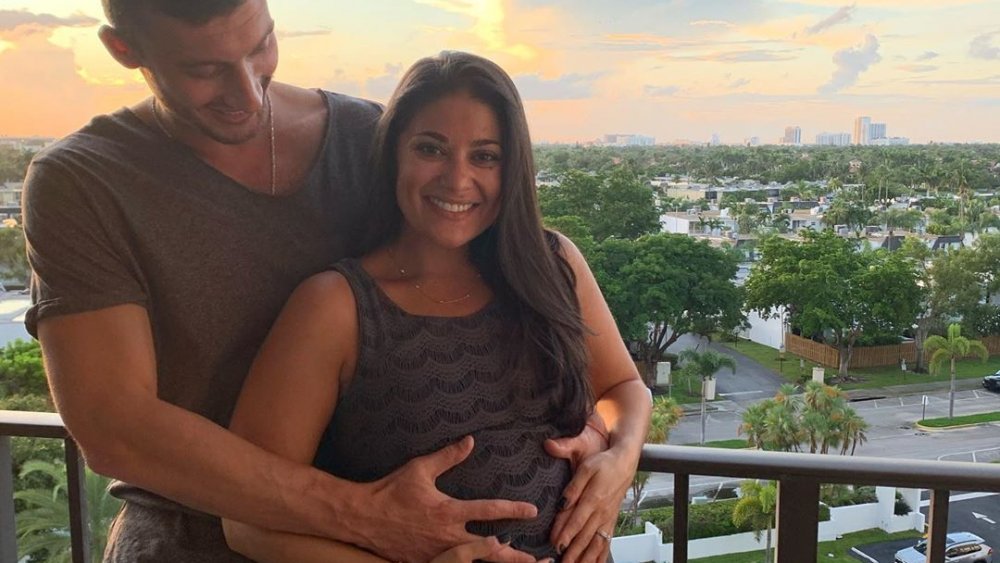 90 Day Fiancé stars Loren and Alexei Brovarnik may have experienced a lot of ups and downs in their relationship (as viewers know all too well) but it looks like right now they're experiencing a definite "up." The couple just announced the happy news that they are expecting their first child.
Loren posted a picture of herself and her husband cradling her baby bump on Instagram earlier today. "We're so excited to finally say, BabyBrov is on its way!" she wrote in the caption. "For those of you saying I'm pregnant, well, ding ding ding, we cannot wait to welcome our baby boy or girl this spring!"
Loren said that Alexei has been supportive throughout the pregnancy
In a statement to E! News, Loren described her pregnancy as "surreal," saying, "For me, I see a lot of people I know (personally) announcing their own exciting news, and now it's my turn! I'm excited, terrified, over the moon, nervous and so much more!"
It seems that pregnancy has really brought the 90 Day Fiancé couple closer in their relationship. Loren added that Alex has been incredibly supportive so far in her pregnancy. "Alex is hands down the best partner I could have ever asked for during this time," she said. "The first trimester wasn't easy for me, and he was and is an amazing support system. We are just overjoyed and cannot wait to meet our baby this spring! The fact that it happened in Israel just makes it that much more special for us. We have been through a lot, and we're just so excited for this next journey together! #babybrov"
Alexei is thrilled to be a father
While he didn't have as much to say as his wife and the mother of his child did, Alexei also expressed his excitement at becoming a dad. "I'm very excited and happy, but nervous and scared at the same time," he said.
The 90 Day Fiancé star also took to Instagram with his own announcement. He captured a photo of himself and his beaming wife. In the caption, Alexei wrote, "Yes it's tru we are pregnant couldn't be more excited, I AM GOING TO BE A DADDY!!!"
Baby Brovarnik is due in May.