What Chip Gaines Thought When He First Saw Joanna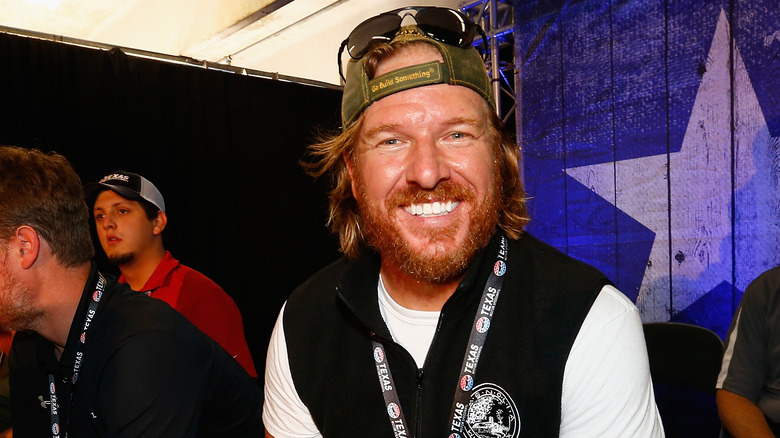 Jonathan Ferrey/Getty Images
Chip and Joanna Gaines are a power couple for the ages. The former Fixer Upper stars ran their own business while raising a family and starring on an HGTV show for years, and are now preparing to launch their own television network. Is there anything that they can't do? 
Chip and Joanna make juggling work, parenthood, and marriage look easy, and it seems like they were fated to be together. But was that always the case? What did Chip think when he first saw Joanna? Was it love at first sight?
Chip Gaines was immediately smitten
Chip and Joanna Gaines met when Chip went to an auto shop owned by Joanna's family. Joanna had starred in commercials for the shop, so she was instantly recognizable to Chip. "One day I was walking out, and he was walking in, and we just bumped into each other," Joanna revealed on Sunday Today with Willie Geist on October 27, 2019 (via YouTube). "And he was like, 'Hey! you're that girl in the commercials!'"
Chip was smitten as soon as he saw Joanna. "I thought I was dreaming," he said.
Joanna Gaines didn't fall quite as fast as Chip
While Chip Gaines felt like his "prayers had been answered," when he bumped into Joanna, Joanna wasn't initially impressed with the man who would one day become her husband. That all started to change when they began talking, though. "He started asking really interesting questions, and I realized 'This was the first time I've had a conversation with someone where I feel like I'm actually getting to know myself better,'" she said.
The future Fixer Upper stars talked for an hour and a half during that first meeting. While Joanna initially thought that Chip was just a friendly customer, the next day he called the shop to give her his phone number — and the rest is history.