Jennifer Lopez Drops A Hint About Her Wedding Dress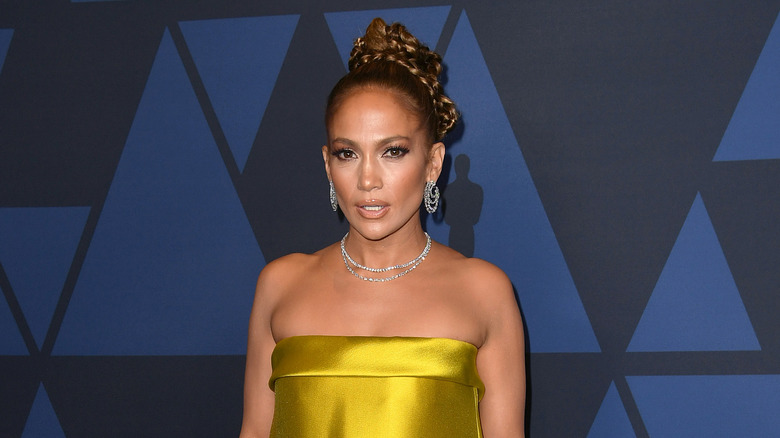 Kevin Winter/Getty Images
After being spotted in an extravagant Zuhair Murad dress during the filming of her upcoming movie, Marry Me, Jennifer Lopez has finally dropped a hint about her own wedding dress. Months into her engagement with baseball player Alex Rodriguez, Lopez has revealed what her wedding dress won't be. 
The iconic star recently attended the 2019 Governors Awards, and while speaking with Extra's Terri Seymour about her upcoming Super Bowl halftime show, shared her thoughts on the dress.
While the gown she wore for her New York City filming was nothing short of glamorous, there's no denying there was a lot of it. With a long veil and jewels that made it glisten, the bedazzled dress probably weighed a ton. And that's not what Lopez is going for with her own dress.
"I don't want one as big as I'm wearing in the movie," she told Seymour. "That one is a lot to carry around, too big, but amazing and I'm so lucky I got to wear it." When asked if she had picked out her wedding dress she replied, "No, not yet."
Jennifer Lopez doesn't have a dress or date set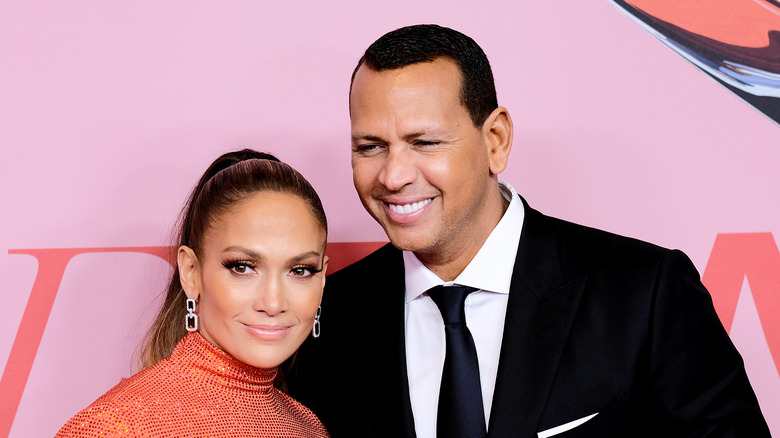 Dimitrios Kambouris/Getty Images
In a rush to see J.Lo as a bride? You'll have to check out her upcoming film because the couple hasn't set a date yet, but Lopez did talk about their plans in a recent interview (via Allure).
"I have a movie I'm shooting in October, [Marry Me], and the movie has an album that goes with it, so I'm just a little bit busy right now, and until October, he has the World Series in baseball," she told Evening Standard.
"We're going to have to pick a day, pick a time, and block it out, but we're definitely talking about it. [Marriage is] important for both of us. We both come from traditional Latin families and we want that. Everyone wants somebody to grow old with. At the end of the day, how much work can you do, how much money can you make, and what does it all matter? It doesn't, really," she added.
While fans can only hope for glimpses of Lopez's actual wedding dress if she and A-Rod release photos, you can catch her looking stunning in the extravagant gown in her upcoming movie.
According to IMDb, co-staring Owen Wilson and Sarah Silverman, Mary Me is about a pop star who marries a "random guy in the crowd" moments before her wedding instead of her rock-star fiancé. 
The movie is set for release January 1, 2020.