Will Cracking Your Knuckles Really Cause Arthritis?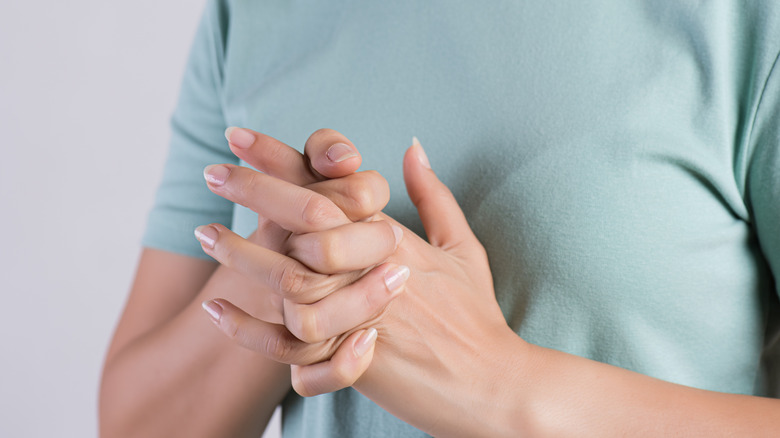 Shutterstock
The act of knuckle cracking is something most of us participate in, but something we don't know much about. We've all heard that cracking your knuckles is bad, can contribute to arthritis, and that it's generally detrimental for bone health, but is it really so harmful? Approximately 25 to 54 percent of people crack their knuckles for various reasons — nervousness, habit, or just for relief (via Journal of American Board of Family Medicine), and that's a lot of potential arthritis waiting to happen. If you're a knuckle cracker, here's what you need to know about what's really going on with your joints when you hear that satisfying pop.
Here's what's happening when you crack your knuckles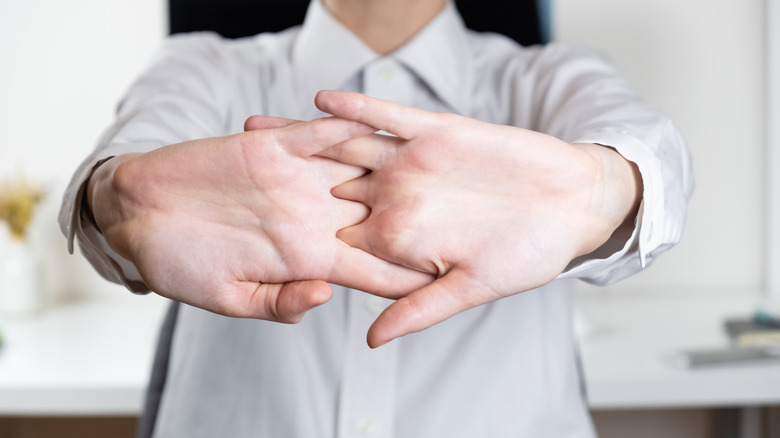 Shutterstock
Dr. Robert Klapper, an orthopedic surgeon, explained to Cedars Sinai, "The noise of cracking or popping in our joints is actually nitrogen bubbles bursting in our synovial fluid." Synovial fluid is a lubricant for your joints and reduces friction. After 20 minutes, nitrogen bubbles reappear, creating a vicious cycle of knuckle cracking. According to Harvard Health Publishing, the bubbles pop when the bones in the fingers are pulled apart, whether that's done by stretching or bending the fingers backwards, and it creates a negative pressure.
Though you may think you experience physical relief from this, Dr. Klapper says, "Feeling good after cracking your knuckles is a psychological experience."
Cracking your knuckles does not cause long-lasting effects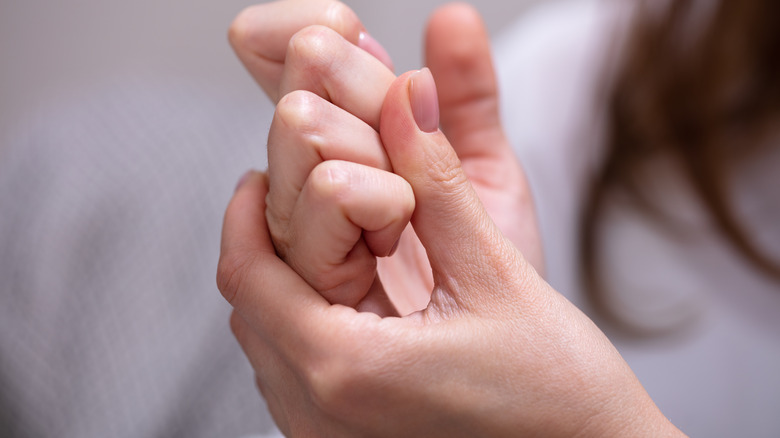 Shutterstock
If you crack your knuckles, and pain is present, there may be underlying concerns to the joint (via WebMD). However, according to NCBI, there is no link between arthritis and cracking your knuckles. 
A California physician conducted an experiment on himself over the course of his life where he regularly cracked his knuckles on only one hand. After 60 years, he found no difference between his hands, as both had the same progression of arthritis (via Business Insider). However, popping your knuckles may reduce grip strength (via Medical News Today). 
So, cracking your knuckles does not increase your risk of arthritis, but the one thing the habit is proven to do is aggravate the people around you.