How Much Would Carrie Bradshaw's Apartment Cost Today?
It is a fact and universally acknowledged (at least in the world of Sex and the City) that if you have a rent-controlled apartment, you will be able to afford all the good things in life. That's how it came to be that the iconic Carrie Bradshaw's apartment (played by Sarah Jessica Parker), whose exterior was located on E. 73rd Street in New York (but whose inside was filmed at 66 Perry Street, according to Refinery 29), came to be "affordable" for a freelance columnist. 
Did we say Carrie also had a thing for designer bags (identified by InStyle as the iconic Fendi Baguette), shoes (Manolo Blahnik's Hangisi pump), clothes, cosmopolitans, and cab rides? While the math doesn't really add up, we can still wonder what her apartment would cost to rent if we wanted to move to the Upper East Side today.
How much is rent in New York's Upper East Side today?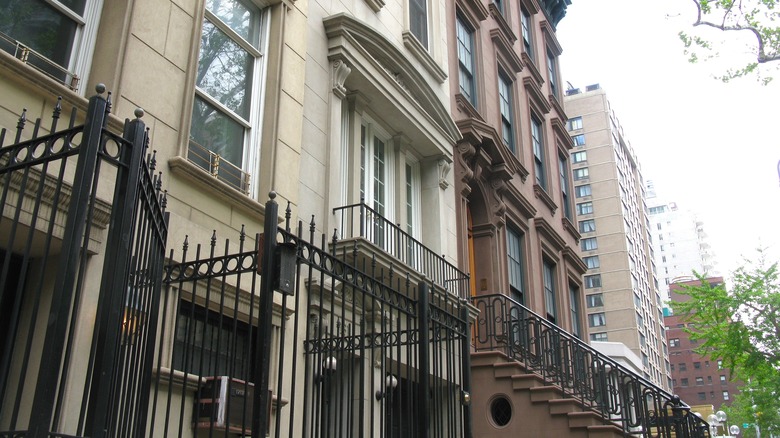 Shutterstock
Thanks to the Gods of Good Fortune, Girl Boss says Carrie only paid $700 a month for her Upper East Side, rent-controlled space, which the New York Daily News says would have cost $1,709 in 2000 (or about the time season 3 went to air, according to IMDb). Today, the Manhattan Rental Market Report shows the average, non-doorman apartment rental fee clocks in at about $2,160 a month for a studio, and just over $2,700 a month for a one-bedroom. 
If Carrie's apartment was actually a two-bedroom that became a one-bedroom because the spare was turned into a walk-in closet, she'd be looking to pay just under $3,500 today. And if, as Girl Boss estimated in 2018, Carrie's sole income came from her column (which happened in season 1), she'd be making $4,333 a month. After utilities and food, there wouldn't be much left to pay for cosmopolitans, let alone the latest Manolos or a new Fendi Baguette.