The Real Meaning Of Shawn Johnson's New Baby's Name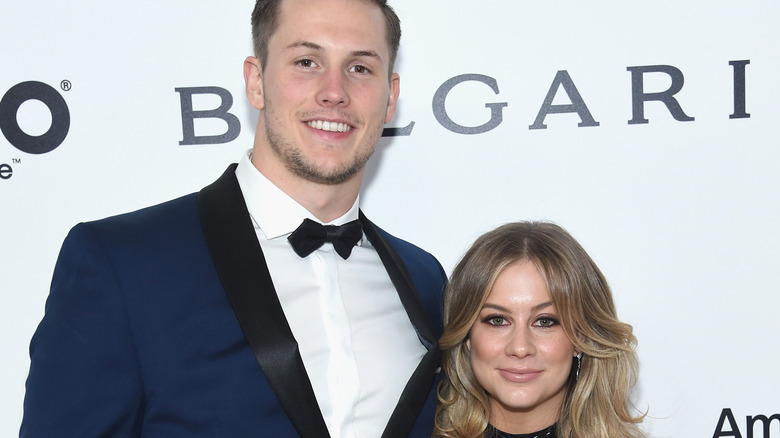 Jamie Mccarthy/Getty Images
Olympic gold medalist Shawn Johnson, well known for her gymnastics prowess, just welcomed a new baby girl alongside her husband, Andrew East. Their daughter, born on October 29, 2019, arrived solidly at 8 pounds and 8 ounces, as her mother announced on Instagram, and measured at 20.5 inches. 
"You are our everything," she wrote on an earlier Instagram post. "Welcome to the world baby girl." 
While the couple didn't announce their baby's name immediately, congratulations poured in for the happy new family. The pair got engaged in 2015 (the proposal came at a Chicago Cubs baseball game) and they were wed in 2016. While the couple had a few struggles along the way, including a miscarriage and a mid-pregnancy health scare, they were thrilled to announce the birth of their healthy baby girl. 
Now, after a little over a week of keeping everyone in suspense, they've finally spilled the tea on their new baby's name.
Shawn Johnson's new baby's name has a special meaning
Johnson and East kept their baby girl's name under wraps for probably as long as they could resist, but have now announced her full name: Drew Hazel East. As far as why they chose the name Drew? Johnson spelled it out for us, thankfully — "Named after the most incredible person I know... her daddy."
It's definitely not unusual for a baby to be named after a parent. While it seems to be more common for boys to take their father's name, parents can also bestow their own names on their female progeny. And it doesn't always have to be mom to daughter or dad to son, either — just look at Will and Jada Pinkett Smith. Their kids are named Jaden (for their mom) and Willow (for their dad), and that totally works out. With just a small tweak, Johnson and East gave their daughter a name that befits their family, and while "Drew" in and of itself is not a super feminine name, there have been plenty of girls named Drew for her to look up to (yes, we're talking about you, Drew Barrymore). 
If you're wondering, the name "Drew" is another version of the name Andrew, which means "manly," but it's still considered a unisex baby name. "Hazel," on the other hand, is a name based on either the hazel tree or a light brown color.  
Welcome to the world, little Drew Hazel.