The Real Meaning Of Josiah And Lauren Duggar's New Baby's Name
Josiah Duggar and wife Lauren gave birth to their first child, Bella Milagro, last Friday. This week, the beaming couple told Us Weekly, "After a long and difficult labor, our girl arrived." They continued, "When we finally got to see and hold our precious Bella Milagro all the pain instantly went away. We can't believe she is ours — she is so perfect! She definitely has lived up to her name which means, 'beautiful miracle.' Today we are basking in God's goodness!"
According to Belly Ballot, 'Bella' is derived from the name 'Isabella', which is a variant of 'Isabel'. Though the name is commonly known for the Italian translation, meaning beautiful, it actually has Latin roots and means "promise of God." Either way, it couldn't be a more fitting name for the reality stars' newborn. Her second name, Milagro, is Spanish for miracle.
Why Bella Milagro is such a fitting name for the newest Duggar baby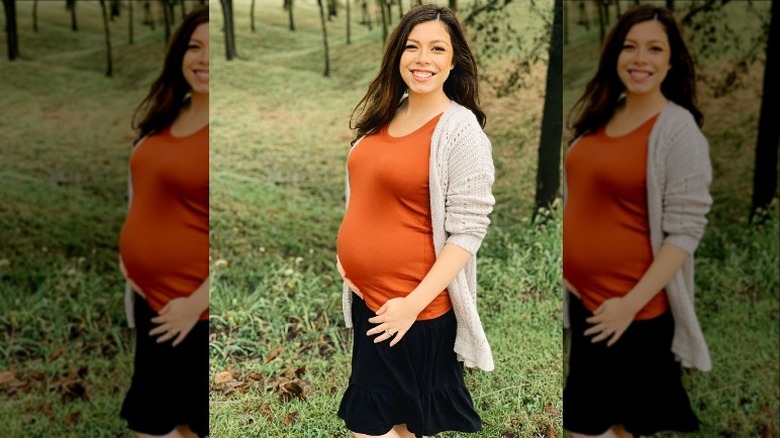 The Counting On lovebirds first announced they were expecting in May, sharing with fans, "God's faithfulness to us in our most difficult moments has sustained us and brought us such love and comfort. We cannot begin to tell you how much we are looking forward to holding this baby in our arms this fall. Every good and perfect gift is from above and we are looking forward to this new season of parenting together!" Shortly after they revealed they would be having a girl, adding "If she only knew how loved she is already and how many people are already praying for her! She truly is a gift ... a miracle from God."
However, Lauren's pregnancy wasn't easy, and the 20-year-old shared an update in August on Instagram. "Life is such a gift and something I cherish more now, with all that we have gone through this past year," Lauren captioned a photo of her baby bump. "This pregnancy hasn't been easy. I treasure every moment and I am reminded daily that life is truly a miracle from God." Earlier this year, Lauren also bravely shared that she had suffered a miscarriage prior to becoming pregnant with rainbow baby Bella Milagro.