The Absolute Best Outfit Blair Waldorf Ever Wore On Gossip Girl
Arguably no show influenced early 2000s fashion like Gossip Girl, the teen drama that had young girls placing themselves into one of two categories: Serena or Blair. The Blairs of the world fawned over her jewel-toned coats and seemingly endless collection of tights. True, it's easy to be a fashion icon when your TV-mom is a designer and the costume department works tirelessly to make sure your looks are (almost) always on point, but in Blair's case, a subtle distinction often took her outfits to the next level. Blair's outfits didn't wear her, she wore them, and the easy elegance with which she donned some truly out-there and extravagant pieces proves that. 
Throughout six seasons, Leighton Meester's Blair Waldorf wore some pretty memorable outfits. But what was the absolute best of them all? It just might be one of the last looks fans saw her in.
Blair Waldorf truly stunned in her Elie Saab wedding gown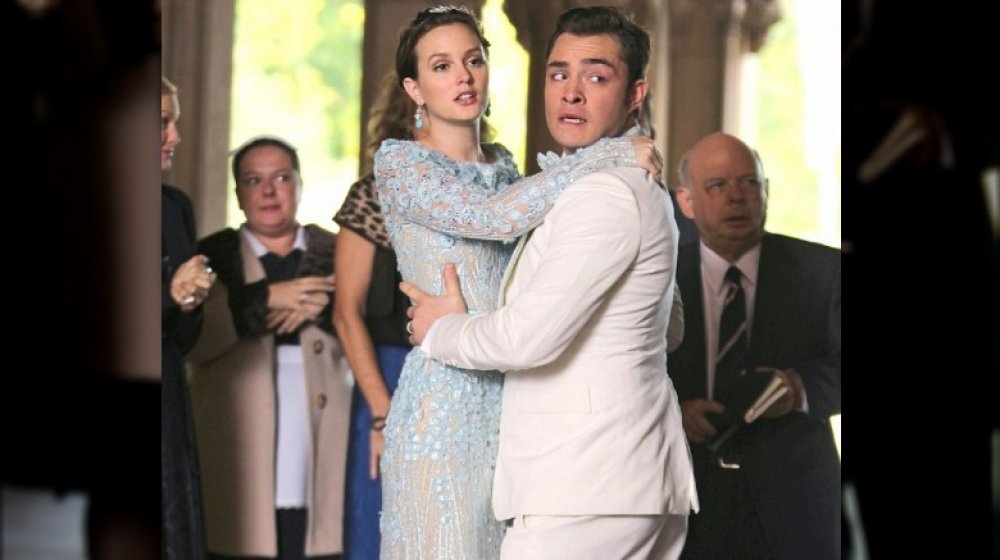 The CW
Narrowing down Blair's best look is no easy task, as the Upper East Side royalty regularly wowed the audience with her outfit choices. Throughout the series, Blair's fashion was way more hit than it was miss, but no look had more staying power and lasting impact than the now-famous blue wedding gown.
In one of the most epic will-they-or-won't-they TV romances of our time, Blair and the ever-intriguing Chuck Bass finally tied the knot in the series finale. The moment was highly anticipated by fans and it absolutely did not disappoint. For some though, the moment the duo said "I do" was overshadowed by Blair's jaw-droppingly beautiful gown. 
The look, which even Vogue editors agree is one of the best of the series, combined everything fans came to love about Blair's style. The headband. The unexpected color choice. The embellishments. It was Blair fashion at its absolute best — and what better way to cap off a series where the drama just may have been overshadowed by the costume department?