The Reason Harry And Meghan Are Skipping Christmas With The Queen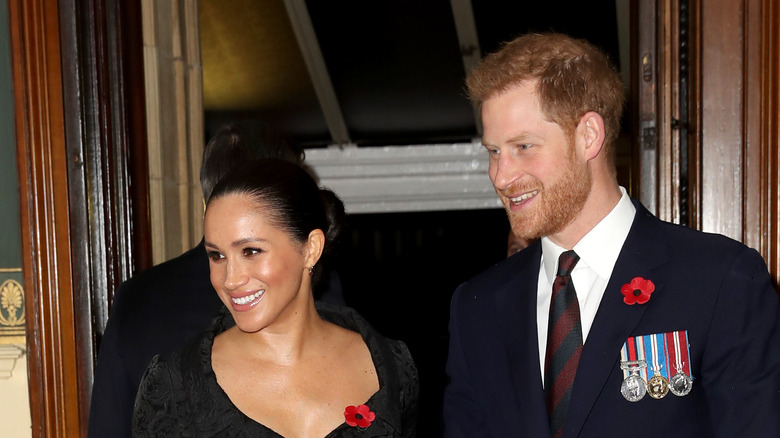 Chris Jackson/Getty Images
Christmas with the in-laws can be a stressful time, especially when your in-laws are the royal family, which is probably why Prince Harry and Meghan Markle are taking baby Archie and choosing to spend Christmas 2019 away from Sandringham with the queen. The Duke and Duchess of Sussex have had quite a year, after all, and are likely looking for a little well-deserved R and R.
Buckingham Palace has even gotten involved, presumably to squash any rumors of discord before they start, explaining in a statement, "Having spent the last two Christmases at Sandringham, Their Royal Highnesses will spend the holiday this year, as a new family, with the Duchess' mother Doria Ragland." And in case you're wondering whether Harry's grandmother is all right with this, the palace continues, "The decision is in line with precedent set by other members of the Royal Family, and has the support of Her Majesty The Queen" (via People).
There's no word on where exactly Harry and Meghan will celebrate the holiday, but People reports that a source has confirmed it will not be in Los Angeles, where Ragland resides.
Skipping a Sandringham Christmas is an option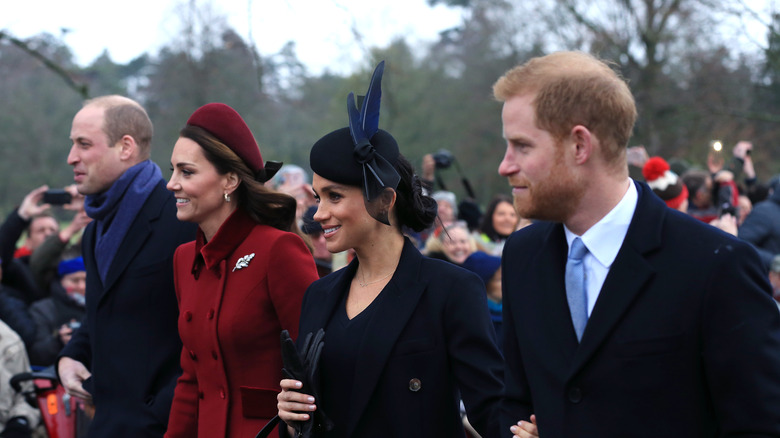 Stephen Pond/Getty Images
This won't be the first time one of Prince Charles and Princess Diana's boys have missed a Sandringham Christmas. The Cambridges, Prince William and Duchess Kate, have been dividing their Christmas Eve and Christmas Day celebrations between his family and her family, the Middletons, since they got married in 2011. But a royal insider tells Us Weekly that that as of 2018, that won't be happening anymore. "...Kate and William will continue to do Sandringham every Christmas Eve and Day as opposed to alternating like they used to... with the queen and [Prince] Philip's advancing ages, skipping years isn't an option anymore." Prince Harry also missed Christmas in Sandringham when he was on active duty in Afghanistan in 2012 (via Express).
Express also says Harry and Meghan are expected to use their time away from the royal family to "recharge their batteries." Royal biographer Ingrid Seward notes that while it is sad that Harry and Meghan don't want to be at Sandringham, she confirms Christmas there can be very stressful. "Perhaps they don't want to go with Archie at such a young age... Having said that, Sandringham has played host to many, many children through the ages and is well set up for them," she says. And what about Harry's grandmother? Seward surmises, "The Queen might be a little hurt but she's far too gracious to ever let it show or be known."