The Surprising Reason Reese Witherspoon Wasn't In More Friends Episodes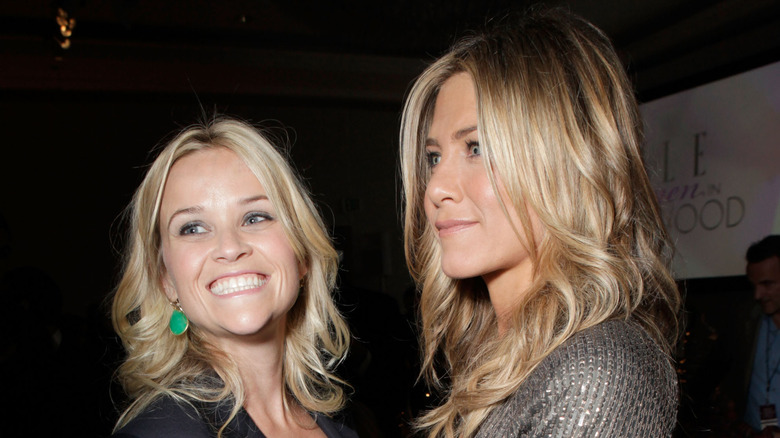 Todd Williamson/Getty Images
If one of us were asked to act in front of a live audience for a show that was being taped and re-broadcasted all over the world, we might be forgiven for becoming absolutely paralyzed with stage fright and fear. If a professional actor or actress admits to getting stage fright, though, we may also be forgiven for being more than a bit incredulous. 
So we can give Jennifer Aniston a free pass for being taken aback when fellow Hollywood A-lister Reese Witherspoon admitted stage fright was what kept her from returning more regularly as Rachel Green's younger sister Jill on Friends. During an interview with AP Entertainment, Witherspoon says that she had actually been asked to appear on the show again, but declined because she wasn't comfortable acting in front of a live studio audience. The reveal came despite Aniston's repeated assurances that Witherspoon, who appeared on the show twice, was flawless (via Yahoo!). 
Aniston shared that performing before a live audience doesn't phase her as she spent several years acting in Off-Broadway productions before her award-winning turn as Rachel Green on Friends (via Britannica). But the veteran actress admitted her big weakness was giving speeches, which is something Witherspoon notes that she's actually good at. But both stars admitted hosting Saturday Night Live gave them the shakes.
Appearing on Friends made other actors nervous too
Witherspoon isn't the only thespian who got nervous at the thought of being on Friends. Freddie Prinze Jr. also admitted that his turn as Emma's male nanny was a bit nerve-wracking because of how it happened; Prinze was a last-minute pick for the role which had originally been offered to Tom Hanks, but Hanks was unavailable. 
"So I went in and I was totally nervous because it was on the day of shooting. I didn't even get to do a read-through," Prinze tells Entertainment Tonight. "And David Schwimmer walked into my dressing room and he was so cool and so passionate and he had so much energy. He came into the room and was like, 'You're going to love this, man. It's like a little two-act play and the crowd is so engaged, and so into it. You'll have a ton of fun, don't worry about a thing.' Prinze even had to learn to play the recorder in four hours in order to play Greensleeves... which he totally nailed.