The Most Expensive Handbag In The World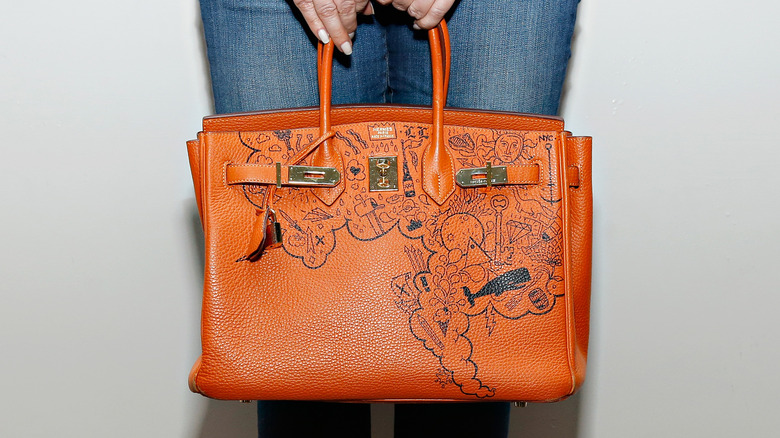 Cindy Ord/Getty Images
You could be forgiven if you thought the most expensive handbag in the world was crafted by French luxury fashion house Hermès; after all, fans around the world are on a first-name basis with its iconic line of purses which include the Kelly, Birkin, Lindy, and Bolide. But Birkins occupy a special place in luxury lore because as Business Insider puts it, the bags are works of art. Craftsmen are trained for years before they are allowed to make a Birkin, so the bags take time to make — and they're difficult to find. 
Hermès handbags dominate Finances Online's top ten list of the world's priciest purses with eight entries, five of which are Birkins. But if you're really looking to own a Guinness Book of World Records-certified piece of arm candy that is really the most expensive handbag in the entire world, bypass the bejeweled Birkins and the rose-gold-crafted Kelly and meet the Mouawad 1001 Nights Diamond Purse.
The world's most expensive handbag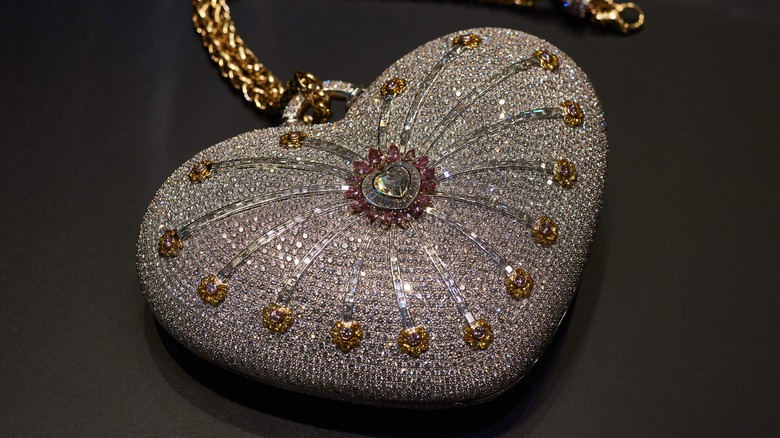 Afp Contributor/Getty Images
Made in 2011, this heart-shaped baby is made with a billionaire's go-to material — 18-carat gold — and is dolled up with a whopping 4,517 diamonds that total nearly 382 carats. Don't worry — the bag isn't just sparkly, as the diamonds are not all the same uniform hue. They come in yellow (105 pieces) and pink (56 pieces), while the remaining 4,356 diamonds are without color (via Daily Mail). For a cool $3.8 million, this purse (along with a certificate from the Guinness Book of World records proving that your extravagance was record-setting), can be yours. 
Then again, because the 1001 Nights is listed at Christie's for auction, you may need to put away a bit more than that to make sure your bid is the one that allows you to bring home the bag. The 1001 Nights is just one of Mouwad's several successful record-breaking attempts to craft expensive goods. The company also holds records for the world's most expensive necklace, jewelry box, single diamond, and bra (Victoria's Secret Very Sexy Fantasy Bra), although the title for the world's most expensive ring belongs to someone else.