The Real Reason Marie Kondo Always Wears White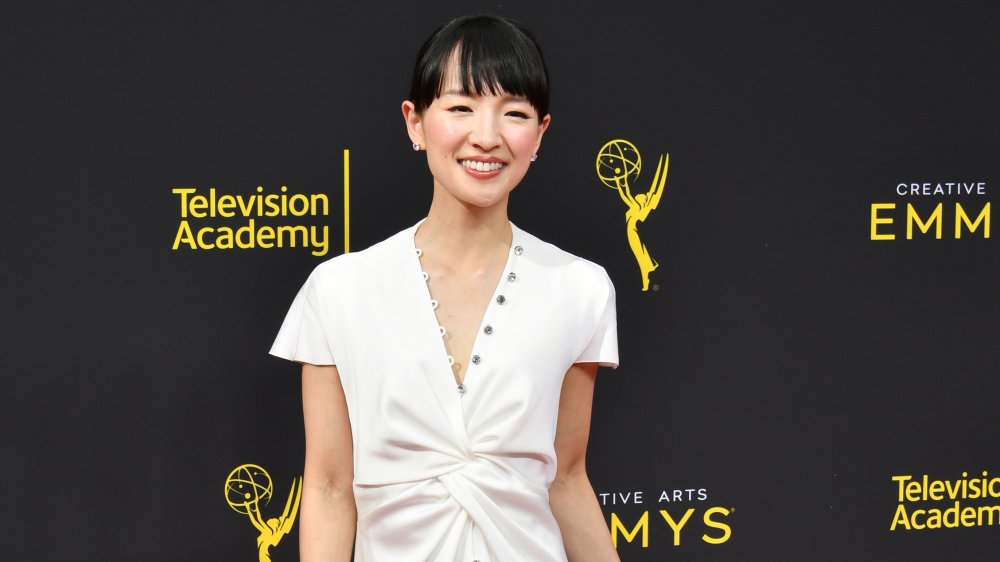 Amy Sussman/Getty Images
We may receive a commission on purchases made from links.
With all the publicity surrounding Marie Kondo, we'd probably be forgiven for greeting her like a long-lost friend if we ever bumped into her on the street. Her 2014 book, The Life-changing Magic of Tidying Up, introduced her decluttering methods to America, and her zen-like approach to housekeeping made her a New York Times best-selling author. Her blog on the KonMari website introduced us to bite-sized pieces of tidying wisdom, which include how to KonMari a house with young children, ways to clean up before company comes, and sustainability tips. Kondo and her team have even opened an online lifestyle store — which fans were actually furious about — stocked with items curated specifically to showcase the Japanese queen of declutter's brand of minimalism.
But 2019 (arguably) became the Year of Kondo, thanks largely to her Netflix show, Tidying Up with Marie Kondo. For that, Variety calls her a born host saying, "Despite the difference in language, ... [Kondo has] both charisma and a drivenness to convert just about every moment with each episode's messy family into something that feels both friendly and pleasantly (and binegably) serene." It was on the show we got to see Kondo in action, touching books to wake them up and teaching those desperate to declutter about holding personal and household items to see if they sparked joy... and we also got to see a pattern in the way Kondo dressed.
Marie Kondo is always in white, at least on her show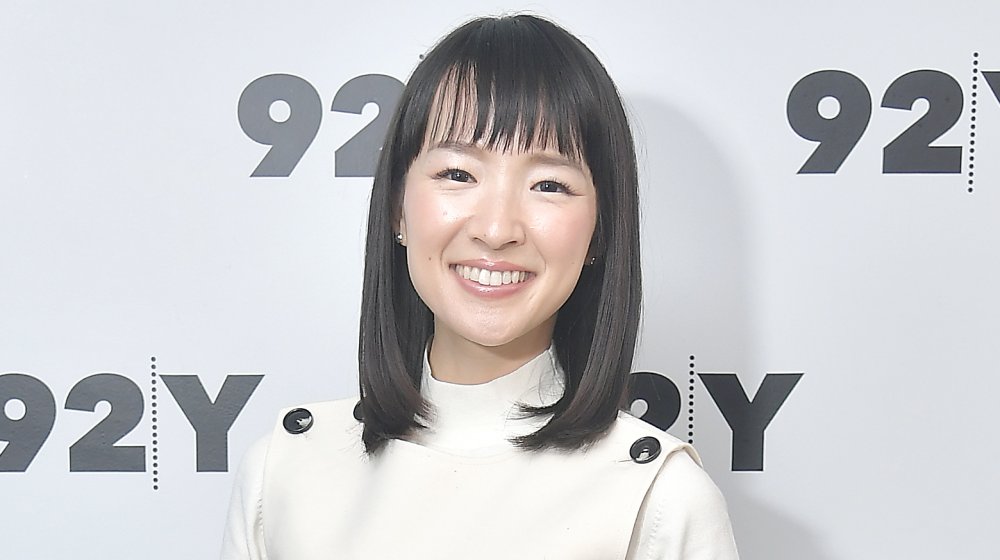 Michael Loccisano/Getty Images
It may not be immediately obvious to first-time watchers of Marie Kondo's show, but as the series progresses, fans are left wondering if Kondo is especially partial to the color white, because she wears it in every single episode of Tidying Up, whether it be a white blouse, dress, or cardigan. During a shopping expedition with The New Yorker, she says she begins every shopping trip by asking herself whether she is looking for an item for work or for her private life, because if it is for work, white is her go-to, and that's the color of the clothing she buys. She explains, "It is part of my brand, my image color. [White clothing makes it] easy to recognize me."
But there is more to this than just personal preference. The color white is a symbol for truth and purity, as well as tidiness, cleanliness, new beginnings, and a return to the basics — not just in western societies but in Japan, too (via Shutterstock and Color Meanings). All things considered, linking the color white with the move to declutter might be interpreted as a domestic reset for the household that's willing — and ready — to embark on it.
Okay, but does Marie Kondo always wear white?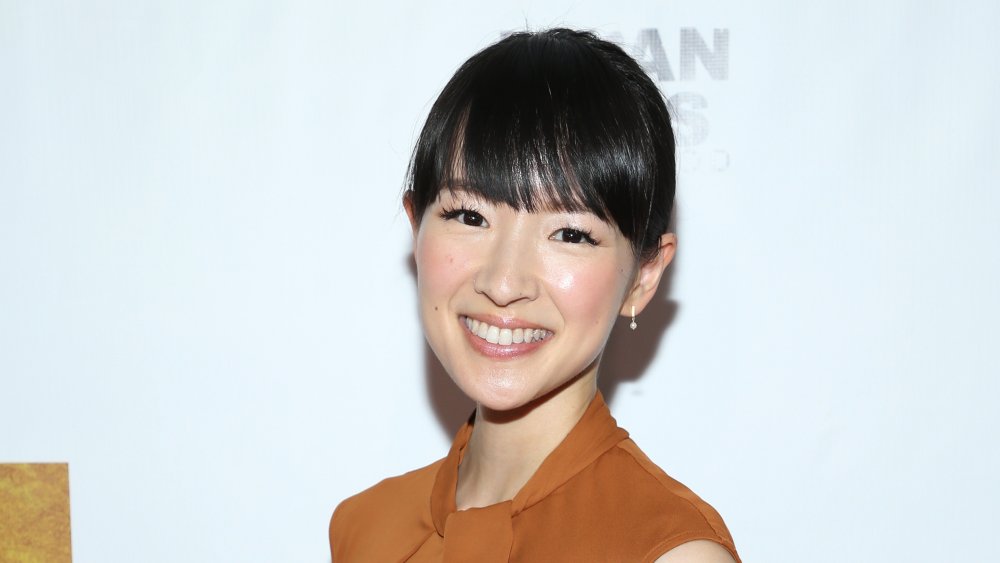 Phillip Faraone/Getty Images
When she's not on duty as the queen of declutter, Marie Kondo has been seen out and about wearing colors, and plenty of it. From dainty pastels to vibrant and brilliantly-hued cocktail dresses and kimonos. During her shopping trip with The New Yorker's Silvia Killingsworth, Kondo's initial selections included a robin's egg blue dress with red and pink flowers; a sea-foam-green robe with red flowers; a jade, graphic-print Tracy Reese shift; and a buttercup-yellow brocaded sheath dress before leaving the store with a dip-dyed blue tunic dress. Guess she wasn't shopping for business clothing then. 
Aside from work, there is one other time Kondo always wears white, and that's on New Year's Day. She explains on her blog, "According to feng shui, the underwear you choose to wear on New Year's Day sets the tone for the whole year. Ever since I found that out, I've started off the year wearing brand new, white underwear. White symbolizes new beginnings, so breaking out something white allows me to begin the year feeling refreshed." And here's a fun fact: White isn't just a thing for feng shui believers. U.S. News also says wearing white on New Year's Eve in Brazil means the wearer will bring peace of mind on themselves for the coming year.
Marie Kondo follows other rules about clothing, too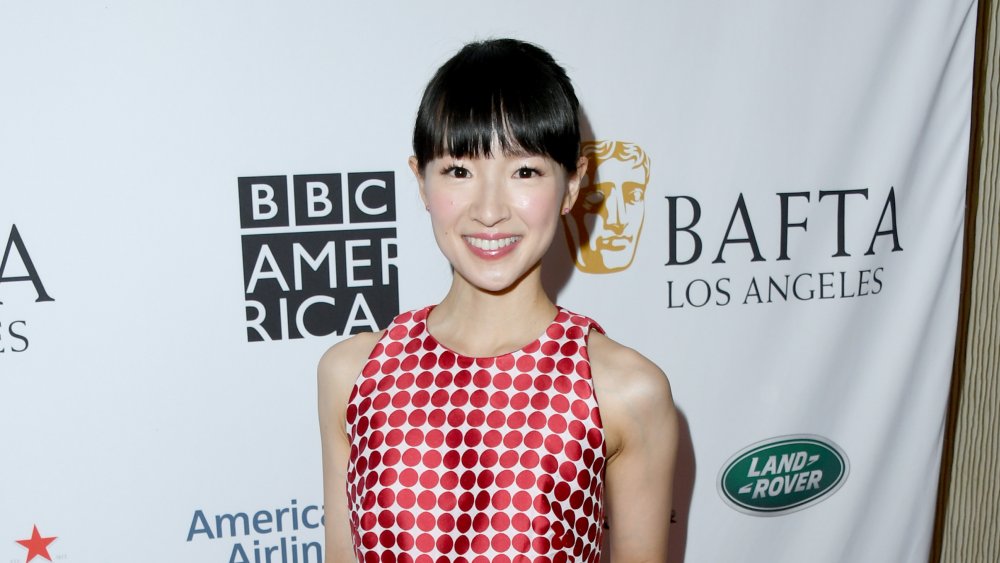 Jon Kopaloff/Getty Images
Marie Kondo has a couple other rules when it comes to her wardrobe. Everything for Kondo, according to The New Yorker, comes in petite because she is tiny, and if "a piece is too long, I don't look at it." There are also items of clothing that specifically don't spark joy for Kondo. While she is known for choosing to wear colors on the days she is off work, she is happy to pass on denim jeans, because as Kondo puts it, she gave up wearing pants when they stopped bringing her joy several years ago. As a result, she rarely uses them today. At least she practices what she preaches.