Here's How Many Of The Duggars Have Tattoos
The Duggar's practice of their conservative Christian faith is the stuff of TV legend, and their beliefs are probably most visibly displayed through the style of clothing they wear. The women are covered from the neck to below the knees — usually in long skirts, and while the rules are not as clearly defined for the men, they are also meant to dress modestly in pants (via Cheat Sheet). 
The decision to dress the way they do appears to be driven by the family members themselves. "For us, we felt like we needed to be covered from our neck to below our knees mainly because God talks about the thigh being uncovered, and how that's nakedness and shame," Michelle Duggar wrote on the family's TLC blog, as reported by Romper. And in their book, Growing Up Duggar, sisters Jana, Jill, Jessa, and Jinger explain (via Cosmopolitan), "We avoid low-cut, cleavage-showing, gaping, or bare-shouldered tops; and when needed, we wear an undershirt. We try to make it a habit to always cover the top of our shirt with our hand when we bend over. We don't want to play the peekaboo game with our neckline." 
But as we've seen in recent years, the Duggar girls have bent those clothing rules more than once, wearing pants, getting piercings, and just generally dressing in a very un-Duggar-like manner. So if the dress code is not as strict as we had originally thought, does this mean the family can experiment with body art, too?
Does Jim Bob Duggar have a tattoo?
Cheat Sheet reports that a photo of family patriarch Jim Bob Duggar holding grandson Mason had fans sure that he got a ring tattoo. The image, posted January 2018, shows him wearing what looks like a ring on his wedding finger, but because it is rather dark and it appears to be a piece of jewelry Duggar fans hadn't seen before, many were left wondering whether Jim Bob, who always wears his wedding ring, actually got a wedding ring tattoo. The family has never confirmed one way or the other, but if Jim Bob was going to get a tattoo, it seems likely that a wedding ring would be his first choice, given his commitment to his wife of 35 years (via The Duggar Family website).
Jill Duggar has toyed with body art
Next up we've got Jill Dillard. She may not have taken the plunge with permanent ink, but Jill — who, according to In Touch Weekly likes to wear pants and even has a nose piercing (yes, the piercing is real) — has experimented with body art, albeit the temporary kind. A December 2017 Instagram photo shows her touching baby Sam, who is snug in a towel, with her hand covered in henna art which she said she got at a church winter fair. Even though this ink was temporary, Cheat Sheet reports that fans were heavily critical of the henna design, due to its association with Islam, something that seemingly goes against the Duggar faith and beliefs. 
Jinger Duggar's husband might have a secret tattoo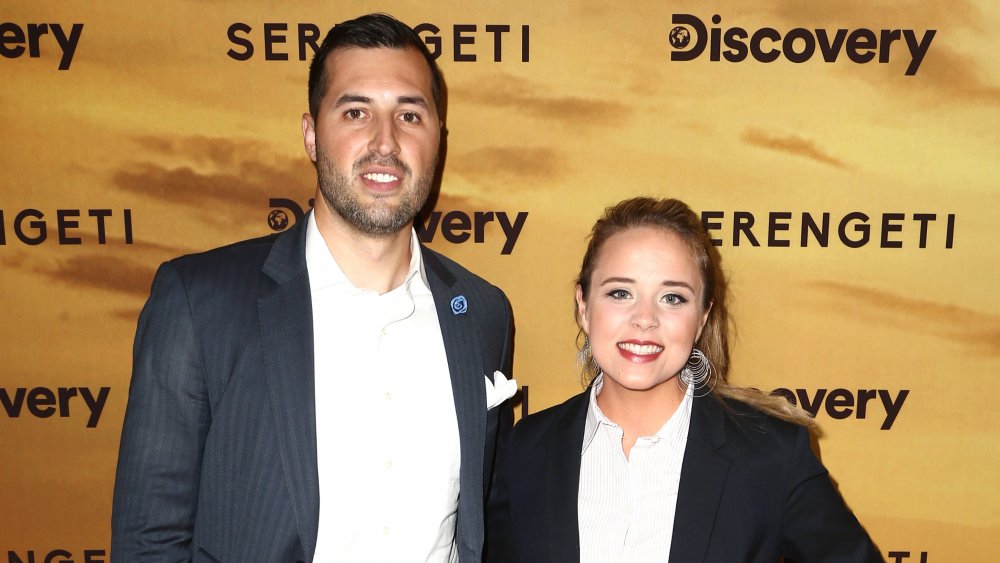 Tommasso Boddi/Getty Images
It's no secret that born-again Christian and pastor Jeremy Vuolo had a colorful past before settling down and marrying Jinger Duggar. Cheat Sheet says Vuolo partied hard, managed to get himself arrested, and at some point got a tattoo on his upper right arm. Even eagle-eyed Counting On viewers could never make out exactly what it said, though they were certain it was a string of text. These days, it seems Vuolo has either had it removed or has begun dressing to disguise it, as fans say they haven't seen the ink lately.
Amy Duggar definitely has a tattoo
One Duggar that definitely has body art and isn't afraid to hide it is cousin Amy Duggar King, who appeared on 19 Kids and Counting, Marriage Boot Camp: Reality Stars, and Celebrity Page (via IMDb). Known as the "rebel" Duggar, Amy has always done things a little differently than her cousins. "For me, growing up was all about shorts, tank tops, country songs and boyfriends," she told People. "I became known as the rebellious one without even really being rebellious."
And she's keeping that rebellious streak going: Amy and husband Dillon King got matching tattoos in 2016 (her first, he has a few). Duggar King told People that the tattoo, which reads "Rest in the storm," has a special meaning. "Our tat is a reminder that even when our relationship, and life in general may be ... going through a storm, there's always rest and peace in God through our walk in life," she explained.