The Real Reason Camila Mendes And Charles Melton Are On A Break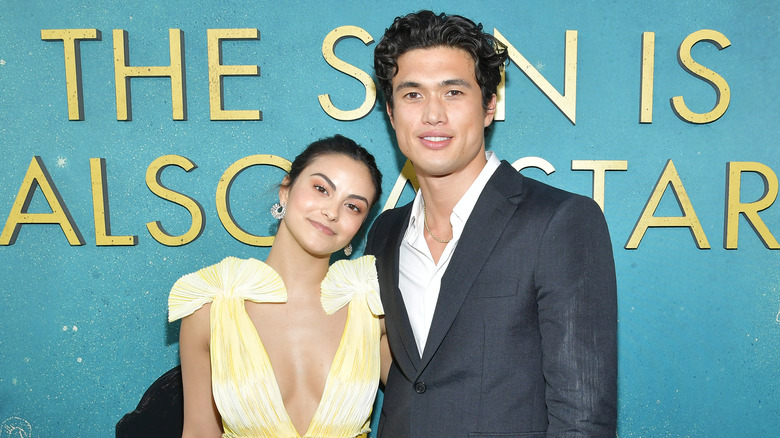 Amy Sussman/Getty Images
In September 2018, Riverdale co-stars Camila Mendes and Charles Melton fanned the flames of romance rumors when Mendes shared a post of the pair snuggling up on a towel and, per Bustle, fans spotted them cozying up to one another. Soon after, a sweet-but-simple photo announced to their millions of followers that the two were indeed an item. 
Alas, it's a sad time for Riverdale fans. A little over a year after officially announcing their relationship, a source told E! News that Camila Mendes and Charles Melton were "taking a break." Friends fans know how disastrous that phrase can be, and with Riverdale's fourth season currently airing and still in production, the news of their split comes as a surprise. It's not as if the pair have been forced into spending time apart. In fact, Hollywood relationships seem to work best when the couple is able to actually spend time together. So, what happened to these two?
Camila Mendes and Charles Melton are under 'a lot of pressure'
Whenever there's a celebrity break-up, the reason most often cited is work. It's no secret that being an actor or singer or model requires a ton of traveling, and, more often than not, absence doesn't really make the heart grow fonder. All that time apart understandably takes a toll on relationships, but with Mendes and Melton, it can be hard to comprehend. 
The couple met on the set of Riverdale, which is still in production. So, it's not like the two don't have the time to see each other — but maybe that was actually the problem. According to E! News, "They are taking time now to focus on their work and themselves." The source also said, "Nothing in particular happened, they just both felt busy and overwhelmed and it was a lot of pressure on them." 
Riverdale was the first major role for both actors, and it seems they're both working to continue launching their respective careers. Which, as anyone who is (or once was) in their early 20s knows all too well, is a difficult task that can be exacerbated by a new relationship. The decision to split never comes easy, but it sounds like it's for the best for these two. And who knows, it could truly be a break. Their Riverdale co-stars Lili Reinhart and Cole Sprouse broke up and got back together earlier this summer (via Cosmopolitan). Maybe Mendes and Melton will follow in their footsteps and end up back together sooner, rather than later.