The Truth About Jennifer Love Hewitt's Kids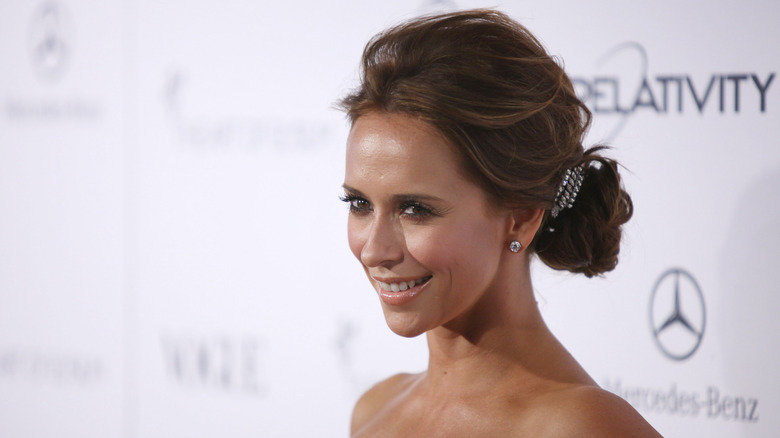 Neilson Barnard/Getty Images
Actress Jennifer Love Hewitt married husband Brian Hallisay back in 2013, with daughter Autumn, 6, and son Atticus, 4, following soon after in November 2013 and June 2015 respectively (via Heavy). The notoriously private couple has kept their family life mostly under wraps but certain tidbits have slowly spilled out over the years, and we've gotten a glimpse into what Hewitt's life wit thehm is like.
In fact, in a recent chat with Us Weekly, Hewitt opened up about how her children affected her relationship with Hallisay. "...we very quickly started having kids, and the love that I feel for the person that allowed me to have that dream in having those children and the love that you have for your children, it opens you up in a way that makes you more vulnerable than you could ever possibly imagine," she gushed. 
Jennifer Love Hewitt's kids seem to love their mom's job
Motherhood has affected her craft in a big way, too, with Hewitt explaining, "It's been a beautiful gift as an actor. It's a much more accessible thing for me now in a way that I didn't know was possible." The 9-1-1 star also emphasized the importance of returning to work, advising she wanted to set a good example for her children. 
She might miss them like crazy while on set but Hewitt told Us Weekly in another interview, "My daughter thinks that work is the coolest thing she's ever seen. She loves the craft service truck. My son got to run around the lot, like, go into 'New York,' go up and down the stairs and take a picture in front of the police station, which he thought was super cool." In fact, they don't seem to mind her working at all, with Hewitt admitting, "It's just me who's a sap in my trailer, like, 'Why can't I see my babies?'" 
The kids also have their opinions about her projects, as Hewitt revealed to People, "Somebody at my daughter's school said she watched Garfield and Garfield 2... [My daughter] watched the whole movie, said nothing and at the very end she was like, 'You were very good, Mommy.'"
Jennifer Love Hewitt is keeping her family life firmly under wraps
The Ghost Whisperer alum was spotted out and about with little Atticus earlier this month, with the two having fun grocery shopping in Los Angeles, as reported by Closer Weekly. Hewitt keeps her kids firmly out of the spotlight, but their influence is everywhere. 
While celebrating her 40th birthday in February of this year, she took to Instagram to share the cake and crown they'd handmade her, captioning the image with a super sweet message. "This made my heart explode with love and gratitude this morning!" she wrote, "I am super grateful." 
Likewise, the Party of Five star posted a shot of her kids' hands placed over hers, writing alongside it, "This is my happy place. These little hands reminding me to slow down, take a deep breath and remember what is truly important and that is creating joy, safety and deep love for my little humans everyday."