All The Royal Traditions Meghan Markle And Prince Harry Are Breaking This Christmas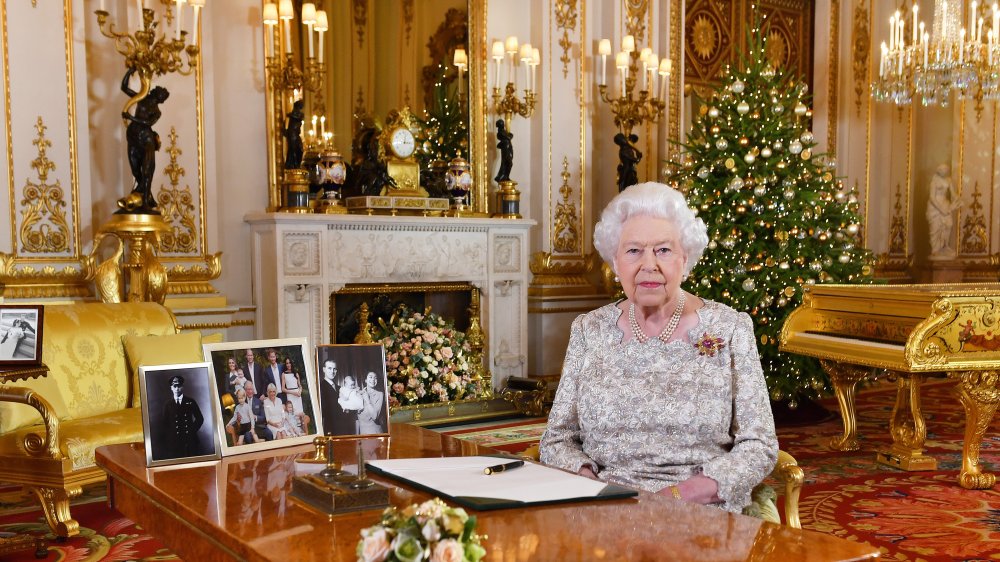 Wpa Pool/Getty Images
In 2015, Grazia did an interview full of Christmas ideas by an actress named Meghan Markle, who said, "Holidays with friends allows you to break the family traditions and avoid Aunt Julie's fruit cake."
And while she's planning on spending Christmas with her mother instead of friends, Markle's in-laws are all about family traditions that have likely been around for more than a few decades. So when Markle, along with Prince Harry and their new son, Archie, take a hard pass on Christmas with the royal family this year, they'll also be giving up on a host of holiday practices associated with spending holidays at the queen's Sandringham estate, which palace staffers say is a big deal. 
Grant Harrold, a former butler to Prince Charles, reveals how it all works out. "The Queen arrives a few days before everyone else, like any good hostess, to ensure everything is ready," he said (via Insider). "Then most of the royals will arrive on Christmas Eve." 
Prince Harry and Meghan Markle will miss the royal Christmas tea gift exchange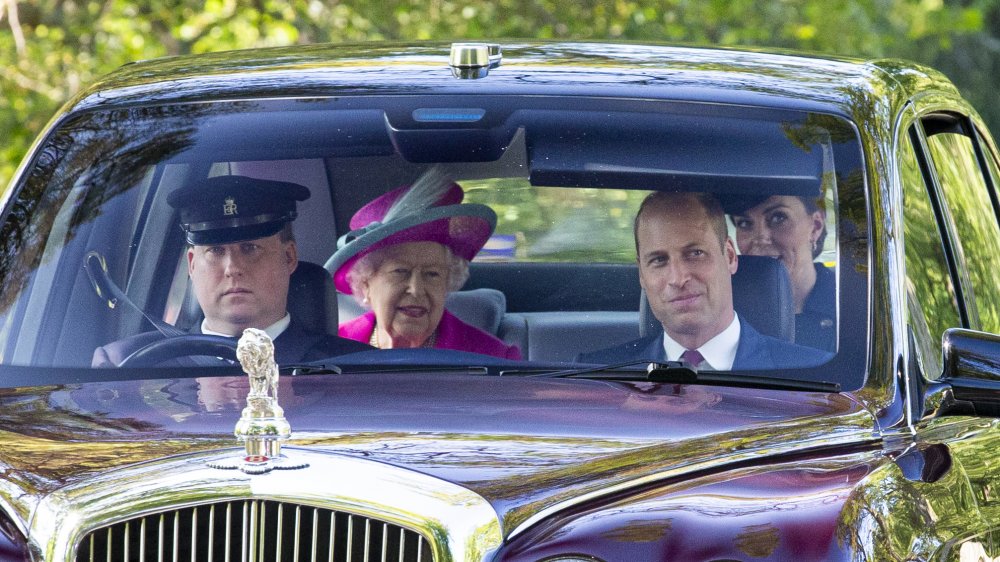 Duncan Mcglynn/Getty Images
Meghan Markle, Prince Harry, and Archie won't be at the Christmas Eve afternoon tea, which kicks off the royal family's festive calendar. Harrold tells Insider that the tea takes place between 4 and 6 p.m., and it's when the family is said to give and receive Christmas presents. 
For the family whose members have everything, Pop Sugar says gag presents like a light-up pepper mill (for Prince Phillip) and a shower cap with "Ain't Life a B****!" printed on it (to the queen from Prince Harry) hit the spot. Also, recall that during a TV interview, Kate Middleton says she opted to make the queen her family's marrow chutney during her early years as a royal, which appeared on the Christmas lunch table the next day (via Southern Living).
Meghan Markle and Prince Harry will skip the Sandringham Christmas service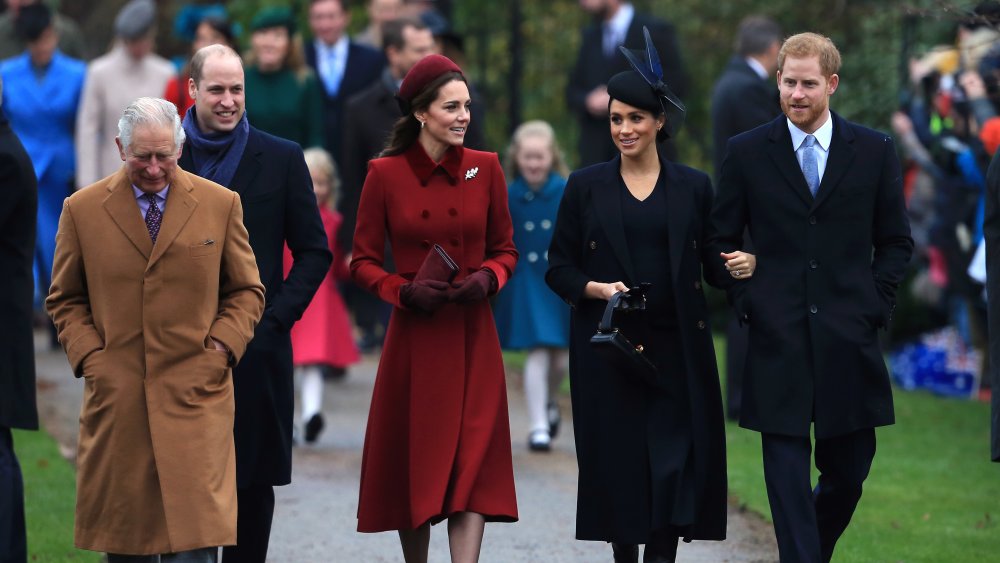 Stephen Pond/Getty Images
Skipping Christmas at Sandringham also means Meghan Markle and Prince Harry won't be at that famous photo op where they walk from the royal family's estate to the church of St. Mary Magdalene for services. Pop Sugar says the family begins Christmas day with a less formal Christmas service at 9 a.m., when the queen has the chance to take communion; and then there is a second, more formal one service at 11 a.m. The formal church service begins with the walkabout where Prince William, Kate, and Prince Harry, and Meghan were photographed together the past two years.
Meghan Markle and Prince Harry won't be sitting down to black tie dinners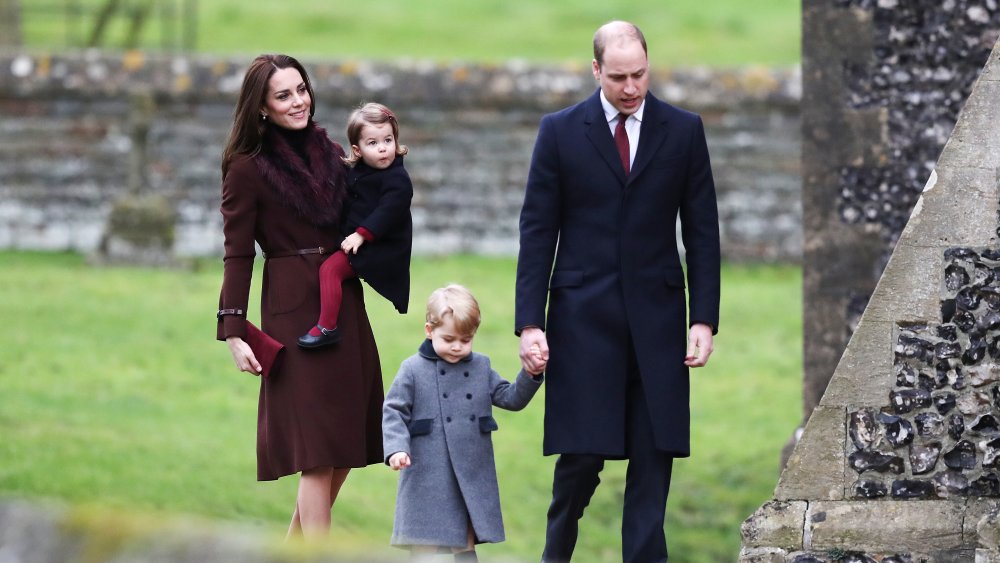 Wpa Pool/Getty Images
Other than the gift exchange tea and Christmas services, the Sussexes will also miss a black-tie meal and drinks on Christmas Eve, as well as a proper lunch on Christmas day itself. The formal dinner is when the Christmas turkey and traditional sides including brussels sprouts and root vegetables are served during formal dinner service and drinks from crystal stemware. The Sussexes are also expected to miss an annual party held to thank the staff for their service, but its not known whether Meghan Markle and Prince Harry will be hosting a similar occasion at Frogmore.
Christmas at Sandringham wraps up on Boxing Day (December 26), which is when other members of the family leave the royal estate to join their in-laws. Pop Sugar says that's when Prince William and Kate head to Bucklebury to celebrate the holidays with the Middletons; it's also when Prince Charles and Camilla spend time with her children and grandchildren.
But if you're wondering whether Prince Harry and Meghan Markle are breaking any rules by skipping Christmas this year — they definitely aren't, because Prince William and Kate have done it before.