The Truth About Dolly Parton's 11 Siblings
We may receive a commission on purchases made from links.
As a young child, actress and singer Rachel Dennison remembers spending days outside her house, making up songs and playing on the see-saw with her siblings. "Singing was like breathing at home," Rachel tells People; in fact, it was such a key part of the family's life her mother would gather Rachel and her siblings up so they could sing after supper. Rachel also remembers growing up in a four-bedroom home in Franklin, Tennessee, while her older siblings describe their early years in a one-room cabin with neither electricity nor indoor plumbing (via Southern Cultures). 
If this all sounds a bit familiar to you, it would be, especially if you are a huge Dolly Parton fan. Rachel is the youngest of the country music icon's siblings, and we have their parents, Robert Lee and Avie Lee Parton, to thank for rearing and raising one of the genre's most legendary families. In all, Robert Lee and Avie had 12 children: Willadeene, David Wilburn, Coy Denver, Dolly Rebecca, Bobby Lee, Stella Mae, Cassie Nan, Randel Huston "Randy," Larry Gerald, and Estel Floyd. The two youngest girls, Freida Estelle and Rachel Ann, are twins (via Country Living). 
Dolly's family life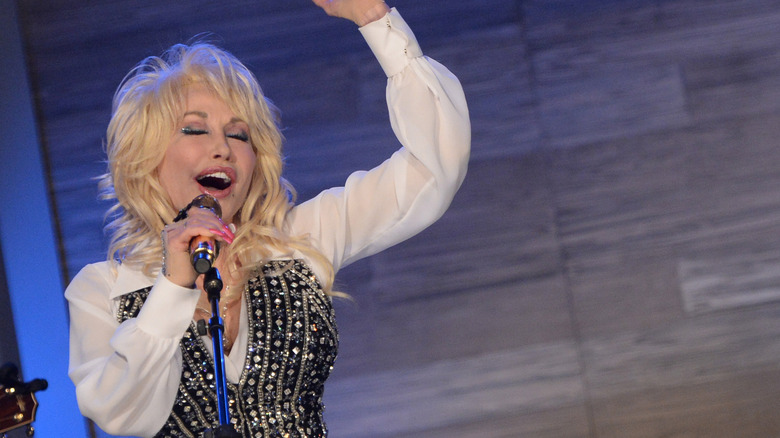 Rick Diamond/Getty Images
The Partons' background is the stuff of showbiz legend. Older sister Dolly has famously said the family was so poor "the ants used to bring back food they'd taken from us because they felt sorry for us," and the family often did without conveniences we take for granted, such as electricity and indoor plumbing. In spite of that, seven of the Partons managed to break into show business. Of the rest of the Parton bunch, Larry passed away just four days after he was born, while David, Coy, and Robert Lee all lead private lives, away from the spotlight.
Willadeene and Cassie Parton once toured together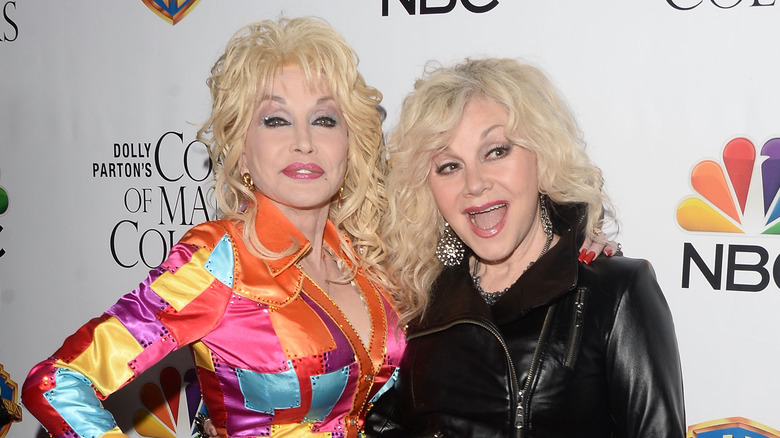 Matt Winkelmeyer/Getty Images
1967 was an important year for the Partons. Dolly got her first single, and her sisters Stella, Willadeene, and Cassie headed to Nashville with their mother to record a gospel album called "In the Garden" for an indie record label known as Inspiration Records. While it didn't go mainstream, it was a break for three of the sisters who went on to forge their own singing careers (via The Bristol Herald Courier).
Country Living says the album didn't lead to a singing career for the oldest Parton, Willadeene. Instead of staying in the entertainment industry like her other siblings, she built a name for herself writing books: "In the Shadow of a Song: The Parton Family" (1985), "Smoky Mountain Memories: Stories from the Hearts of the Parton Family" (1996) and a cookbook, "All-Day Singing & Dinner on the Ground" (1997) (via Amazon). Cassie, the other third of the gospel singing trio, is also a singer and has performed with big sister Dolly in her 2013 show, "My People."
Stella Parton is a Billboard country hit singer in her own right. She recorded her first hit, "I Want to Hold You in My Dreams Tonight" and starred in several television shows in the 1970s. She now speaks out against domestic violence and established a three-day event known as the Red Tent Women's Conference to shed light on the issue (via Stella Parton). 
These Partons are not just Dolly's little sisters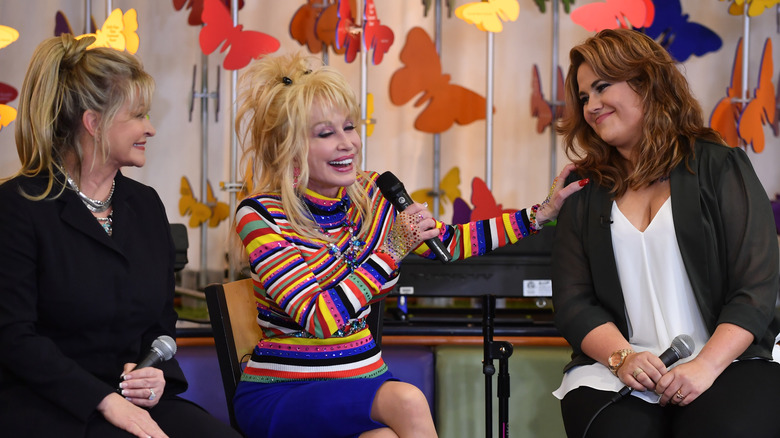 Jason Davis/Getty Images
Twins Frieda and Rachel Parton (also known as Rachel Dennison) are the youngest of the Parton brood. Country Living says Frieda once played in a punk band, and she also appeared on some of Dolly's records. Today Frieda is an ordained minister and has her own wedding chapel in the Parton's hometown of Sevierville, Tennessee.
When the hit movie "9 to 5" was turned into a television series, the show's executive co-producer turned to Rachel Dennison to fill the role of Doralee Rhodes, which was played by Dolly Parton in the movie. People says Fonda discovered Dennison while she was working on her sister's makeup (aside from being a singer, Dennison is also a cosmetologist). "I asked Dolly's permission to bring Rachel out to read for the part. As soon as she stepped foot on the lot [at 20th Century-Fox], everyone started calling asking who she was," Fonda says. IMDb shows Dennison as not having acted in any other show after her 6-year run as Doralee ended. 
The Parton brothers
The Parton sisters weren't the only ones to make a name for themselves in the music industry. Dolly and her brother Floyd were songwriting partners, and their songs include "Rockin' Years," which made it to No. 1 on the Country Music Charts in 1991; "Nickles and Dimes" which appears on "Heartbreaker"; and "Waltz Me to Heaven" which appears on "Rhinestone." Floyd passed away in 2018, leaving his family (especially his older sister) devastated (via Country Living).
In 2021, Randy — a Parton brother who also worked in show business — died at the age of 67. Country Living notes that Randy still played with his band, Moonlight Bandits, in his final years and like Floyd, performed on "Rhinestone."