The Real Reason Michelle Duggar Won't Cut Her Hair
By her own admission, Michelle Duggar has maintained the same hairstyle for more than 40 years. While this might make some women (and their hairstylists) shudder, she's kept it that way for a reason.
She was forced to change things up in 2012, when a birthday gift of a blowout from her daughters and an old high school friend saw her hair straightened and several inches lopped off. Her reaction? "This is what I look like when I get out of the shower!" (via YouTube). She told People, "I enjoyed the fact that my whole family and my girls came up with this amazing way of showing how much they loved me with a 24-hour birthday surprise. Going from curly to totally straight was a shock for me, but I am loving it and I have been doing both styles, curly and straight, since the cut." Michelle obviously didn't "love" the new style enough to keep it for good, though, as the old style soon resurfaced, and her hair has stayed the same long, curly way since. 
But the real reason she didn't love it likely has something to do with her husband. As she admitted to People at the time, "I know Jim Bob likes it long and I am trying to impress him — what he likes is what I want."
The Duggars' faith plays a role in their hairstyles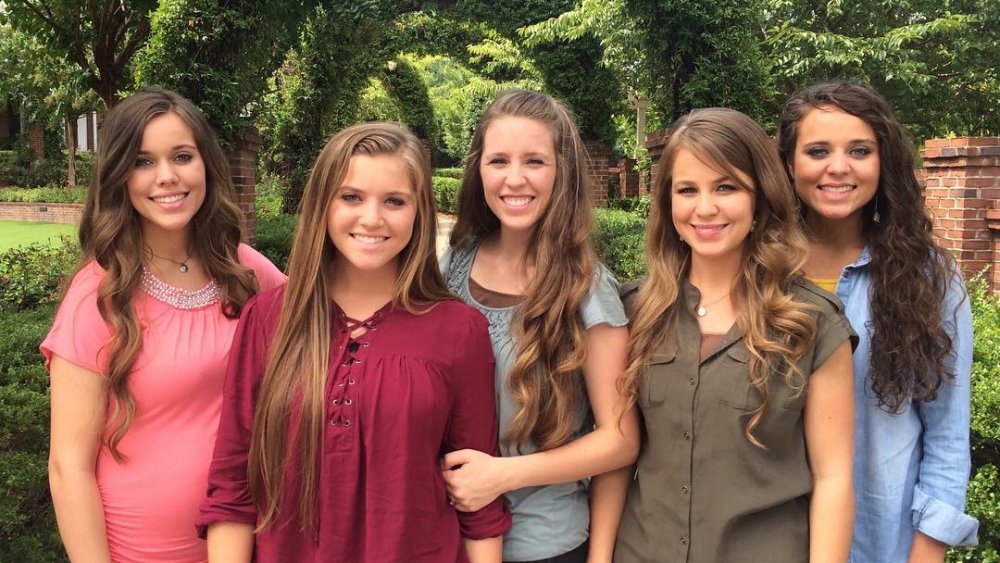 With the family's devotion to their faith, it should come as no surprise that religion would have a say in how Michelle Duggar should style her hair. In a blog post celebrating their 34th wedding anniversary, Michelle provides a list of a husband's and wife's seven basic needs which, among other things, identifies a man's need for a wife who respects his leadership and a life partner who works to achieve inward and outward beauty. That same post also provides a link to the Institute in Basic Life Principles, which advises a woman to let her husband know that he is her "go to" source for all advice. It also calls on the wife to be the woman of her man's dreams and to always dress well with the intent of pleasing her husband. Both "suggestions" could explain why Jim Bob's opinion carries so much weight on matters involving the styling of Michelle's hair.
Michelle's daughters also provided an explanation as to why their mother may be reluctant to cut her hair. In their book, Growing up Duggar, Jana, Jessa, Jinger, and Jill Duggar write, "Our hairstyle is our choice and we choose longer hair based on our understanding of 1 Corinthians 11:14-15...while it is a shame for a man to have long hair, a woman's hair is her glory" (via E! News). And while the Duggar girls seem to have done away with their perms, their mother continues to do them, well... religiously, because women of their faith are told that curls show off a woman's natural beauty (via Salon). Other than keeping their tresses flowing, the Duggars are also expected to dress modesty, wearing below-the-knee skirts and dresses. This seems to have fallen by the wayside for some of the daughters, however, like Jinger who is consistently seen wearing pants. And while you might think Michelle would be opposed to her choice of attire, she surprisingly supports Jinger's choice.