The Truth About The Optavia Diet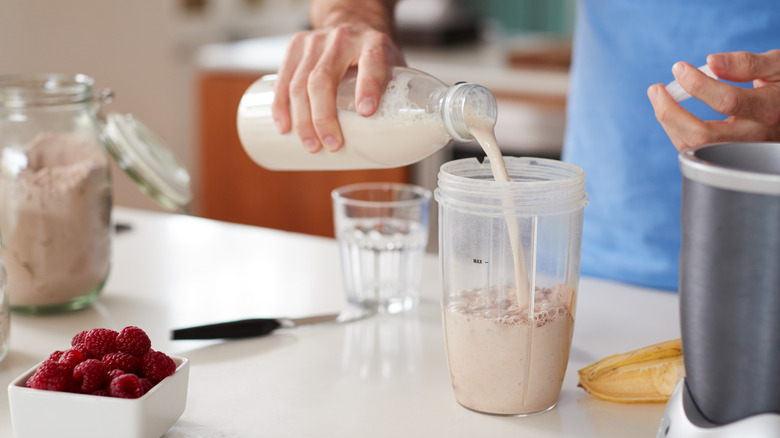 Shutterstock
Cake Boss star, Buddy Valastro, swears by the Optavia diet, which he credits with helping him lose 35 pounds (via Parade). "A lot of people have been asking me how I've slimmed down lately so I just wanted to share that I've used the Optavia program," Valastro wrote on Instagram. "I'm not being paid to say this and it should be noted that I think everybody is different and you should do whatever suits you but this is what I'm doing and I'm very happy with the results so far!"
If a diet can help a professional baker lose and keep weight off, it must be some kind of miracle, right? But what exactly is the Optavia diet? With so many false facts about dieting out there, it can be hard to keep things straight. Here's the real scoop on this diet that's actually been around for decades.
What kind of food do you eat on the Optavia diet?
The Optavia program offers different variations of meal plans that all consist of purchased "fuelings" and "lean and green" meals. Your fuelings are things like shakes, bars, cookies, cereal, smashed potatoes, and soup, while your lean and green meals include protein like fish, chicken, egg whites, turkey, or soy, plus vegetables like lettuce, greens, celery, or cucumbers (via Good Housekeeping). 
While Optavia is considered a high-protein program, participants only average about 800 to 1,000 calories a day, and it is also a very processed and packaged diet (via Prevention). U.S. News reports that alcohol, butter, coconut oil, shortening, chocolate, high-calorie desserts, and sugary drinks are the only restrictions on the Optavia diet. Otherwise, calories and carbs are not counted.
Is the Optavia diet a long term weight loss solution?
Even though weight loss is possible for those participating in the Optavia diet, it isn't necessarily a permanent fix. Chrissy Carroll, RD, MPH, told Very Well Fit, "The Optavia diet is a meal replacement plan... Experts worry that it's unsustainable; many will regain weight when transitioning off the meal replacements." While people are on the plans, the diet works, but overall, it's unrealistic when going back into the real world and eating food that isn't delivered to your door. 
Jaclyn London, MS, RD, CDN, agrees, explaining to Good Housekeeping, "Eating meals and snacks that incorporate loads of produce, 100 percent whole grains, nuts, seeds, legumes, and pulses, low-fat dairy products, eggs, poultry, seafood, and lean beef plus some indulgences is the best way to lose weight sustainably for the long haul."
Moreover, price is a huge factor for the Optavia diet. The program costs a pretty penny, averaging between $350 to $450 a month depending on which plan you choose (via Metro). Nora Minno, RD and personal trainer told Parade that weight loss subscription plans are "super convenient and easy to track," but in the long run "convenience comes with a price, and they can be very expensive in the long run." In other words, the average person likely isn't going to be able to afford this diet long-term.