The Truth About Where Kylie Jenner Really Shops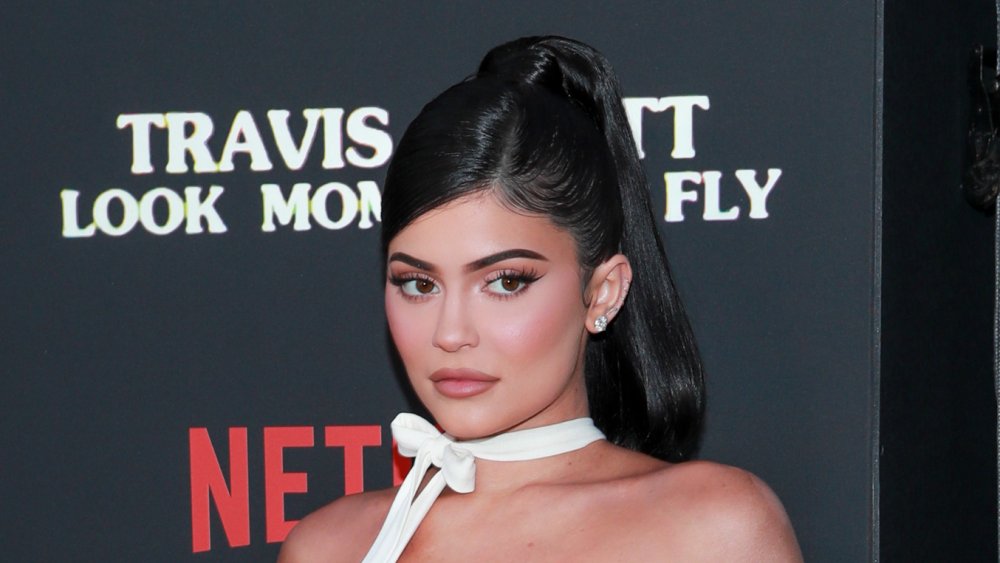 Rich Fury/Getty Images
She's one of the richest women on the planet, with a net worth of more than $1 billion and, much like her famous half-sisters, Kylie Jenner isn't shy about showing off her love of the finer things in life, frequently making Instagram fans drool over her latest high-end purchase.
But the Kylie Cosmetics founder isn't as out of touch as she might seem. In fact, Jenner has been known to proudly sport a bargain buy, as eagle-eyed fans have noted on more than one occasion. The Kardashian kids' insanely glamorous life is still truly something to behold but when it comes to at least one of their mothers, luxury isn't always her go-to.
Kylie Jenner knows how to bargain hunt
In a 2019 Christmas photo Jenner posted to Instagram (via Good Morning America), fans noticed the makeup mogul's feet were adorned with socks from none other than Old Navy, with one quipping, "I got them [sic] socks at Old Navy $3." Another exclaimed, "You shop at Old Navy!" and a third celebrated with, "I have those socks on [right now] too... Old Navy!" At least she wasn't wearing Chanel socks or something (or a pair from brother Rob Kardashian's luxury line, for that matter). 
Likewise, when it comes time to decorate her huge mansion for the festive season, Jenner heads to Target as she revealed in a YouTube video, which showcased her classic wooden calendar, snow globe, and lots of other lovely little figurines. "I just love like traditional little Christmas [decorations]," she shrugged, explaining, "I got most of my stuff from Target."
When it comes to clothes, Kylie Jenner isn't just about luxury brands
Elsewhere, the business tycoon has been spotted happily sporting the affordable likes of Adidas shoes and head-to-toe workout gear, along with many a stylish lady's favorite no-nonsense retailers including Naked Wardrobe, The Klabel, Jessica Rich, White Fox, Hello Molly, Brandy Melville, Love and Labels, Calvin Klein underwear, and even jewelry from smaller brands such as Luv AJ. It's highly likely Jenner gets a lot of this stuff free of charge but, even so, it's impressive she's so willing to proudly wear affordable fashions in front of her millions-strong social media following (via PopSugar).
When questioned about what kind of legacy she hopes to leave, the Keeping up with the Kardashians star and mother-of-one told Time, "That I was an inspiration for young girls. And it wasn't just getting your lips done and having good hair, but being a good person and inspiring other people to not bully other people and do good things and be nice to everybody," which speaks to her desire to appear more down to earth than the contents of her bank account would lead us to believe.