What You Need To Know About Giving Yourself A Haircut At Home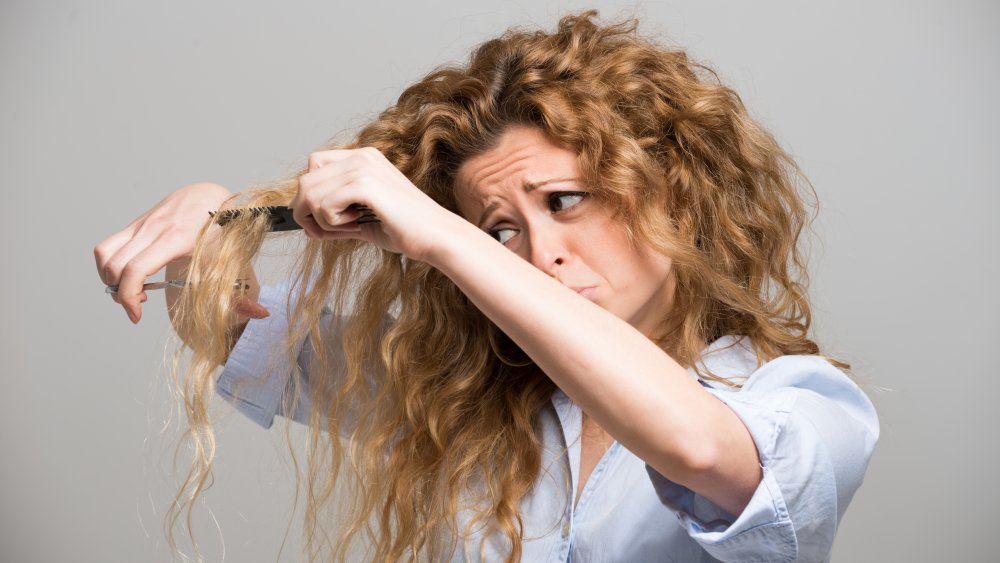 Shutterstock
There comes a time when a ponytail, headband, or bun aren't acceptable solutions anymore, and all you want to do is take out a pair of scissors and trim your own hair. But whatever the reason, whether its because you can't make it to a salon or because your hairdresser is out of town, the first thing Allure wants you to do is look in the mirror and ask yourself whether a trim is really necessary. After all, professional hairdressers are just like chefs — they've been trained to do something, and have spent hours trying to perfect their craft. It would make sense then, that hairdressers would ask you to leave your hair alone.
But if the pause for reflection has done little or no good, and if you really can't talk yourself out of a trim, hair care experts at Good Housekeeping say there are few things you can do to manage the risks that this particular DIY task might have, and this starts with buying a pair of proper styling scissors. "The reason that stylists use shears versus the ones sitting in your junk drawer at home is because the sharp, precise blades allow you to be much more exact and make it easier to get clean lines and edges," hairstylist Andrew Fitzsimmons tells Allure.
Trimming off split ends can be done safely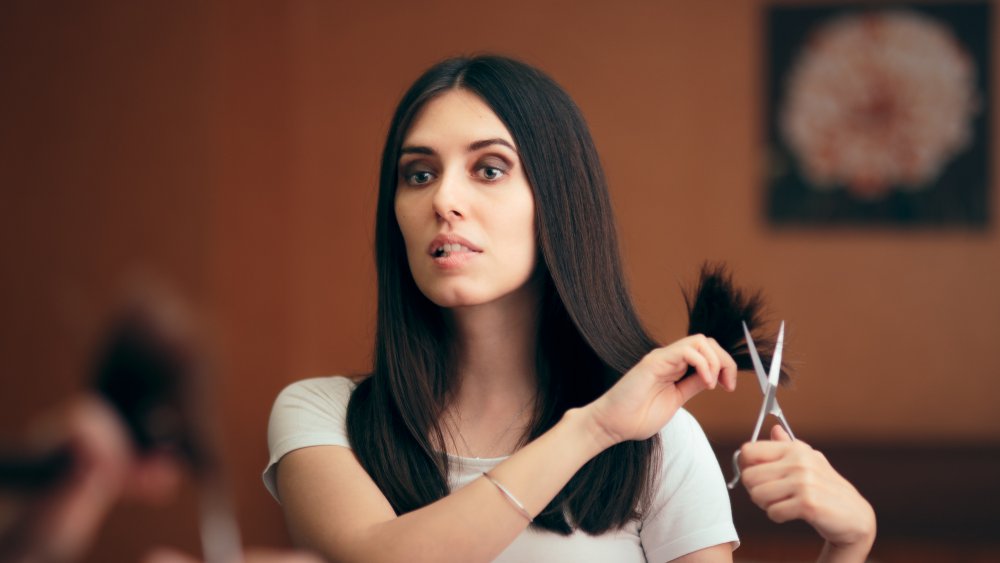 Shutterstock
If you're in between trims and your hair is starting to show split ends, experts at Good Housekeeping says this instance can be considered one possible exception to the "DIY may not be a good idea" rule, and this is also when those special scissors come in handy. Trimming split ends off yourself will allow you to go for longer without a visit to the salon, and this will also help keep your hair healthy in the meantime. 
Start by combing your hair out, take a small section of hair between your fingers and slide your fingers down to see where split ends my have happened and then cut vertically, instead of straight across. "Point the scissors upwards and lightly open and close scissors on the ends of the hair. This is a point-cutting technique that gives a more diffused finish on the ends," stylist Justine Marjan says. This technique, which many hairdressers use, actually helps to hide uneven strands.
Resist the urge to give yourself bangs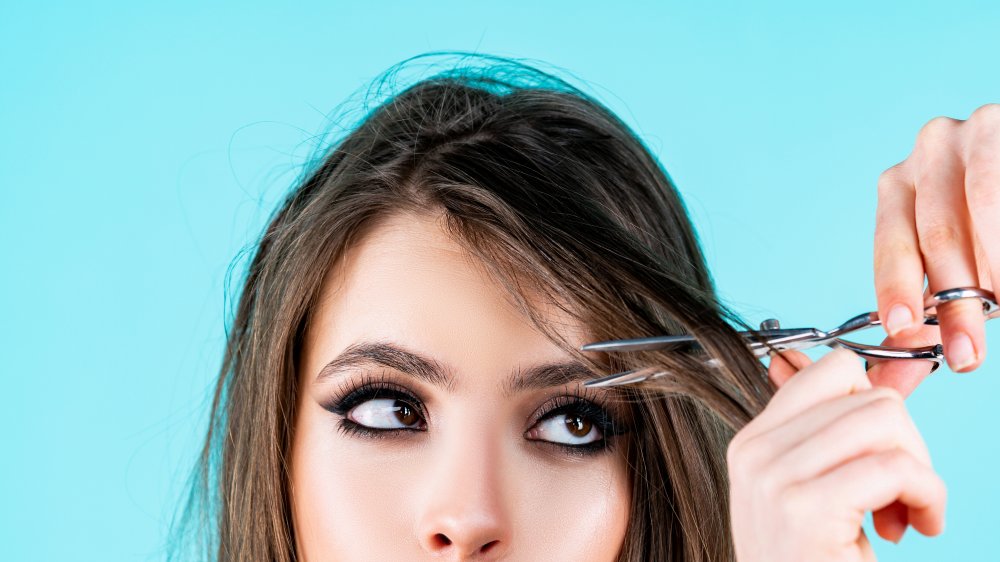 Shutterstock
If you're looking to undertake a much bigger DIY trim, Marjan suggests that you "make sure hair is clean and blow-dried straight or how you wear it usually so you have a clear and realistic vision of the cut, [which will help] avoid any surprises, like how much the hair will shrink up when it's dry." Start cutting conservatively; small cuts in small sections of about an inch or two will be easier to handle than big ones. 
Alligator jaw clips can help you keep sections properly partitioned. When you're ready, Marjan says it's also best if you lift your hair straight upwards with your fingers, place your scissors parallel to the hair that sits outside of your fingers (aka the part you want to cut off), and cut vertically, instead of straight across, like you would do if you are taking split ends off. 
No matter how bothersome your hair might be, you should not consider giving yourself bangs. The most you should consider doing is fixing a fringe you already have, and to do this, Marjan tells Allure that it would be good to use a comb as a guide then cut upwards with scissors. Above all, keep the cuts minimal to avoid any style heartaches.