The Amazing Ways Harry And Meghan Are Helping During The Pandemic
Chris Jackson/Getty Images
Prince Harry and Meghan Markle may have left Britain to make America their new home, but they haven't forgotten Harry's roots. Town & Country reports that the Duke and Duchess of Sussex have pledged £90,000 (or about $112,000) to a charity called Feeding Britain, which provides at-risk families with hot meals and food aid packages. A spokesman for the Archbishop of Canterbury, who is President of Feeding Britain, says the archbishop was told about the donation during a call with Harry and Meghan.
The money represents income generated during the couple's 2018 wedding, which was broadcasted globally. Town & Country says that when Harry and Meghan got married, the couple and the BBC agreed at the time that any profits from the broadcast would be donated to a charity of the couple's choice. The publication said the Sussexes thought it was appropriate that the money would be donated to a charity that was close to the heart of the Archbishop, because he had officiated their wedding service and had played an important role during the big day. 
A Feeding Britain spokesman says that the money will literally be a lifeline for families living in poverty, and who will be unable to afford three meals a day. "The social and economic consequences of coronavirus have sent shockwaves across the Feeding Britain network. Families living in poverty, who were already struggling to access and afford food, have been put at even greater risk of hunger," explains national director Andrew Forsey.
Harry and Meghan took part in distributing goods on Easter Sunday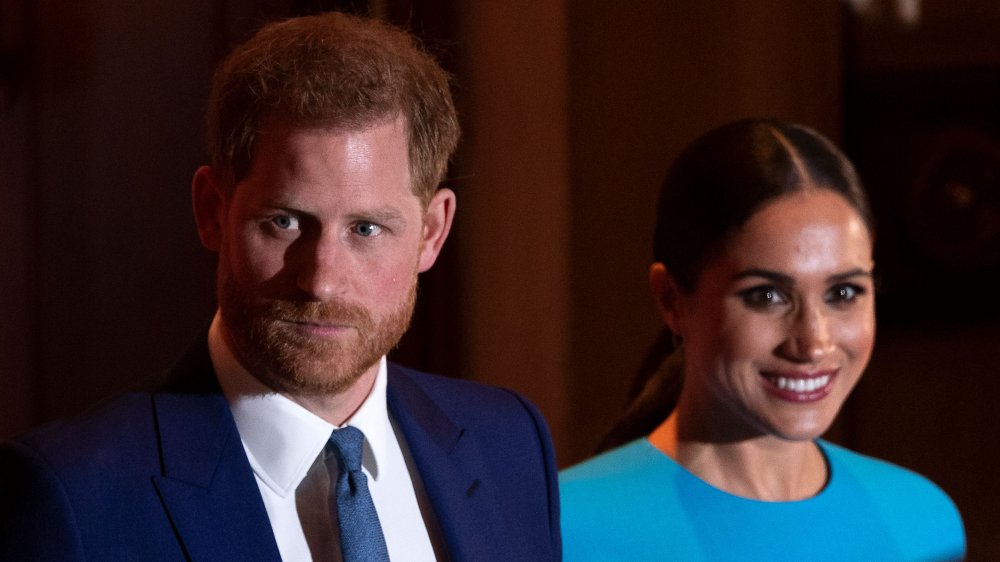 Justin Tallis/Getty Images
And even though Harry and Meghan haven't been in Los Angeles for too long, the city is already benefiting from the couple's charitable efforts. Richard Ayoub, Executive Director for Project Angel Food, says the couple volunteered to deliver non-perishable goods over Easter Sunday. "They told us they heard our drivers were overloaded and wanted to volunteer to lighten the drivers' workload," Ayoub told Entertainment Tonight, and that they had asked to volunteer again a few days after. People reports they were again seen delivering food Wednesday. Meghan was apparently familiar with the charity, because her mother had mentioned that they needed help. The couple was said to have obeyed social distancing guidelines, which include the wearing of masks and gloves, as well as maintaining a distance of at least six feet.
Entertainment Tonight reports that the couple's decision to volunteer with Project Angel Food was timed perfectly, because with the COVID-19 pandemic, the charity's work of delivering meals to people with critical illness has become even more important. The charity serves 2000 meals a day to high-risk patients every day.