Prince Charles Is Unrecognizable In Throwback Photos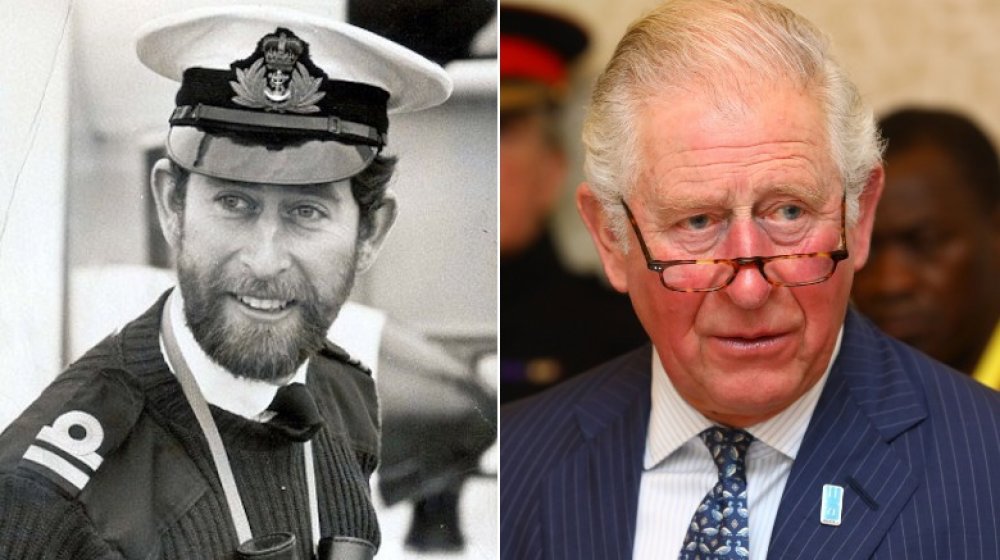 Tim P. Whitby/Getty Images
If you remember what Prince Charles looked like in his younger years, you're probably well aware of the resemblance between the heir to the throne and his younger son, Prince Harry. Some younger royal watchers, however, only became aware of the similarities between the two after vintage photos of Prince Charles sporting a beard resurfaced. In them, the similarities between him and his bearded son are uncanny.
Harper's Bazaar noted that the photos in question were taken in April and May of 1976 at the Badminton Horse Trials, and that this appears to be the only time that Prince Charles appeared in public with a full beard. Since then, Prince Charles has preferred a clean-shaven look much like his elder son, Prince William, who briefly sported a beard in 2008 but has remained beardless since then.
The striking resemblance between Prince Charles and Prince Harry in the photos should certainly be enough to put to rest the rumors that Prince Harry is not Prince Charles' biological son but rather the result of an affair between Princess Diana and her riding instructor, James Hewett. According to Cosmopolitan, the rumors have circulated for years. Princess Diana did admit to having a relationship with the redheaded riding instructor, but the two didn't meet until Prince Harry was 2 years old.
Prince Harry was the first royal to get married with a beard in more than a century
Prince Harry is the hairiest member of the royal family in living memory. When he married Meghan Markle in 2018, the Daily Mail noted that he was the first royal in 125 years to get married with a full beard. It's customary for someone wearing a military uniform — as Prince Harry did at his wedding — to be clean shaven, so the groom had to request permission from Queen Elizabeth to keep his beard. To allay any concerns that Prince Harry was breaking the rules, Kensington Palace issued a statement that read, "Her Majesty The Queen gave her permission for Prince Harry to get married in his uniform."
The last royal to marry with facial hair was Harry's great-great grandfather, George V, who married Princess Mary of Teck in 1893 with a full beard.