This Is Meghan Markle's Ideal Hairstyle For Zoom Calls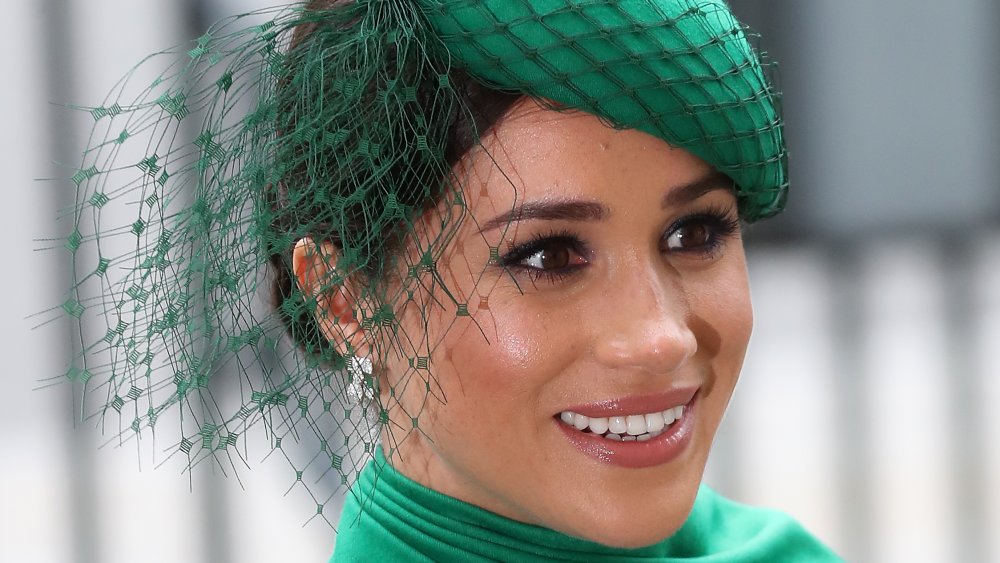 Chris Jackson/Getty Images
As the novel coronavirus pandemic rages on, most normal women are taking the opportunity to forego makeup, wash their hair less often (if at all), and live in their sweatpants. Meghan Markle is not most people. And yet, the beloved royal knows how to pull off laid-back, quarantine chic better than anyone. This is unsurprising, since Markle has approached being a royal in general from her own unique perspective, first flouting the rules, before eventually taking a firm step back from the spotlight.
Markle has also become something of a style icon, thanks to her fashionable looks remaining on-point despite her voluntary reentry into normal life. Now, she is hunkered down with her husband, Prince Harry, and their adorable little boy, Archie, appearing in public usually only to volunteer (via Instagram). However, thanks to a recent Zoom call, fans got a look at Markle's go-to quarantine hairstyle.
Meghan Markle's hairdo is peak quarantine chic
Markle's style has noticeably relaxed since she and Prince Harry moved across the pond, with paparazzi spotting her taking a walk in yoga pants with her family and their dog on a recent visit to Canada, as well as donning sweatpants and sneakers during the aforementioned volunteering stint. When she recently offered a virtual coaching session to a patron of her charity, Smart Works, fans were salivating over Markle's chic hairdo (via In Style). The stylish half up, half down look, complete with her signature middle parting, was ideal for a friendly business call.
"It's been such an honour to meet and learn from so many talented women in the Smart Works network over the years, and recently to see the amazing work they're doing to adapt their programs to the reality of this pandemic. Their ability to continue to empower women and help them harness the confidence they need to succeed during this time is inspiring," Markle gushed in a post on the Smart Works official Instagram.
Kate Middleton echoed Meghan Markle's laidback look
We don't know whether Markle enlisted a hairstylist for the session, but it stands to reason that she, just like the rest of us who are stuck at home right now, likely just pulled her locks into whatever style they'd cooperate with, and that looked presentable for the occasion. The only difference is, Markle happens to be one of the most naturally-beautiful women on the planet — though we should still feel free to copy her style for our own Zoom calls, of course.
One woman who is already taking cues from Markle is her sister-in-law Kate Middleton, the Duchess of Cambridge. She video-chatted with a couple who'd recently welcomed a baby during the pandemic and, in the Instagram post shared by the official Kensington Palace account, it's clear Middleton opted for a similarly relaxed style to Markle, albeit without the middle part.