The Truth About Demi Moore's Relationship With Daughter Tallulah Willis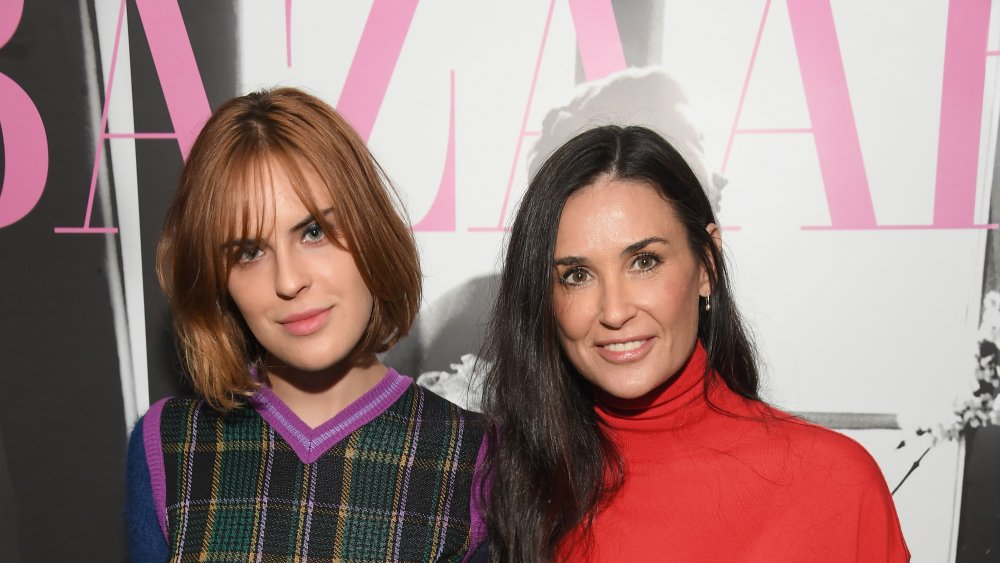 Matt Winkelmeyer/Getty Images
Demi Moore and her daughter, Tallulah Willis, may have a close bond today — so close that Willis is even quarantining with her divorced parents, Moore and Bruce Willis — but that wasn't always the case.
In an Instagram post for Mother's Day, Willis opened up about her relationship with her mom, revealing that they were once estranged. "Channeling love and strength to every mother to be, tired mamas, step moms, and mamas who've lost something precious," she wrote. "I'm sending it to anyone who struggles to celebrate a day when it reminds them of a loss. I didn't talk to my mom for almost 3 years and during that shattered time this day would transport me from fragmented pieces to absolute dust. I remember tearing up driving to work upon hearing a radio ad that cheerily recommend which 'perfume Mom would absolutely adore'. I digested the entire celebratory nature of the day as an insensitive slight to MY pain and MY story."
This is why Demi Moore and Tallulah Willis were estranged
In a Red Table Talk interview in 2019, Willis revealed what led to the rift with her mother. She said that she felt abandoned throughout her mother's relationship with Ashton Kutcher, during which Moore relapsed after nearly 20 years of sobriety, and suffered a miscarriage. "I felt very forgotten and I felt like I developed and I nurtured a narrative that she didn't love me," said Willis (via In Style). "And I truly believed it. And I know that she does 100 percent, but in that moment, you're hurt and you can't fathom that someone that loves you would do that to you and would choose others more than you."
Thankfully, Willis and her mom eventually worked things out through what Willis called on Instagram "a metamorphosis of inward self reflection and a malleability to forgive." Now, they seem to have an especially powerful connection.
"I revel in all that you are... and all that you continue to teach me," Willis wrote to her mother in the post. "I witness what this day means for you, and where you came from. Every nook and cranny of you is worthy and gilded. I love you."