What Is Double Cleansing And What Are Its Benefits?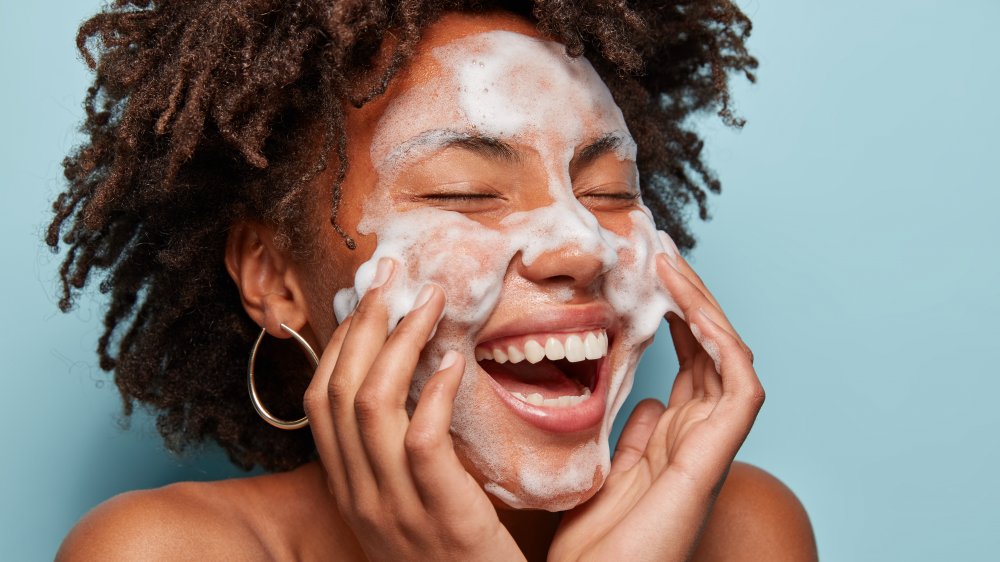 Shutterstock
If you are into taking care of your skin, then you have probably heard of the latest skin care ritual that is taking over the beauty world — double cleansing. According to the Allure, like many skincare trends, the popular cleansing method originated in Korea. And double cleansing is as simple as it sounds, involving cleansing your face two times rather than once, but with two different products.
"Double cleansing is a method of cleansing your face twice: First, with an oil-based cleanser and again with a water-based cleanser. It can help remove stubborn, pore-clogging and acne-causing impurities that can remain on the skin even after washing your face once," board-certified dermatologist David Lortscher, M.D. explained to Dermstore. And this method is something that dermatologist Dendy Engelman told Allure he recommends to all of his patients, no matter their skin type. But does it really make that big a difference? 
Double cleansing prevents breakouts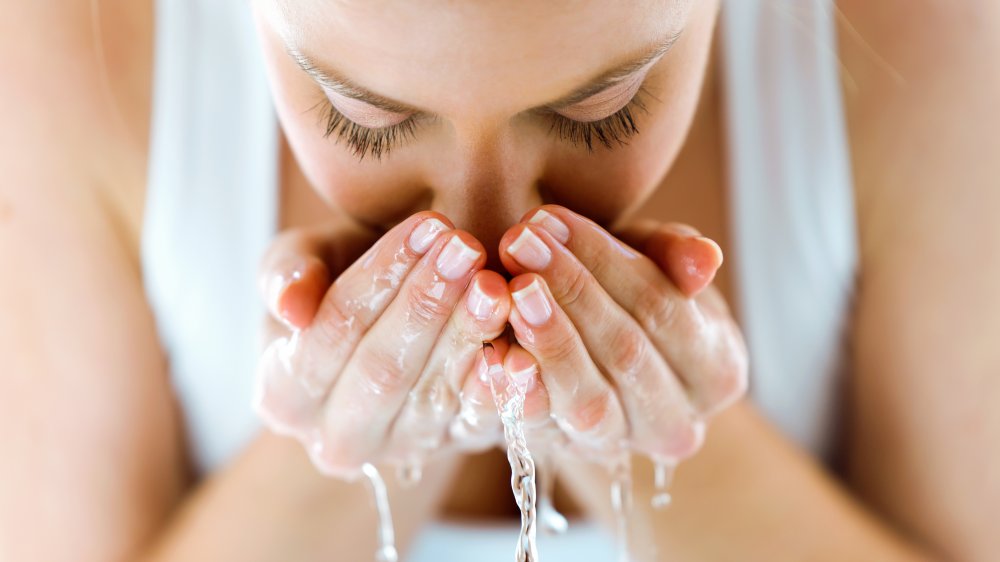 Shutterstock
The reason double cleansing is so revered is that it cleans your skin completely, especially if you wear makeup, promoting a natural glow. As Kristy Watson, CMO of New York skin care brand Erno Laszlo told Beauty Crew, "What happens is you have makeup on, and you have a very environmentally stressful day, and if you wash your face with a foam cleanser once — foam cleansers are typically water-based and don't have a lot of actives in it — and you rinse, you have a huge layer of pollution and makeup on your skin still." 
If your skin is not cleaned correctly, it won't look it's best. "Basically, buildup of residue, oil, dirt, cosmetic products left on the skin can leave the skin looking dull in appearance, and it also contributes to clogging your pores, which then can lead to acne or enlarged pores," Megan Rogge, a dermatologist with UT Health and UT Physicians, told Vox.  Ultimately, double cleansing ensures no bacteria or residue remains, preventing breakouts, clogged pores, and more. 
Popular YouTuber Michelle Phan is a huge fan of double cleansing and recommends Then I Met You's Living Cleansing Balm and Tea Cleansing Gel.