The Truth About Ariana Grande And Lady Gaga's Friendship
You would think two global music icons would have a lot in common and be friends right away, but apparently that wasn't the case for Lady Gaga and Ariana Grande. According to E! News, despite seeing each other at multiple award shows, Gaga told Zane Lowe of Apple Beats 1 that she was worried she would be a bad influence on Grande. However, the young pop star was eventually able to break down Gaga's walls. 
"She was so persistent," Gaga told the radio show host. "She would try over and over again to be friends with me. And I was too ashamed to hang out with her, because I didn't want to project all of this negativity onto something that was healing and so beautiful." The Chromatica singer revealed that she knew Grande had been through some very difficult things in her short life. "Eventually she called me on my s–t," Gaga admitted. "She was like, 'You're hiding.' And I was like, 'I am hiding. I'm totally hiding.' And then this friendship blossomed."
Lady Gaga and Ariana Grande collaborate on a new song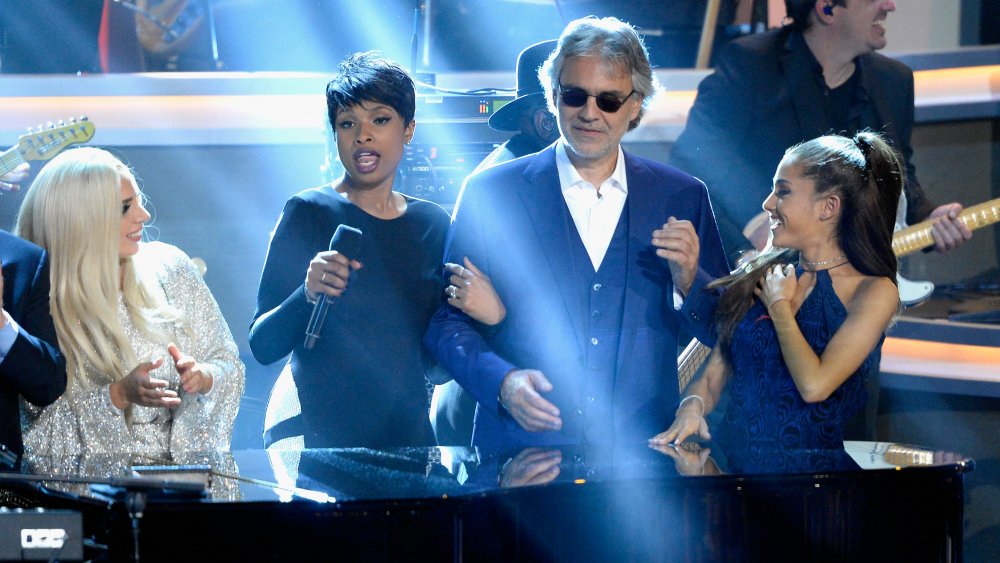 Kevork Djansezian/Getty Images
The pair's close friendship ultimately resulted in their collaboration on a new song titled "Rain On Me." The catchy techno-pop track features a hopeful message with lyrics like, "I'd rather be dry, but at least I'm alive." Gaga explained the lyrics reflect a conversation she had with Grande. "I sat with her and we talked about our lives," Gaga told Paper magazine. "It's two women having a conversation about how to keep going and how to be grateful for what you do."
Gaga confessed that writing the song was healing for her and she learned to forgive herself. When fans listen to her new songs, she ultimately wants them to leave feeling hopeful. "If you're listening to this album and you're suffering in any type of way, just know that that suffering within itself is a sign of your humanity and you are not broken."