You've Been Air Drying Your Hair All Wrong
Shutterstock
Have you always assumed that air-drying is just the lazy, er, natural way to dry your hair, and that all it really involves is giving your just-washed mane a good squeeze, or perhaps a light toweling, and then let evaporation take its course? Yeah, wouldn't that be nice. But no, as you should know by now, when it comes to good grooming, nothing is ever simple.
In fact, according to Cosmopolitan (who've been famously complicating beauty routines ever since Helen Gurley Brown was a girl), the "easiest guide" to air-drying your hair requires the use of multiple different hair products, as well as a number of different techniques depending on your hair's texture. So, yeah, air-drying your hair doesn't just take time — it also requires quite a lot of effort, and a little bit of homework, in order to determine the method that best suits your particular tresses.
How to air-dry wavy or fine hair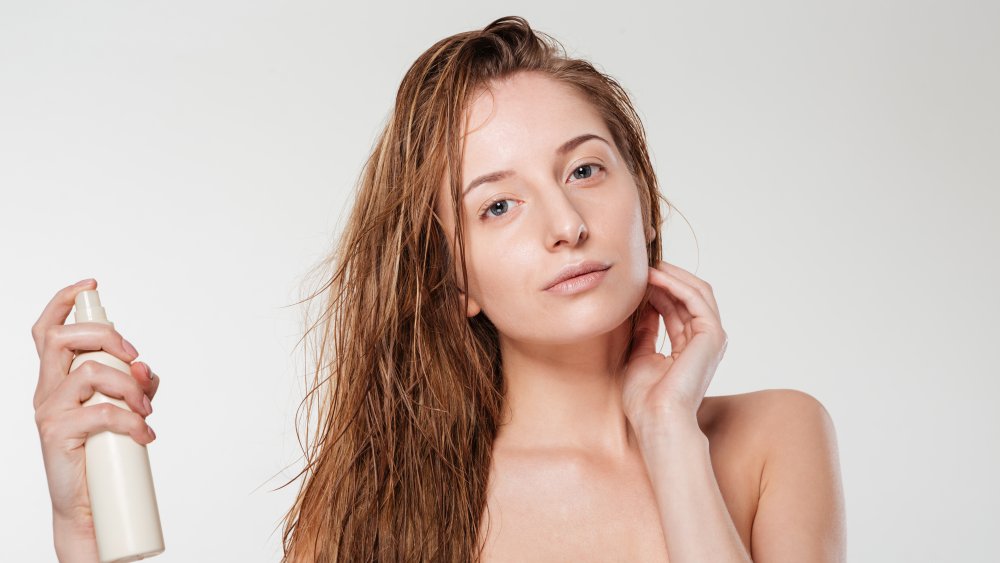 Shutterstock
If you want to air-dry your wavy hair the Cosmopolitan way, you'll first need to comb through it while it's wet using a wide-tooth detangling comb, then wrap it in a towel for 5 minutes, shake it out, and let it actually air dry for 15 minutes before you continue messing with it. While your hair is still damp, mist on a light coating of salt spray, and when it's completely dry, apply styling cream to 2-inch sections of hair from roots to ends, gently twisting each section to amplify your hair's natural waves. Cynthia Alvarez, hairstylist to celebs including Shakira, tells Who What Wear that you can also help define the waves by loosely braiding your hair or putting it up in a bun while still slightly damp.
With fine, flat hair you're also using just two products — a volumizing spray that should be lightly spritzed on when your hair has air-dried for about 20 minutes on its own, then a styling powder which you'll apply to your hair (sectioned in 3-inch strands) at the roots. This ought to provide some much-needed texture and lift. Alvarez warns, though, that in order not to weigh down fine hair, you should use less than the recommended amount given on the product label.
How to air dry coily or curly hair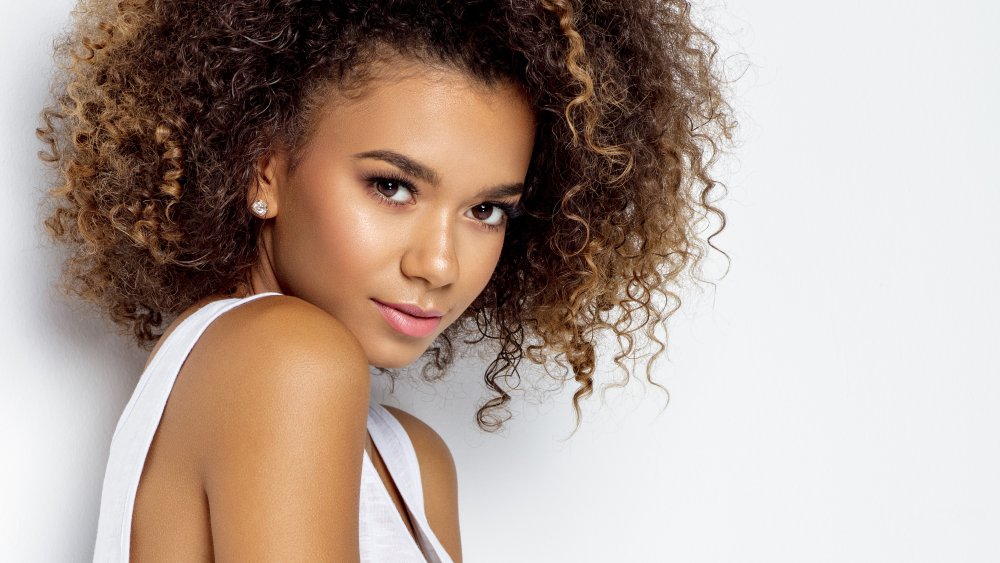 Shutterstock
If you have naturally coily hair, finger-comb a leave-in conditioner through your damp locks from hairline to ends to nape of neck. Use a lot of this stuff; Cosmo suggests a palmful. Even then, you're not done adding product, as you'll then follow up with hair oil (Who What Wear recommends, olive, avocado, or castor) and finish off with hair cream. Finger-coil each section into a corkscrew, and then just let nature finish the drying. Finger-coil each section into a corkscrew, and then just let nature finish drying your hair.
If your hair is curly, first scrunch out the water with a microfiber towel since this helps cut down on the frizz factor (regular towels will ruin your lovely curls). Then divide your hair into four sections and coat each one with a light application of hair gel which you've rubbed between your palms. Now, glide your hands down over each hair section. Dab a little gel along your hairline, as well. Once your gelled-up hair is all dry, take some lightweight hair oil and coat your hands with it, then use your oiled-up hands to scrunch up your hair and break through the crunchy coating of dried gel. Alvarez also suggests fluffing your the roots of your curls (once you've got them sufficiently de-crunchified) with a wide-tooth comb for maximum lift.