Why You Should Be Using A Sourdough Starter Face Mask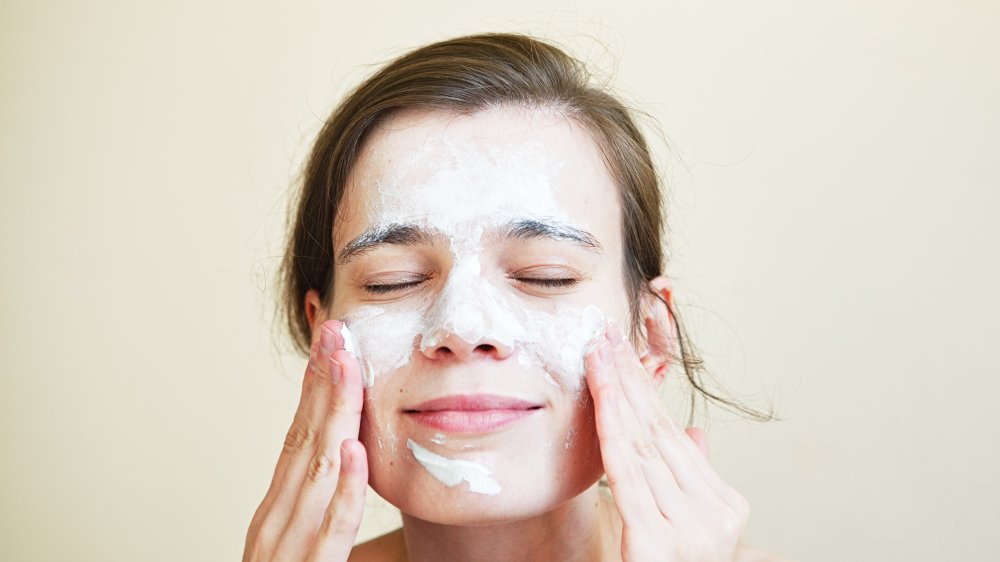 Shutterstock
Amid several different stay-at-home orders across the U.S., people have found a new love in baking bread. Sourdough, in particular, has been a very popular bread to make. In order to make the bread, you need to create sourdough starter, which is made using flour and water. In one simple recipe on Feasting at Home, you mix equal parts of flour and water, then cover the mixture so that it expands. The following day you discard half of the original mixture and add fresh flour and water into the first mixture, repeating the process over six days.
Insider writer Sarah Bence decided to repurpose the discarded mixture from the sourdough starter and used it as a face mask after seeing a thread on Reddit about it. She reported that the facial resulted in amazing results. "After taking off the face mask, my skin felt super fresh and I even think it looked brighter, too," Bence wrote. "I was floored by how much better my skin felt. I'd expected a sourdough starter face mask to be a silly experiment, so I was shocked at the difference in my skin and how it felt afterwards."
Sourdough starter has scientific benefits, but there's no proven dermatological use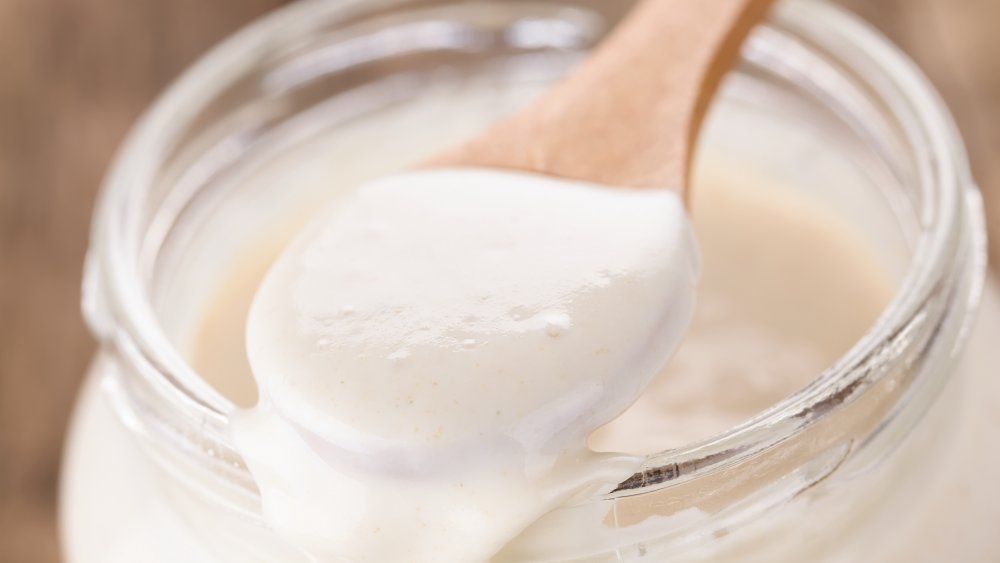 Shutterstock
Various probiotics are created during the process of creating a sourdough starter, and probiotics are great for the skin. Dermatogist Dr. Keira Barr told Insider, "There is mounting evidence highlighting beneficial effects of probiotics for skin health, and sourdough starter contains a high level of probiotics." Sourdough starter also produces a lot of lactobacillus, which also has skin benefits. Aesthetician and founder of Nia Natural Beauty skincare Celia O'Grady told Insider, "[The] bacteria shut down production of genes responsible for these 'aging effects.'" She added that lactobacillus can cause brightening and peeling, which promotes cellular renewal on your skin.
Despite the scientific benefits of probiotics for the skin, Dr. Barr and O'Grady didn't explicitly approve the use of sourdough starter as a face mask. "It would be hard to recommend how long to leave it on and how often to use as it wouldn't be for everyone's skin type," O'Grady told Insider in addition to warning that it should only be trialed with people who don't have any skin sensitivities.
Insider writer Bence revealed she has sensitive skin so she refrigerated the mask overnight and then applied it for 10 minutes.