Costco Is Secretly Becoming A Go-To Beauty Destination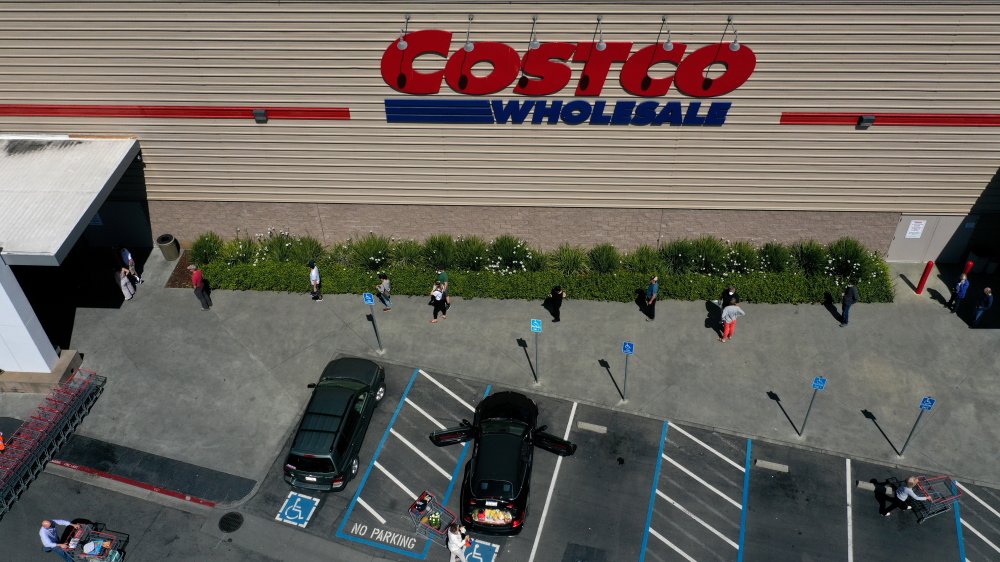 Justin Sullivan/Getty Images
When you think beauty products, what's your go-to shopping destination? It probably depends on your budget, right? If you've got the dollars to spare, you might be shopping at Ulta or Sephora, but if your bank account's on the anemic side, you're more likely to be picking up your beauty products at CVS, Walgreen's, or Rite Aid.
Were you aware, however, that you can probably find all the haircare, skincare, and makeup items you could desire (or afford) at the same place where you can get a $5 rotisserie chicken? Actually, there's a good chance you may already be in on the secret since Glossy notes that Costco, of all places, has quietly been evolving into a "buzzy" millennial beauty destination. But not, as it turns out, by accident, nor by serendipity. Costco has actually put in a lot of work over the past decade towards beefing up its beauty department.
Why Costco's been focusing on beauty
Costco has a much older core demographic than other retailers including Sam's Club, Walmart, and Target — their typical shopper is aged 65+. While older shoppers tend to be wealthier, still, every retailer wants to be perceived as trendy, and for this you need young customers. So Costco figured, what is it that all the kids are into these days? Taking selfies, of course. And carefully curating their best lives all over social media. And who doesn't want to put their best face forward when it'll be appearing on thousands of other people's feeds? Ergo, much need for beauty product.
As Glossy tells it, as far back as 2013 Costco was partnering with Hatch Beauty for in-store promos that included products designed by celebrity hairstylists and makeup artists. By 2015, Costco's budget-friendly bespoke beauty products led Refinery29 to call them "the best new beauty store." In 2017 Costco added premium brands like SK-II to its selection, and 2018 brought natural, Ayurveda, and Korean beauty products. In 2019 the retailer expanded its range of Japanese beauty products, and also began adding trendy hair and skincare brands like Coola, Briogeo, Boscia, and Perricone MD.
Why Costco's beauty bargains are good for everybody
While Costco may sell its beauty products cheaper than high-end retailers, it's still a good deal for the manufacturers of those products. As dermatologist Dr. Jessica Wu told Glossy, marketing her skincare line was far more profitable to her with Costco than Nordstrom: "Costco would order pallets of products whereas Nordstrom would order in the dozens." She also remarked, "In department stores, you had to pay for sales staff, and pay for certain co-op [advertising] and absorb the cost of returns."
Needless to say, getting the same high-quality products for lower prices is good for Costco customers, too. And the best part of getting your beauty supplies at Costco? You can take all the money you save and spend it on a giant bucket of Nutella and still have enough change left over for a tasty $1.50 hot dog and soda combo.