Why Fans Are Concerned About Nick Viall's Latest Post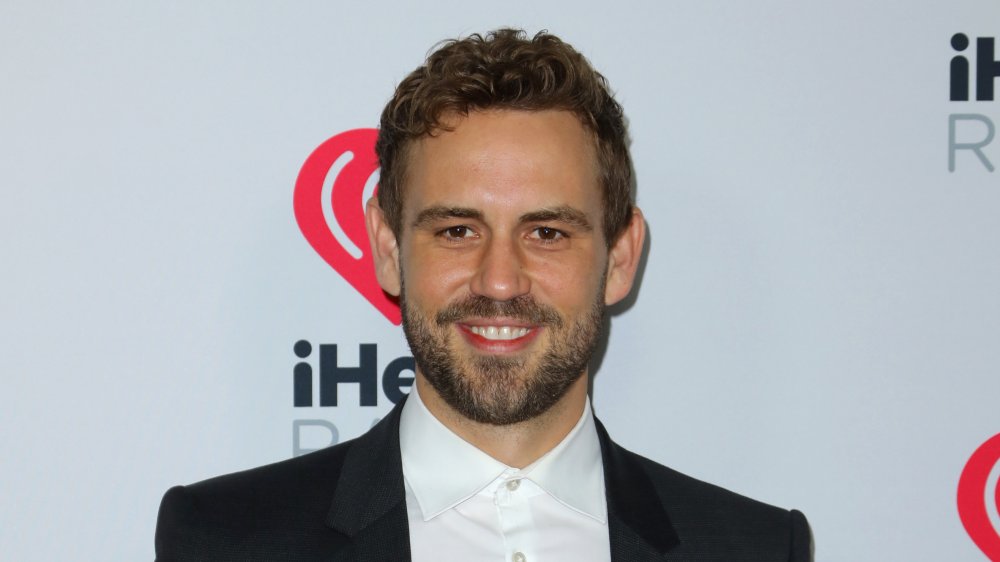 Jc Olivera/Getty Images
Bachelor fans are worried about Nick Viall. The former Bachelor recently posted a shirtless selfie on Instagram in honor of the re-airing of Kaitlyn Bristowe's Bachelorette season on Bachelor: Greatest Seasons — Ever!. Nick proposed to Kaitlyn on the show and was turned down, prompting the caption of his shirtless selfie. "Because I get dumped AGAIN on National TV tonight," he wrote.
While Nick's body looks pretty chiseled in the photo, he also appears quite thin, leading to concerned comments from fans. "Please gain weight," wrote one user (via Us Weekly). Another suggested that Nick eat something. "90lbs soaking wet... I am sure there is a steak with your name on it," they said.
Nick corrected the commenter, responding "190lbs." To another commenter, who told Nick to eat a burger, the former Bachelor replied that he'd already had five "this week."
Nick Viall felt 'self conscious' after the internet reacted to his post
Nick posted another shirtless photo of himself on Instagram the next day, this time with a lengthy message on how all of the comments left on his previous photo made him feel. "Dear internet. I never thought you would make me self conscious about my body," he wrote. "Yet I woke up to hundreds of comments on my last post about my weight, eating habits, and mental health all from posting a post workout pic where I looked particularly lean. I have never lacked confidence about my body... but if the internet can get to me it can get to anyone."
Nick encouraged people to "be careful with your words" and cautious about commenting on someone's "physical, emotional, or mental health." He added that he's in great shape and there's nothing to worry about. "I don't feel like I should have to say that the past few months I have been running 4 miles a day and feel like I am in the best shape of my life," he said. "Or that I eat bacon and snickers ice cream bars everyday. If told you how much pasta I eat, I would just annoy you."
Nick said that the previous photo was taken at "a bad angle" and closed his message with a warning. "A pic doest tell people's story," he wrote. "You could be stripping down months of work... someone has made on their own self improvement. And god forbid you cause them to never want to post [a] shirtless selfie again. Me...I"ll be ok (Im still pretty sure I look fantastic naked)."